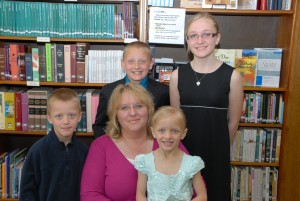 Lori Soloviyov teaches PK/K at St. John-Sleepy Eye, Minnesota. She is also a single mother of four children: Tatyana (15), Yuri (11), Aleksei (8), and Katya (6). As if that weren't enough to fill her time, she's pursuing her master's degree at MLC with an emphasis in special education. She hadn't actually signed up for the master's program herself. Her husband signed her up – shortly before he died.
We'll let her tell you the story.
While at D/MLC in the 90s, I took a year off of school to follow my family to Kiev, Ukraine. I met my husband, Georgiy Soloviyov, during that year. I returned to D/MLC, graduated in 1996, and received a one-year call to Brillion, Wisconsin. I was married the day after Thanksgiving that year.
I went back to the Call Committee and was called to teach grade 1 in Beaver Dam, Wisconsin, where I taught four years, and then I was called to be the preschool director at Abiding Word in Houston, Texas. I taught there six years until my husband, who worked for Union Pacific railroad, was transferred to Iowa. 
There were no WELS schools around us in Iowa, so I worked as a para-educator for one year at the local public school, South Hamilton. When the special ed position became available, my husband encouraged me to apply, and they hired me. I did that four years. 

During that time, my husband signed me up for the master's program. He had heard me encourage the children to attend MLC, and he knew it was the best fit for me. He told me I was the smart one and I should do this. 
In the summer of 2012, my husband was killed in a work-related accident. I remember getting the news and wondering what I was going to do. I couldn't focus. Then my children made me focus. One of them said, "Papa had to be the first at everything. Now he is the first in heaven." With those words, I woke up. My children have been my strength. They speak such words of faith. 
My pastor then encouraged me to begin work in the church again. In March 2013, I received the call to teach PreK/K at St. John's in Sleepy Eye, Minnesota. It has been wonderful teaching God's Word to all the children there. One little girl said to my daughter, "I hope you are not mad, but my mom told me what happened to your dad. Don't be sad – you will see him again in heaven." Again, the words of encouragement from a little child!

I have never been angry at God. I know he works for the good of those that love him. I know he has a plan for me and my children. I see his hand every day guiding me.
While at South Hamilton, Lori fell in love with special ed. She enjoys using different techniques to teach children who learn in different ways. "I enjoy watching a child's face light up because he/she finally understands something! It is an amazing feeling helping someone succeed – going from a non-reader to reading over 100 words a minute! You can't explain how that makes you feel."
Lori's story is full of gratitude. She is thankful for the proximity of her parents, Pastor Melvin and Elizabeth Schwark; her seven scattered siblings who keep in touch through technology; and her children, who are her strength.
She's also overwhelmed at the kindness of the St. John's faculty and the MLC graduate faculty. Dr. Alan Spurgin has been especially helpful. He told her getting into the master's program would be good for her, even though her life had been turned upside down, and he continues to support her.
Most of all, she is grateful to God. "Sometimes there are days when I think I can't possibly do this! But then the Lord sends some encouragement: a phone call from a friend, a text saying, 'Thinking of you,' a WELS devotion that speaks to my heart, one of my children telling me, "You can do this!" Something always happens to push me through the day.
https://mlc-wels.edu/graduate-studies/wp-content/uploads/sites/16/2016/02/lori-solovi.jpg
2592
3872
meyerjd
https://mlc-wels.edu/wp-content/uploads/2015/04/mlclogo1.png
meyerjd
2016-02-25 14:44:27
2016-11-21 14:51:56
Lori (Soloviyov) Wetterau