A New Technology Course Taught by Adjunct Instructor Martin Spriggs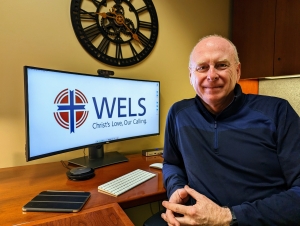 A few weeks ago, a pastor approached MLC's new adjunct instructor, Martin Spriggs, to thank him. The pastor had taken Spriggs's technology class at Wisconsin Lutheran Seminary Summer Quarter and learned there how to use a personal productivity system. That class was 10 years ago, but the system had so greatly improved his control over his time, talent, and tasks—and amped up his confidence as well—that his ministry was profoundly changed. He just had to say thank you.
The exchange was gratifying to Spriggs because it encapsulates his job description. As the WELS chief technology officer, he is constantly asking, "How can technology enhance and support ministry?"
"When I first started in this position," he says, "the synod's technology operations were very much like those of a 'mom and pop' organization. Over the next 18 years, the technology group matured to become an efficient and respected ministry support arm of the synod."
The Technology-Ministry Intersection: As a former pastor himself, Spriggs understands congregational ministry well. And as his MBA from Keller Graduate School of Management-Chicago (2000) attests, he understands business too. His role at the synod offices combines the two, asking him to find practical technology-in-ministry solutions for synod administration, different synod organizations, and WELS congregations and schools all over the country.
"We're always trying to find the intersections between ministry and technology," he says. "Every day I'm involved in conversations, subsequent research, and finally recommendations for sound technology choices and directions, on all levels and for all ministry types (pastor, teacher, staff minister, and technology leadership)."
Many of us are already familiar with Spriggs's work, because he has shared his research and recommendations for many years on the WELSTech podcast (welstech.wels.net). Since 2008, he, his cohosts, and his guests have aired almost 700 episodes.
MLC's New Technology Course: That same question—"How can technology enhance and support ministry?"—is the foundation of a new course Spriggs is teaching at MLC in spring 2023, Enhancing Ministry with Technology.
"The course is really about matching the right technology tools, techniques, and processes that meet ministry needs," he says. "That sounds easier than it is."
The course is part of MLC's Master of Science in Educational Administration program, with a Technology Director emphasis. Current and aspiring tech directors will explore topics in personal knowledge management, project & data management, personal productivity, and communications, media & medium.
"This isn't a how-to course," Spriggs says, "but a skill-building course. Grad students will learn to make smart technology selections that will enhance ministry and make everybody a better steward of both their technology and ministry choices."
The course is for teachers, pastors, staff ministers, laypeople, those already working as tech directors, and those who aspire to. Whoever they are, "they'll find a fertile field for growing and advancing their ministry through the smart use of technology," Spriggs says. "We all struggle at times with low productivity and burnout. Many times, those are symptoms of ineffective project management, challenged communications, or personal and technical knowledge management. This course will make technology approachable as well as transferable to ministry partners who can then work together effectively in their gospel-sharing efforts."
Spriggs is excited about the opportunity to share what he's learned and to hear what others have learned as well. "I'm looking forward to learning about the frontline opportunities our gospel sharers have in using technology to support their ministry plans. The course will provide a framework for sharing experiences and best practices as we figure out what tools to use in an almost infinite array of tech choices.
"What a privilege it is," he concludes, "to serve WELS in my current position and now also as an adjunct to MLC. God is good!"
Meet Adjunct Instructor Martin Spriggs
Education:
BA – Northwestern College 1984
MDiv – Wisconsin Lutheran Seminary 1988
MBA – Keller Graduate School of Management-Chicago 2000
Professional:
Project Management Institute (PMI) certification 1999
Working Genius Certified Facilitator – Table Group 2022
Family:
Debbie, wife of 36 years, grade 1-2 teacher at Christ-Big Bend WI
Three grown children, two daughters in Southeast Wisconsin and one son in Denver; two grandchildren
Congregation:
Christ-Big Bend WI
Hobbies:
Golf, tennis, photography.
Prison films (Shawshank Redemption, Green Mile, Escape from Alcatraz). "I got to visit the site of the filming of Shawshank this past summer: Ohio State Reformatory in Mansfield OH. Very cool tour." Recent favorite books: A World Without Email and Deep Work (both by Cal Newport).
Two things you'd never guess: "I worked my way through college and seminary as a teaching tennis pro at a number of tennis clubs. Also, I'm related to Abraham Lincoln."
Written by Laurie Gauger