Servant-Leadership: WLC President Also Serves at MLC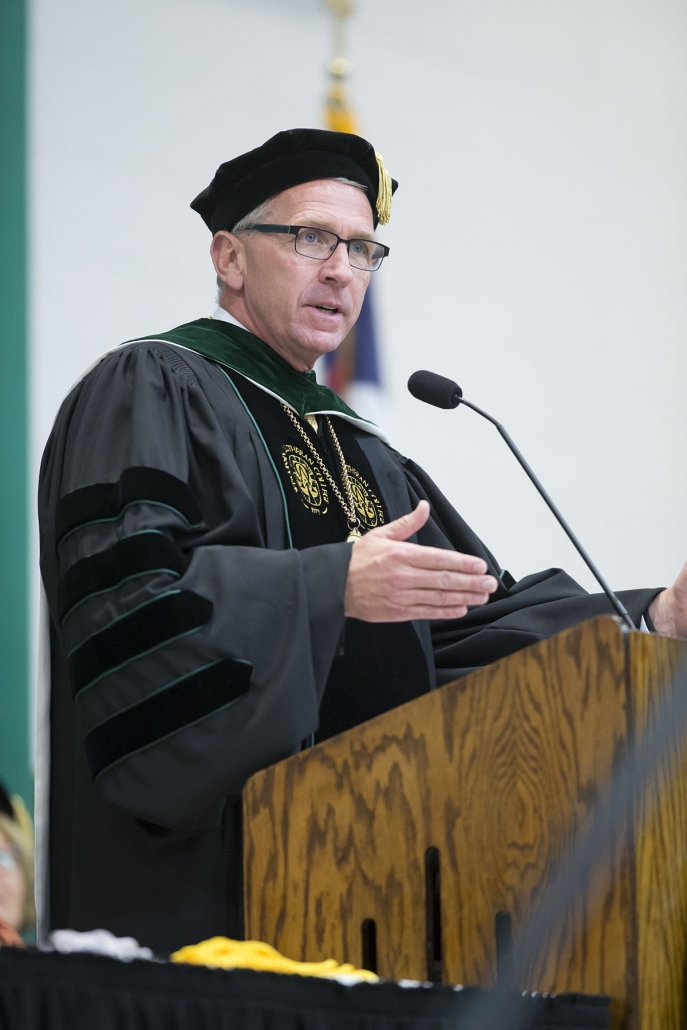 Dr. Daniel Johnson DMLC '88 serves two colleges. He is completing his 12th year as president at Wisconsin Lutheran College in Milwaukee, and he serves on the graduate faculty of his alma mater, Martin Luther College.
Dan grew up in Arizona, where, as the youngest of six kids, he attended WELS elementary schools and graduated from Arizona Lutheran Academy (ALA). Wanting to pursue teaching as his vocation, he dared to enroll at Dr. Martin Luther College, a campus 1500 miles away, a campus he'd never even seen. And when he graduated from DMLC, he was the first of his family to hold a college diploma.
Although he certainly couldn't have foreseen a future where he'd be called President Johnson, Dan always gravitated toward servant-leadership and readily accepted the roles God called him to fill. His first assignment took him to Nebraska Lutheran High School, where he served for two years as an instructor, coach, and dorm supervisor. Through subsequent calls, God positioned him as a Lutheran elementary school principal in Clearwater, Florida, for three years; an assistant principal, social studies teacher, and coach at Shoreland Lutheran High School for six years; and a principal at his high school alma mater, ALA, for nine years.
During that period, Dan polished his leadership skills by finishing his MS in curriculum and instruction through National Louis University and his EdD in educational leadership through Nova Southeastern University, all of which helped prepare him for the call he accepted in 2008, president of Wisconsin Lutheran College (WLC).
During his 12-year tenure at WLC, the college has seen incredible growth and improvement: a 60% increase in enrollment, a new Adult and Graduate Studies program, the addition of 12 new majors, and partnership agreements with the Medical College of Wisconsin (pharmacy), Marquette University (law), the Illinois College of Optometry (optometry), and UW-Milwaukee (engineering). The campus has also seen several major improvements, including an Outdoor Athletic Center, a remodel of Generac Hall, a new residence hall, a remodel of the Recreation Complex, and a new parking center. Dr. Johnson also launched the Center for Christian Leadership and the Divine Servant Award, the first recipient of which was President George W. Bush.
Dr. Johnson's leadership credits also include a past presidency of the Association of Lutheran High Schools, past presidency of the Northern Athletics Collegiate Conference, and past membership on the Executive Committee of the Wisconsin Association of Independent Colleges and Universities.
Here at Martin Luther College, Dr. Johnson is teaching Educational Leadership for the Master of Science in Education and Educational Administration programs. Bringing his 30 years of leadership experience, he interacts with WELS teachers in many different ministries, teachers who are polishing their own servant-leadership skills and eagerly asking God to position them where they are needed.
"I really enjoy keeping in the loop regarding the daily joys and struggles of WELS leaders in early childhood ministries, Lutheran elementary schools, and Lutheran high schools," Dan says. "It keeps me grounded in the grassroots of ministry, and I continue to marvel at the dedication and passion of our WELS called workers."
"I love serving Jesus via my alma mater," he continues, "a college that I hold near and dear to my heart. I'm honored and grateful to serve our WELS College of Ministry while serving as president of WLC."
—
Dan and his wife, Jana (nee Dorr) DMLC '91, are members of Bethlehem in Germantown, Wisconsin, and actively follow the sports and other activities of their kids: Connor and Cassidy, both students at WLC, and Caitlin, a sophomore at Kettle Moraine LHS.
Written by Laurie Gauger-Hested