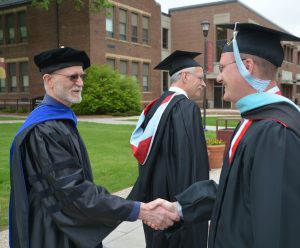 We believe the secret to successfully completing your master's degree involves not only hard work on your part, but also a good deal of planning from beginning to end. Our master's programs require you to complete 36 credits of study. There is a great deal of flexibility in how and when you complete those credits. Since this process is new to you, we have assigned you an advisor to help you set goals and plan how you will get in all the courses you want to take.
Our website is also a valuable resource to you as you plan. The most informative page on our Graduate Studies Site is the Policies and Information page. There you will find
Graduate Studies Bulletin
Long- and Short-Term Course Calendars
Tuition and Financial Aid Information
Degree Completion Information
Library Resources
Sometime in March, your advisor will be contacting you to help you plan your coursework and answer any questions you may have about taking courses and completing your degree. It's our hope that you'll take advantage of the help they offer you.