Meet 2016 Graduate Sarah Frost
BS Education: Elementary Ed & Early Childhood Ed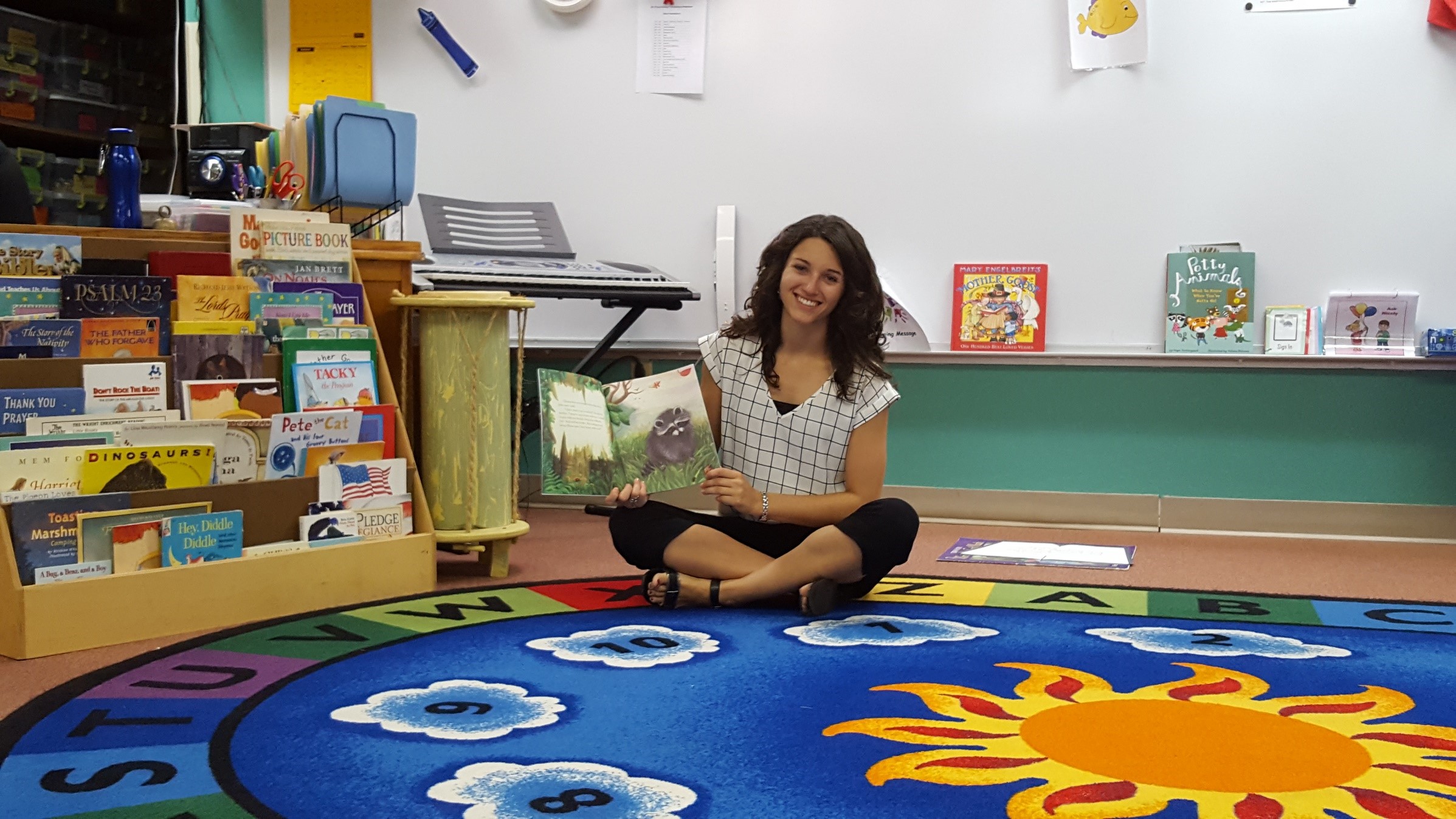 "My students don't need a perfect teacher.
They need a teacher who shows them Jesus and his love."
Sarah Frost (Mt. Olive-Appleton WI) didn't always want to be a teacher. In fact, she says she was "dead set against it." But with the encouragement of her parents, teachers, and pastors, she took the leap. After graduating in May with a double major (early childhood and elementary ed), she was assigned as the early childhood director and lead teacher for 3K-4K at St. Paul-Tomah, Wisconsin.
We interviewed Sarah in August, just before school started.
Sarah, what are you most excited about? Everything about your first call is exciting. Moving to a new city, becoming part of a new congregation, having all new experiences—it makes the years of studying and training meaningful and appreciated. But by far, I'm most excited to teach the children about the love of their Savior. Over half the families are not members at St. Paul, and a good percentage of them don't have a home church. What a wonderful opportunity to plant the seed and let the Holy Spirit do his work!
Are you nervous? I'm most nervous about the first week. Starting preschool is a huge transition for both the children and their families. The first week will be about building relationships and getting into a comfortable routine. No longer is there a veteran teacher in the classroom for me to turn to for guidance. I'm it now!
What have you done to prepare? I did inventory and sorted materials and toys—and preschool rooms need a ton of both! Then I rearranged the two preschool rooms, made block plans, and prepped materials for teaching.
You're also the director. What are your administrative tasks? I'm keeping track of tuition payments, creating a budget, writing policies for the program, drawing up plans for a summer program, and learning other aspects of my administrative position.
Did MLC prepare you for all this? The education I received at MLC was truly of the highest quality. We were given real-life advice along with textbook learning, so I don't feel overwhelmed. We were told we'd hit the ground running as first-year teachers, and I couldn't describe the past two months any better.
What's the most important thing you learned at MLC? How important relationships are. I've already established strong relationships with my faculty and congregation. My goal is to continue growing relationships with my students and their families, and then in the community. Most important, MLC engrained in me that my relationship with my Savior is my first priority. I know that it is God who works through me, and his love is what touches hearts.
Any surprises? What's most surprised me is how much trust and confidence people put in new teachers. Not that I was expecting the opposite, but in my mind I'm very aware that I am a first-year teacher. Yet teachers in the field and congregation members respect the training that MLC graduates receive and listen to their input and experiences. What an encouragement that's been!
What kind of teacher do you hope to be? I'd love to be the perfect teacher: the one who's always calm, always knows the right thing to say, always plans lessons that are engaging, and always has life organized. However, I realize that my students don't need a perfect teacher. They need a teacher who shows them Jesus and his love, who points them to the cross when they sin, and who is willing to grow right alongside them. I want to be the teacher who wakes up each day assured that God's grace is sufficient and that his power is made perfect in my weakness, so that I can enjoy each day with my students and show them the love of their Savior.
Finally, did you always want to be a teacher? No. In fact, I was dead set against MLC. However, God's thoughts are higher than my thoughts, and he blessed me with parents, teachers, and pastors who taught me about my Savior and encouraged me to use my gifts in service to God and others. No matter what path we as God's children choose in life, we know that our Savior is in control and gives us countless opportunities to praise him with our lives and to share the message of his grace.
– Adapted from MLC KnightWatch, Fall 2016
Meet 2016 Graduate Jessica Zahrt

MS Ed & Post-Baccalaureate Licensure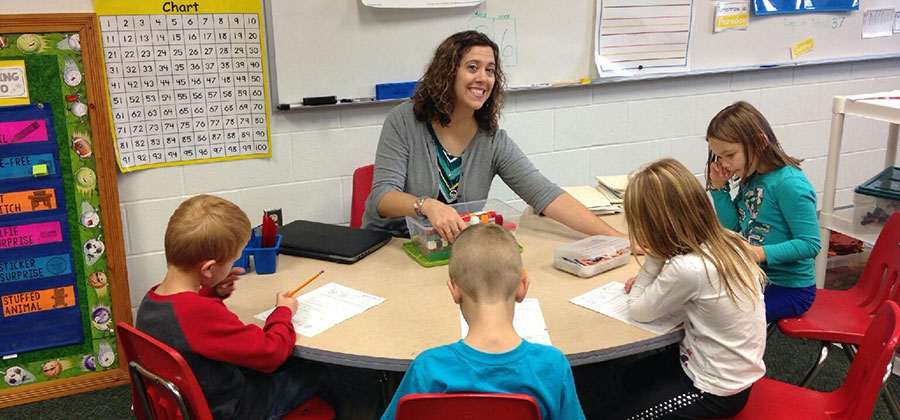 "It's a privilege to teach the children to be servants with a heart for God and his people."
Something few people know about Jessica (Rozek) Zahrt '03 is that she's a twin. Jessica's twin sister has some cognitive disabilities, and, growing up, Jessica saw how other kids sometimes picked on her. Maybe that's why Jessica is the teacher she is today, one who not only molds little minds but also massages little hearts with the gospel, helping her students grow more kind and loving every day.
Through the MLC graduate program, Jessica has done some growing herself as well.
Jessica teaches K-1 at Our Savior's in Wausau, Wisconsin, and, like many early childhood educators, especially multi-grade educators, her day is a highly choreographed dance. Children move from teacher-led skill-building activities to student-centered exploration centers. They use computers, do science "experiments," explore the world in social studies, and make art. They take brain breaks with music and movement, listen to read-alouds, sing songs, go out for recess, and have quiet rest and reading time. All of this is bracketed by the all-important Bible story time, afternoon devotion, and closing prayer.
"I love what I do," she says, "and can't imagine being anywhere else! There's nothing better than seeing progress in young students' academic and social skills and watching their knowledge of God and faith in him grow!
"Especially with young children," she continues, "I feel my role extends far beyond the book. It's a privilege to teach them to be servants with a heart for God and his people. My daily reminder to them is 'kind and loving.' How should we act? 'Kind and loving.' What kind of words do we speak? 'Kind and loving.'"
Jessica did not begin teaching immediately after her graduation from MLC in December 2002. She got married to Kevin Zahrt, had three children—Isaac, Sabrina, and Karsten, now 15, 14, and 11—and began teaching part-time only when Karsten began preschool. When all three were in school full-time, she began looking into master's programs.
"From what I found, MLC was the best fit for me. I loved the undergrad education I had received there, which was focused on God's Word and ministering to children and their families. I knew that the professors and my fellow students would understand me and my perspective as a called teacher at a small WELS elementary school. I believed they'd help me grow not only in my knowledge of education but also as a servant of Christ.
"MLC's completely online format was also convenient for me as a busy mom and teacher, and from what I found, also the most economical choice for our budget. It was an easy decision!"
Another easy decision for Jessica was coupling her master's degree courses with post-baccalaureate licensure courses. MLC's post-baccalaureate program allows teachers who have graduated from DMLC or MLC with a Bachelor of Science in Education degree to be eligible for their initial Minnesota teaching license or add-on to an existing Minnesota license. This is especially important for teachers who graduated before 2002 or who haven't taught in a while.
Several courses in the master's program apply also to the post-bacc licensure program, making it easy to accomplish both at the same time. (See the MS Ed/Licensure program plans.)
Jessica calls it a two-for-one benefit for her ministry. "I wanted to get a state teacher's license to show I have the knowledge and skills to be a professional teacher," she says. State licensure augments her credibility as a teacher and, by extension, her school's credibility as well.
Jessica began her MS Ed (leadership emphasis) in 2012 and graduated in 2016. "I most enjoyed the camaraderie of learning with fellow Christian teachers who are in classrooms so similar to mine! They understand our shared mission and focus in education, as well as difficulties that we sometimes encounter. These classmates, along with caring professors, encouraged me in my ministry to grow, improve, and faithfully continue to 'run the race'" (Hebrews 12:1).
Jessica notes many benefits to her ministry:
"The master's program increased my awareness of what's happening in the field of education. So much has changed since I studied for my bachelor's degree. This program has helped me understand current best practices and encouraged me to strive to put them into action in my classroom.
"It's also been beneficial in helping me more naturally communicate with parents and church members in regard to educating young children.
"And I love that I get to communicate to my students that I am a learner just like them! I am working on improving what I do each day."
In some ways, Mrs. Zahrt will always be the same teacher—one who teaches not only literacy, but love; not only computers, but kindness. In other ways, however, she's a teacher who's always changing, always growing.
"While it may be difficult at times to do something new and stretch yourself a bit more, knowing that you are making changes that positively impact the education of your students is so rewarding," she says. "There is such satisfaction in working toward a worthy goal and meeting it, especially one that you believe will make a positive difference in your mission field! I'm excited to see how God will use my strengths to serve him and his church in the future."
Adapted from the MLC e-newsletter Master's Program News, November 2016