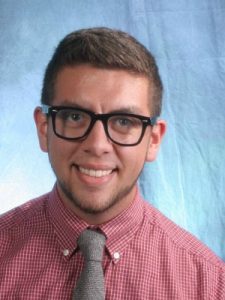 Greetings! You know how we value your partnership with us in the gospel. We pray for your work . . . as we hope you pray for ours!
Now a request: As you meet to choose your mission projects for next school year, please consider Martin Luther College's international students. These are young people from all over the world who come to us with a passion to share the gospel—people like Santiago Botero.
Santiago dreamed of being a doctor. Before he started medical college in Bogota, he wanted to go to an American high school for one semester. His pastor at the Colombian Lutheran Church urged him to try Michigan Lutheran Seminary. Santiago loved MLS, and when he visited MLC he loved it here too. In fact, he attended chapel and said it was "mind-blowing!" Suddenly his dream of a career in medicine was replaced by a dream to pursue the ministry.
During Santiago's college years, money was tight. Although MLC costs less than other private colleges, it's still more than double the cost of college in Colombia. So Santiago scrimped and saved, worked in the cafeteria for minimum wage, and applied for financial aid. With the help of many generous Christians, he made it. He graduated in 2016, and God saw fit to have him assigned to Great Plains Lutheran High School.
Our Savior directed us to "make disciples of all nations." Sometimes we go out and establish missions in other nations, and sometimes the "other nations" walk right through our front door. International students have comprised 2-3% of our student body for the last four years. When they graduate, they take the gospel back out into the world with them—back to their home countries, or to other countries, or to American ministry settings.
Will you help us help them? Will you consider the MLC International Student Aid Fund as a quarterly mission at your school? We—and lots of students like Santiago—will thank you! God's Blessings!
We  have a few simple activities you can do with your students related to MLC and to sharing the gospel. We offer bulletin board pictures for your use as well. Also, we'd be happy to send you small individual mission boxes if you'd like. Just email Tami at boardtl@mlc-wels.edu and request the number of boxes you need.