Because Technology Revolutionizes Education
An interview with Ted Klug BS '97, MS '18
When Ted Klug was considering a master's degree program as the next step in his professional development, he knew what field he wanted to explore: technology. As Lakeside LHS director of technology, Ted had already seen major changes in classrooms because of tech, and he foresaw many more. He wanted to be part of it. He wanted to be a leader in it.
Gone were the days when some students declined to join a class discussion because they didn't want to raise their hands; now every student was engaging in discussions held online. Gone were the days when students wrote a paper, handed it in, and then glanced casually at the teacher's comments when it was returned; now teacher and student worked together on a paper online, the teacher asking questions to improve student learning every step of the way. In fact, Ted remembers helping a student in Lake Mills, Wisconsin, with their paper from his computer in Thailand.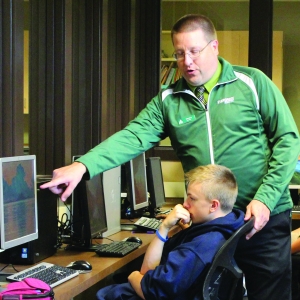 So choosing a technology emphasis for his master's program at MLC was an easy decision. When he left Lakeside and accepted the call to serve as principal at Evergreen LHS, he flirted with the idea of leaving behind the tech emphasis as well. But only briefly. "While I could have changed the focus of my master's," he says, "I felt that one of the best ways I could leverage technology within a school is from the principal's office."
So he stuck with technology. In many ways the MLC courses affirmed what he was already doing with tech, and in other ways, they inspired new ideas and new applications. "The program pushed me. When I bring new things into my teaching that impact students, that is an amazing thing."
MLC's program impelled him to assist other schools with technology as well. He understands that teachers are busy. He understands that technology comes more naturally to some than others. But he's convinced it's imperative.
"Technology isn't a garnish. It's not like the little piece of parsley that separates a nice platter of chicken tenders at a good restaurant from a box of nuggets at McDonalds. It's much more than that. Technology revolutionizes student learning."
To help move the revolution along, Ted developed a Capstone Project for his MLC master's program that he hopes will assist teachers across the whole synod. It's called "Cross-Curricular Technology Integration Curriculum: A Dynamic Curriculum for K-4."
"Although I'm a high school principal," he explains, "I observed many lower grade teachers who felt overwhelmed and unprepared to integrate technology into their daily teaching. That need gave me an interesting challenge. I wanted to provide guidance to our Evergreen federation grade schools—and any other interested grade schools in WELS and ELS. I pray the curriculum will fill that need."
Klug's technology curriculum for lower grades focuses on the standards created by the International Society of Technology in Education and simplifies them, breaking them down into objectives that are easy to integrate and teach in the classroom.
"For each objective I provide an example, a full lesson, or a link to a website," he explains. "And each objective is connected to a class—science or math or history. The old method was to add a technology class to the schedule. This is not that. This curriculum embeds technology techniques and principles into the disciplines."
He calls the curriculum "dynamic" for a reason. It's organic, ever-changing, crowd-sourced. "As I present this in different places, I'll be looking for teachers to submit what they have, so that the curriculum grows and changes and improves."
The goal is to give teachers tools at a moment's notice. "Our teachers are busy, so the more tools we give them, the better they'll be and the stronger our schools will be."
And Ted wants our WELS schools to be strong. He's convinced that teachers are more effective when they harness the power of tech, when they "infuse technology into the curricula." We don't need strong technology programs to be flashier than other schools, he says. Nor does tech simply replace old tools—like online textbooks replacing hardcover books. "Technology actually revolutionizes student learning."
He urges other elementary and high school leaders to explore how a tech infusion can improve their schools.
"It is so important that people dive into the Tech Education emphasis at MLC. The courses provide methods to integrate technology into the day-to-day ministries of our schools. Every teacher in our school system should consider diving into the program."
Ted's Experience with MLC's program
Professors: "I felt that the greatest part of the program was the closeness that you felt with your professors. You were never a number in the MLC program. I was able to interact the professors, whether by email or by phone, at almost any time. This made the program for me."
Courses: "I appreciated the variety of courses within the program. I would love to mention one or two courses that were better than others or that stood out, but they all were excellent and helpful."
Relevance: "I was very happy that the professors made the projects flexible enough to fit into everyone's ministry situation. I ended up getting a number of projects and activities that I could use in the classes I teach."
Value: "I was impressed with the pricing for MLC's program."
Making it all fit: "During my program, I had a number of situations where I needed extra time to complete work. The professors were very understanding of the time commitments of a called worker."
Spiritual Growth: "As I looked at other programs, I continuously felt that I desired Christ at the center of my education, even at a master's degree level. If there is anyone that understands the needs of a ministry position more than MLC, please find them for me."
Overall Impact: "MLC's master's program provides a Christ-centered path that will impact your teaching and ministry in so many ways."
Personal
Family: "My beautiful wife Kirstie (nee Lange) teaches at Lakewood Lutheran School (ELS) in Lakewood, Washington. We have two amazing daughters, 11 years old and 10 months old.
Ministry Joy: Sharing God's Word with the many students who have little to no relationship with him.
Hobbies: Building computers, playing video games, traveling (49 of 50 states), and going on Carnival Cruises. ("Fifteen so far—they're very affordable if you travel at the right time!)
Media: Amazing Race, Survivor, Jimmy Buffet, music of the 80s and 90s (We call them oldies now! Scary!)
Written by Laurie Gauger-Hested