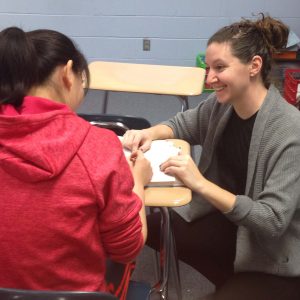 In recent years, Lutheran schools have been serving and seeking to serve more students with special needs.
With the start of the Wisconsin Special Needs Scholarship Program, many Lutheran schools in that state are expanding their services to special needs students, and many other schools all over the country are expanding their special education and learning resources as well.
MLC Can Assist You
This change can be scary and difficult, but Martin Luther College is ready to help you meet those challenges.
MLC offers two different ways for veteran Lutheran teachers to expand their services to serve their special needs students. Some may choose to retrain to fulfill the role of a full-time special education teacher or coordinator. Others may want to remain general classroom teachers but acquire new skills to serve students with a wider range of differences and needs.
MLC has what you need for both.
General Classroom Teachers: The Master of Science in Education degree with a special education emphasis helps classroom teachers
Recognize and serve a range of students in your classroom,
Successfully navigate the referral process,
Implement accommodations,
Address reading and math delays, and
Help students with emotional/behavioral challenges.
This program is specifically designed with maximum electives so teachers can grow in other areas of classroom instruction, technology, and leadership as their interests and responsibilities suggest.
Special Education Teachers: The Master of Science in Education degree with Special Education LD Licensure helps teachers
Diagnose and serve students with learning disabilities,
Coordinate special education services with the public school,
Collaborate professionally with school and community partners,
Implement and monitor student IEPs/ISPs, and
Ensure that all students in the Lutheran school succeed.
Perhaps the most important part of this program is an internship in a special education setting so that teachers can observe and practice successful models of support. To facilitate this experience, MLC will pay the substitute teacher costs that permit the graduate student to gain these experiences outside their classroom.
As always, our courses are designed by Lutheran teachers for Lutheran teachers in Lutheran schools. Every course embeds the content in ways that are specifically designed for and practical in Lutheran school settings.
Contact Dr. John Meyer at 507.354.8221 or meyerjd@mlc-wels.edu for more information about earning your master's degree.