"I've Been Waiting for This"
Lynn Jungen Is Enjoying MLC's New MS-Educational Administration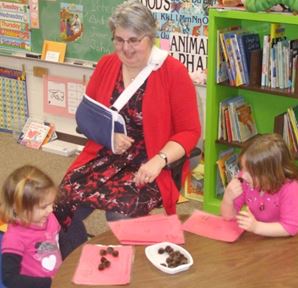 "I believe my job is to help children use and develop their God-given abilities to serve their Lord, their family, their neighbors, and their congregation."
So says Lynn Craker Jungen DMLC '80 of St. Peter-Mishicot, Wisconsin. As the sole faculty member—both teacher and director—at Tiny Treasures Preschool at St. Peter's, she is also intent on developing her own abilities so she can serve her congregation as well as possible.
She's been pursuing professional growth for years in education, but she's also wanted to strengthen her administration skills—things like determining and overseeing the budget, fulfilling state requirements, and marketing the preschool in her community. That's why she's so excited that Martin Luther College has now established a new Master of Science in Educational Administration degree.
"I've been waiting for this a long time," she says.
The new degree program has two separate emphases, Principal and Early Childhood Director. While a principal and an ECE director share many of the same administrative tasks, each position has unique challenges and opportunities. The two emphases of this program address those distinctions.
Jungen says the master's courses are impacting her ministry already. "The Leadership for Change course helped me think more deeply about the ways I can help my parents and congregation improve their preschool. And School Business Administration helped me plan enrollment marketing strategies. My contact letters and mailings are improved due to lessons learned in this course."
She says she's taken a number of courses at excellent public universities. "But something was missing, and that was Christ. It's so refreshing to take classes with fellow Lutheran teachers. The courses at MLC connect directly to my ministry, so I don't have to pick and choose the material that applies, as I did in public college classes."
Her knowledge base is growing—as is her arsenal of research-based best practices—and these only increase her joy in teaching. "The joy is sitting in front of my students daily and sharing the good news of God's love for sinners. The majority of my students have either never heard about Jesus or have a very limited idea about God. Watching the Holy Spirit create and strengthen faith in his little ones is astounding, and I thank God every day for this privilege."
Like all busy WELS teachers, Jungen appreciates the convenience and flexibility of online courses. With a call that also includes Sunday school superintendent, vacation Bible school director, and organist, she simply wouldn't be able to come to campus for an extended period of time.
MLC's new educational administration program fills all her needs. "I'm truly thankful MLC developed their master's programs. MLC uses Christ-centered education to make me a better servant for Christ, my congregation, my families, and my students."
Meet Lynn Jungen:
"I've been married to fellow 1980 DMLC alum, Scott, for 35½ years. I spend my spare seconds sewing, quilting, and making jewelry. I include my quilting in the curriculum, where the class makes a quilt when studying the letter Q. I'm a lifelong Packer backer and Badger fan. I jokingly tell others I have a mixed marriage, as my husband is from Washington DC and loves all things Redskins and Maryland Terrapins."
Written by Laurie Gauger