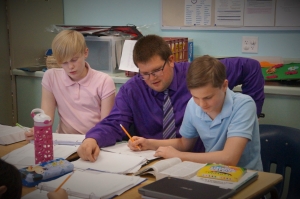 Eric Wolf '13 knows the Word of God works, and he's committed to leading, pulling, and pushing the middle schoolers he teaches deeper into that Word. So he recently decided he wants to go deeper into Scripture himself—through MLC's Master of Arts in Theological Studies (MATS).
Eric has taught at Westside Christian School in Middleton, Wisconsin, since his graduation from MLC. His schedule includes departmentalized math, social studies, science, and religion. He coaches forensics and directs the upper grade play, and he takes the seventh and eighth graders on their annual field trips to either Washington DC or the Creation Museum/Ark Encounter. He gives chapel, delivers children's sermons at church, and works with school technology.
It's a lot. But one component of his teaching easily rises to priority #1.
"There is no greater joy in my day," he says, "than teaching the truths of the Bible. Knowledge about God is the only thing our kids can take with them for an eternity.

"We have an excellent opportunity to teach students the truths from the Bible every day," Eric says, "and all of our WELS schools should be committed to providing the best Bible teaching in the world."
That commitment to excellence in Bible instruction led Eric to MLC's MATS program. Designed for ministry-certified staff ministers and teachers who have completed undergraduate theology study, MATS provides advanced studies in Scripture, doctrine, church history, and ministry. It equips graduate students with higher-level tools for studying the Bible and applying biblical truths to specific situations in life and ministry.
It's the kind of learning that fills up a called worker's mind and heart and then overflows into the called worker's ministry. That's what Eric is counting on. He says he wants to grow in Bible knowledge, note the big trends in the biblical story, and learn how to share those truths with people who believe differently—and with impressionable preteens and teens.
"I strongly believe that teachers need to prepare middle school students for their Christian lives," he says. With so many challenges facing them in the world outside our walls—evolution, ethical questions, growing up—we need to help them see how the Bible is meaningful in their lives and then help them think through tough questions and answers."
For Eric, that means creating accessible but challenging Bible class materials, connecting the Word to history and science in deeper ways, and making it all relevant to young minds—all to push students "to think more deeply about God's Word and apply it to their lives in more meaningful ways."
Eric has taken two courses in the program so far: Creation Apologetics and New Testament Theology. He says it can be a heavy workload, but the professors understand the busy schedules of called workers, and the blessings are definitely worth it. "Being in God's Word every day on another level is such a blessing. Not only has it helped me professionally teach my students better. Being in God's Word every day has amazing spiritual benefits and personal benefits. God's Word keeps working!"
Eric is married to Jill nee Prost MLC '11, who finished her MS-Education through MLC in 2016 and who teaches at St. John-Jefferson. They have a dog named Kinley, and they love hiking, biking, traveling, and trying new restaurants and new beers.
They've just accepted calls to Bloomington Lutheran in Minnesota. Eric will continue with his MATS study, to grow in grace himself and to become a resource for other teachers and staff members as they lead students to dig deeper into God's Word.
He encourages others to pursue this degree in theological studies as well. "Just do it! There are so many different views about religion and life out there. It is great to be strengthened in your faith and then to share your knowledge with others."
Written by Laurie Gauger-Hested DMLC '87