Dr. Jason Lowrey is excited to join the MLC graduate faculty, working with Lutheran teachers who, together with their students, are running the race of faith.
He's teaching EDU5001 Issues in Education, a course where students explore topics with far-reaching effects on student learning: professional learning communities, mental health needs, standards-based education, vouchers and school choice programs, parental involvement in schools, and more.
"I simply love connecting with inservice instructors as they grow their skill set in the master's program," he says. "It is great to see the instructors apply so many of the lessons in my course, and I appreciate the level of connection they have with fellow learners and with me in the class."
In fact, it's those connections that really makes the course meaningful. "The power of this course," he says, "lies in the collaboration of the students and the sharing of their experiences in these timely topics."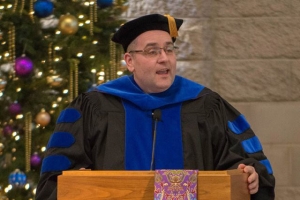 Lowrey brings his own vast experience in Lutheran education to the course. After his MLC graduation in 1996, he taught and/or served in administration at Arizona Lutheran Academy, Lakeside Lutheran High School, and Shoreland Lutheran High School. He then served as director of the Master of Arts in Education program at Wisconsin Lutheran College. Today he's vice president for academic affairs at Bethany Lutheran College.
Lutheran education, he says, is all about running the race of faith. "I think about the Latin root of the word curriculum, meaning course or race, and can't help but think of the apostle Paul and how he speaks of the race of faith he ran to promote the gospel. Our called workers are all part of a special race in promoting that same gospel to the people we serve.
"God gives us special opportunities to share his message of salvation in such unique ways. It can be direct witnessing to students, or it can be by Christian example in a more traditional discipline like the more secular subjects we teach."
Lowrey understands the importance of designing curriculum around the message of Christ. This is how called workers "light the path for young Christians as they run their race of faith."
"Where else in all of education do we get that special opportunity to be lights of the gospel to others?" he says. "Our Lutheran schools are poised to provide such a whole-child approach to learning, and never has there been a more important time to serve in this way than in today's classroom."
As he teaches Issues in Education, then, Lowrey's mission is "to serve the learners of the MLC program, helping them find research-based, tested and tried methods to create innovative ideas for their classroom."
He knows that educators who have expanded their skill set and deeply explored topics in education can not only improve student learning in their own classrooms, they can also raise the level of professionalism in their schools. These called workers will be "in a position to lead their faculties in meaningful and impactful ways"—encouraging both teachers and students in the race of faith.
—-
Meet Dr. Jason Lowrey:
Education:
BS Ed-K-12 Education and English: Martin Luther College, 1996
MS Ed-Curriculum and Instruction: Concordia University Wisconsin, 2004
PhD-Curriculum and Instruction: Capella University, 2012
Professional organizations:
Council of Christian Colleges and Universities
Council for Independent Colleges
Association for Supervision and Curriculum Development
Family: "My wife, Rachel, and I will celebrate our 25th anniversary in June! We are blessed with five children: Abby, a paralegal in Milwaukee; Allison, a business student at Winona State University in Minnesota; Adam, a first-year Media Arts student at Bethany Lutheran College; Annika, a sixth grader; and Abel, a kindergartner."
Congregation: Peace-North Mankato MN (ELS)
Summer pastime: "I try to golf weekly in the summer, traveling the Midwest with friends to find new courses."
You might be surprised to know: Dr. Lowrey served as a curriculum specialist for financial expert Dave Ramsey in Nashville, Tennessee, in 2008-2010. He researched, developed, and helped design high school, college, and middle school curricula called Foundations in Personal Finance.
Written by Laurie Gauger-Hested