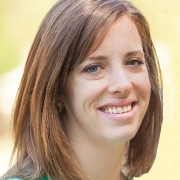 The children at the WELS preschool in Raleigh, North Carolina, would never guess that Mrs. Kiecker, the teacher they love so much, never planned on teaching preschool. But early childhood education  (ECE)—and becoming a leader in ECE—is now her passion.
As a student, Julianna (Meyer '11)  Kiecker (pictured) couldn't wait to teach Spanish. She'd double-majored in elementary ed and Spanish, even teaching a while in the Dominican Republic. When she graduated, so did her new seminary-trained husband, Phil Kiecker, and he was assigned as pastor to Gethsemane-Raleigh NC. Julianna received a call too—to the congregation's preschool.
"I was terrified. What was God thinking!?" she said. "I was supposed to be doing ministry using Spanish.
Gethsemane's preschool, Precious Lambs Early Learning Center, had been a thriving ministry, but calls and pregnancies had depleted its staff, enrollment had fallen from 29 to 9, and the center was on the brink of closure. Unless they got a new director. So Julianna said yes. "Even though I didn't understand God's plans, he was calling me to this ministry. I felt I should at least try."
"We have this treasure in jars of clay to show that the surpassing power belongs to God and not to us." That passage from 2 Corinthians 4 summarizes the beginning of her ministry, Julianna says. It was difficult, and she felt unqualified. But she put herself and the Precious Lambs ministry into God's hands, and he did his work. Enrollment rose. Financially they got back in the black. WELS teachers were found—not an easy task in that area. And state officials gave the center a five-star rating.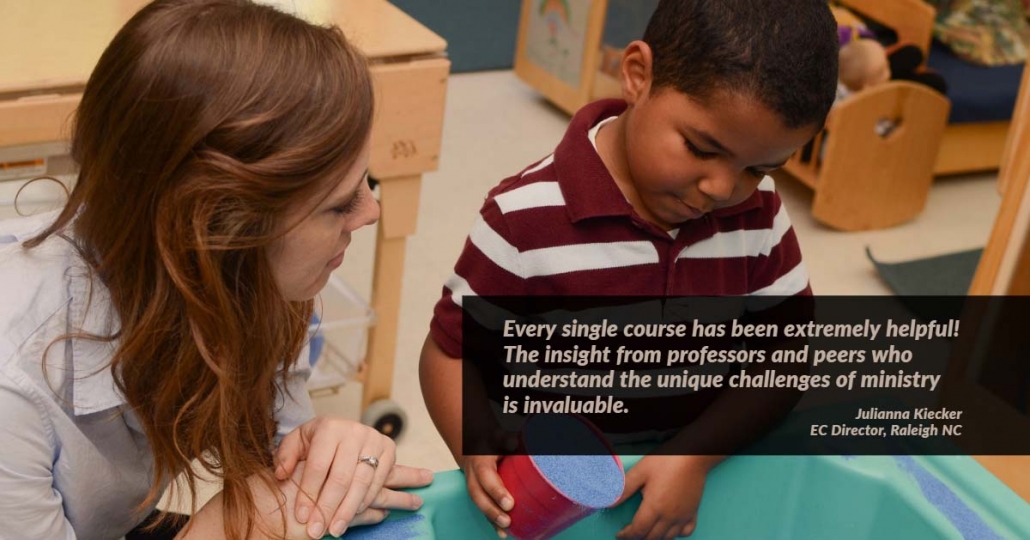 Most important, children and families heard the gospel. When a new student asked, "Who's Jesus?" during Julianna's first year, she knew how much this ministry mattered. "It blew me away that a child in 'Christian' America could have lived four years without ever hearing who Jesus is! There's nothing as exciting and humbling as being the first person to tell someone about their Savior Jesus, who loves them so much!"
With classrooms filling up and parents requesting infant and toddler care, congregation members started to say the exciting words, "new building." Though it's only half-finished today, 70 of 74 available student spots are already spoken for.
"God also worked his power in me," Julianna said, "turning preschool education into something I felt passionately about." She decided it was time to look into master's programs so she could be the best director possible.
The University of North Carolina would have given her a free ride for the entire program, and she considered it. "But every time I looked at their courses," she said, "I felt underwhelmed." They focused on political issues, preparing their graduates to be ECE activists. "That didn't match up with my goals. I wanted courses in how to be a leader, a mentor to teachers, and an expert in ECE."
MLC's new MS in Educational Administration was a perfect fit. "I was excited to see that every single course would be relevant to our ministry, and the professors and students would be approaching the issues from a ministry point of view. I struggled for a bit with the fact that I'd be paying for the program when I could complete a similar degree for free. In the end, though, I felt the degree itself was less important than the knowledge and skills I would get out of it. In this respect, the two programs were not equal."
With financial assistance from her congregation, she's now in her fourth semester of MLC's program. "Every single course has been extremely helpful! The insight from professors and peers who understand the unique challenges of ministry is invaluable."
Julianna says she's still a jar of clay, totally dependent on the power of God, but as Precious Lambs opens their expanded center, MLC's courses are giving her the extra confidence she needs. "I'm so glad I made the decision to enroll. I know that what I have learned so far has already influenced me as a leader, director, and teacher."
Reprinted with permission from InFocus magazine.