A Strategic Plan
for Housing
As a centerpiece of this campaign, we want to build a new residence hall and renovate our current dormitories to meet the needs of the next generation.
Admissions counselors report that the campus visit is the most important factor in the prospective student's college decision-making process. Generally, our visitors love the Christ-centered culture of MLC, the beautiful chapel, the well-tended grounds, the welcoming faculty, and the friendly and dedicated students.
Some of our campus facilities, however, are in need of an update! Almost all our buildings are more than 50 years old. We are grateful to the Christians of past generations who gave so generously to make them a reality. Unfortunately, buildings are not timeless, even if the Word spoken within them is.
Now it is our generation's turn. With the input of two consulting firms—and keeping in mind good stewardship of the synod's resources—we are planning to build a new residence hall.
This facility will allow all students to live on campus. It will provide rooms for the prospective students who visit us, sometimes in groups of several hundred. And, if God so blesses, it will provide a home away from home for the expanding enrollment we are anticipating.
Residence Hall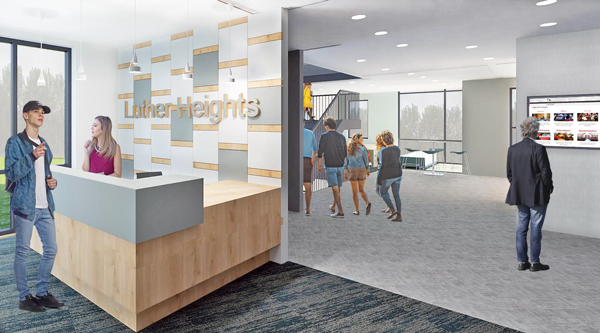 This beautiful facility is modest but high-quality, providing our students both more personal space and more shared space for collaboration. Overlooking Summit Avenue, at the main entrance of our college, it will be a beautiful new focal point of the campus and a wonderful place for our students to call home—a place where they'll live, learn, and grow together as a Christian community.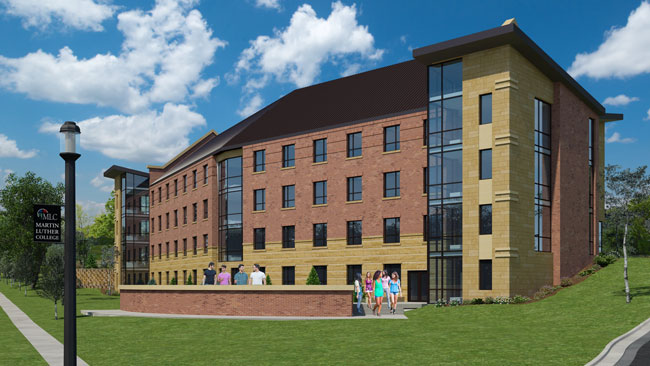 The architectural design of this facility respects the historic aesthetic of our campus, but also tips its hat to the future, especially with the striking glass Skyline Studies on the ends of each floor.
Athletic Center – FUNDED!
An Athletic Center
to Meet Student Needs
The Martin Luther College (MLC) administration and governing board are excited to announce a significant advancement in the Equipping Christian Witnesses (ECW) campaign pillar designated to campus facilities. Thanks to the gift of a generous donor, our new athletic center is fully funded.
After extensive interviews, analysis, and research, MLC's comprehensive campus site plan identified two priorities: residence space and indoor athletic space for sports teams, physical education training, and student life. For that reason, an athletic center and a residence hall were included in the facility improvement pillar of the ECW campaign.
MLC is thankful for the gifts received from many individuals, congregations, and schools throughout the Wisconsin Evangelical Lutheran Synod. We are also thankful for the support we have received from the New Ulm community. Those gifts provided a generous financial foundation for facilities, and now, God has moved the heart of a very generous donor to provide a transformational gift to the athletic center that will allow construction to commence.
The athletic center, named the Betty Kohn Fieldhouse, will be located at the MLC Athletic Field Complex west of the main campus, near the soccer and baseball fields. This 36,000-square-foot indoor turfed facility will feature large practice areas, baseball/softball batting cages, golf simulators, and locker rooms. In April, the MLC campus family will celebrate the groundbreaking of the fieldhouse, with student use anticipated by the beginning of 2022.
MLC President Rich Gurgel commented on this milestone of the Equipping Christian Witnesses campaign: "We are thankful to God for the generosity of so many people. The Betty Kohn Fieldhouse will serve our student body well. It is also a significant beginning to our long-range plans for making our campus even more attractive to prospective students. And we look forward to exploring how the fieldhouse can serve the recreation needs of the New Ulm community as well."
New Athletic Facility Groundbreaking

MLC broke ground on a new athletic facility, the Betty Kohn Fieldhouse, in April. MLC administration, coaches, and students participated in the event, one which Rev. Richard Gurgel, MLC president, calls a milestone. "For many months God was moving the hearts of our brothers and sisters around the synod —with their gifts and their prayers and their encouragement to others—to build a foundation, a financial one and a spiritual one, for this day," he says.
A large gift from a donor family finished the funding and allowed construction to begin. The 36,000-square-foot indoor turfed facility, which features large practice areas, baseball/softball batting cages, golf simulators, and locker rooms, will support a year- round physical education curriculum, enable spring sports to practice regularly, allow for additional intramural offerings, and create community connections. Plans are for students to be able to use the new athletic center by the beginning of 2022.
Follow the new constructions live-time!
Betty Kohn Fieldhouse Live Cam
Betty Kohn Fieldhouse Timelapse