From President
Mark Zarling
As a centerpiece of this campaign, we want to build a new residence hall and renovate our current dormitories to meet the needs of the next generation.
Admissions counselors report that the campus visit is the most important factor in the prospective student's college decision-making process. Generally, our visitors love the Christ-centered culture of MLC, the beautiful chapel, the well-tended grounds, the welcoming faculty, and the friendly and dedicated students.
Our campus facilities, however, are in need of an update! Almost all our buildings are more than 50 years old. We are grateful to the Christians of past generations who gave so generously to make them a reality. Unfortunately, buildings are not timeless, even if the Word spoken within them is.
Now it is our generation's turn. With the input of two consulting firms—and keeping in mind good stewardship of the synod's  resources—we have prioritized a new residence hall: Luther Heights!
Luther Heights will allow all students to live on campus. (Right now, some students are compelled to live in alternative, off-campus housing because of our lack of space.) It will provide rooms for the prospective students who visit us, sometimes in groups of several hundred. And, if God so blesses, it will provide a home away from home for the expanding enrollment we are anticipating.
Luther Heights Residence Hall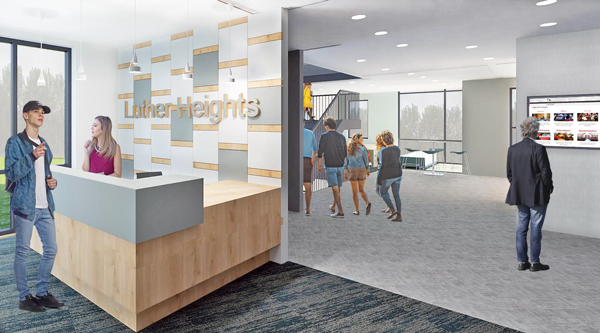 The beautiful Luther Heights is modest but of high quality, providing our students both more personal space and more shared space for collaboration. Overlooking Summit Avenue, at the main entrance of our college, it will be a beautiful new focal point of the campus and a wonderful place for our students to call home—a place where they'll live, learn, and grow together as a Christian community.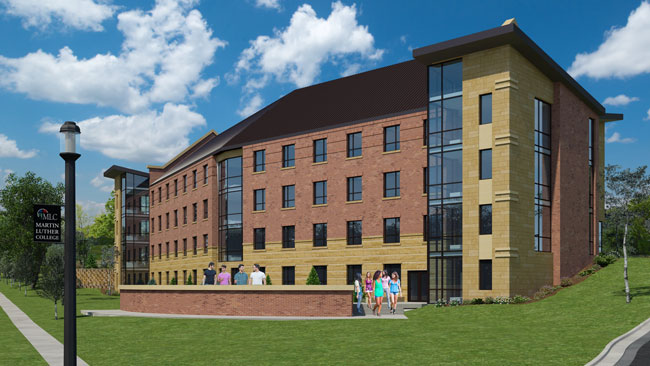 The architectural design of Luther Heights respects the historic aesthetic of our campus, but also tips its hat to the future, especially with the striking glass Skyline Studies on the ends of each floor.

From President
Mark Zarling
Athletics and physical education are an important part of the Martin Luther College experience. For those students training to be PE teachers and coaches in WELS schools, they are an integral part of their development as future called workers.
One of our basketball players said it well: He said he was thankful MLC provided him the opportunity to use all his gifts to the fullest and to "grow into the Christian man I want to be."
For many years, however, we have not had adequate athletic space—for our student body, our teams, or visiting teams. The new Knight Center will meet these pressing needs of today and help us offer expanded opportunities tomorrow. Specifically, the Knight Center will . . .
Allow expansion of the PE curriculum to year-round
Allow all spring sports to practice regularly
Provide additional locker rooms for home and visiting teams
Multiply opportunities for health and wellness
Increase intramural offerings
Create community connections
Save money currently spent on facility rental for spring practices