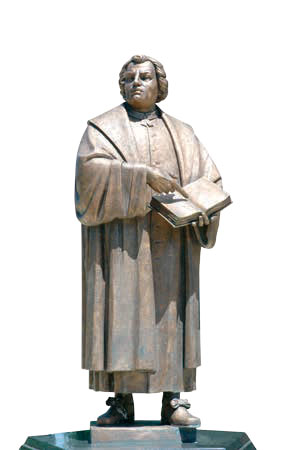 A Radical Reformer Speaks Out on The Fine Art of Music

by MLC Professor Emeritus Arnold Koelpin WLS '58
Martin Luther, the "nightingale of Wittenberg," loved music and poetry. Love for the arts is one of the most significant features of his character. As a hymn writer, Luther excels in style and sentiment. Artistically his hymns, though rough hewn at times, unite form and content so well that they do not have to be learned. Just singing the hymns impresses them on the memory, much to our joy.
The reason for the enduring appeal of Martin Luther's hymns is not hard to find. His hymns talk to people because they talk like people. His compositions are simple, blunt, crisp, and heartfelt. One can sense in them a feeling for the rhythm of life. They breathe the air of trust, as children trust.
Yet Luther's eye does not focus merely on people themselves. God is the center of the message. Luther blends personal expressions of faith with celebration of the mighty works of God: God's ever-attendant care, Jesus' suffering for us, and the Spirit's gift of joy.
Luther wrote a modestly small number of hymns. About 40 have survived. But those printed in today's hymnals have become classic hymns of faith. And though few in number, their scope is wide. The Reformer bookends the church-year with songs from Advent and Christmas through Lent, Easter, Pentecost, and the Holy Trinity.
His Catechism hymns aim to educate Christians, young and old, in the chief parts of Christian faith: Ten Commandments, Apostles' Creed, Lord's Prayer, and the Sacraments of Baptism, Confession, and the Holy Supper. His creativity makes Hebrew psalms sing in German style. He translates Latin hymns, transforming and personally interpreting them.
Humanly speaking, we may express our surprise at Luther's cheerfulness. Like St. Paul, his triumphant faith was born in adversity. Married later in life, Martin suffered the loss of two of his six children. His teenaged daughter Magdalena died in his arms. His years in public ministry were marked with personal tragedy. He was excommunicated by the Roman Church and exiled by the Emperor. Through it all, God taught him the patience and steadfastness that became the stamp of the Reformation. His most famous hymn says it with the certainty born of faith:
A mighty Fortress is our God,
A trusty shield and weapon. . . .
Though devils all the world should fill . . .
We tremble not; we fear no ill.
They shall not overpower us.
This world's prince may still
Scowl fierce as he will.
He can harm us none.
He's judged; the deed is done.
One little word can fell him.
"Next to theology there is no art equal to music, for it is the only one, except theology, which can give a quiet and happy mind." – Martin Luther
God's Word was his comfort and inspiration. Trials and tests drove him to the Scriptures. They revealed the God who cares. Hope and joy inspired him to write an autobiographical hymn. In it, Martin the sinner hears the intimate conversation between God the Father and Jesus his Son, set as an exchange between God and sinners:
Dear Christians, one and all, rejoice
With exultation springing,
And with united heart and voice
And holy rapture singing,
Proclaim the wonders God has done,
How his right arm the victory won! . . .
He spoke to his beloved Son:
'Tis time to have compassion. . . .
The Son obeyed the Father's will,
Was born of virgin mother . . .
A servant's form for us he bore
To lead the devil captive. . . .
His songs intentionally aim to bring each Christian comfort under trial: "We sing . . . neither songs of mourning nor of lament to our dead," he wrote, "but songs of comfort, songs about forgiveness, of life, resurrection, which strengthens our faith and shall encourage the people to true devotion." Some hymns even become graphic portraits. How smoothly we read the lines, "Christ Jesus lay in death's strong bands for our offenses given. But now at God's right hand he stands and brings us life from heaven." Its stanzas flow over our tongues and return easily to our hearts and minds in prayer. We hardly realize this hymn is not an original, but Luther's translation of an ancient melody. The craftsman distinguishes himself also in variety. He employs different rhythms in a wide range to fit the themes. But the heartbeat of the Reformer's proclamation is the joyous exchange between Christ and the sinner. And Luther's hymns abound with the message. The holy Lord exchanges the riches of heaven for a life of suffering, shame, and death on our behalf. We, in turn, are released of our sinfulness and receive eternal life and salvation from him.
An adversary once accused Martin Luther of leading more people astray through his hymns than through his sermons. The remark was meant in scorn to the Reformer's success in preaching the gospel. But Luther's love of music even moved him to confess to a master musician in Munich, "I really believe nor am I ashamed to assert that next to theology there is no art equal to music, for it is the only one, except theology, which can give a quiet and happy mind. . . . This is the reason why the prophets practiced no other art, neither geometry nor arithmetic nor astronomy, as if they believed music and divinity nearly allied."
Not surprisingly, therefore, Luther encouraged princes and city councils to secure outstanding musicians for their churches.
"It is right that we retain music in the schools," Luther commented. "The young are to be continually exercised in this art; it makes good and skillful people of them."
And so it is that congregational singing and hymnody remain the hallmark of the Lutheran
church to this day 500 years later.