Choir Tour Changes Announced
Due to the winter weather event across the Midwest and many related flight cancellations, the Martin Luther College Choir Spring Tour itinerary to the west coast has been changed.
Many efforts were made to connect with our friends in the states of Washington and Oregon, but no flights were available that could bring the choir within a reasonable driving distance for concerts and worship planned in the Seattle and Portland areas. We sincerely apologize for the inconvenience caused by these changes.
Flights have been secured that will allow for a fresh start to the tour on Sunday, February 26. Thank you to the congregation of St Mark's in Citrus Height, CA for allowing the choir to join your 10:45 morning worship service.
If subsequent travel remains as planned, the choir will pick up the rest of their spring tour itinerary with a 7:00 pm concert at Mt Calvary Lutheran Church in Redding, CA.
See below for the updated itinerary.
… 
We hope you can join us at a concert near you.
To hear samples of the choir, you can visit the Media Kit page. Online listening options, MP3 Digital Downloads, or CD recordings of the choir can be found at this link.
Spring Tour Schedule  – revised 2/24/2023
| | | |
| --- | --- | --- |
| Sunday, Feb 26 | St Mark, Citrus Heights, CA | 10:45 am (Worship) |
| Monday, Feb 27 | Mt Calvary, Redding CA | 7:00 pm |
| Tuesday, Feb 28 | Apostles, San Jose CA | 7:00 pm |
| Wednesday, Mar 1 | Apostles LES/LHS, San Jose CA | 8:30 am |
| Thursday, Mar 2 | California LHS, Wildomar CA | 10:00 am |
| | Beautiful Savior, Carlsbad CA | 7:00 pm |
| Friday, Mar 3 | Hope, Los Angeles CA | 7:00 pm |
| Sunday, March 19 | Martin Luther College, New Ulm MN | 3:00 pm |
Fall Tour Schedule
| | | |
| --- | --- | --- |
| Wednesday, Oct 19 | Northland LHS, Mosinee WI | 1:00 pm* |
| | St Paul, North Fond du Lac WI | 7:00 pm |
| Thursday, Oct 20 | Winnebago LA, Fond du Lac WI | 9:30 am* |
| | St Mark, Watertown WI | 7:00 pm |
| Friday, Oct 21 | Luther Prep, Watertown WI | 8:45 am* |
| | Shoreland LHS, Somers WI | 2:00 pm* |
| Saturday, Oct 22 | St John, Libertyville IL | 7:00 pm |
| Sunday, Oct 23 | St Lucas, Milwaukee WI (worship) | 10:30 am |
| | * Please contact re seating availability. | |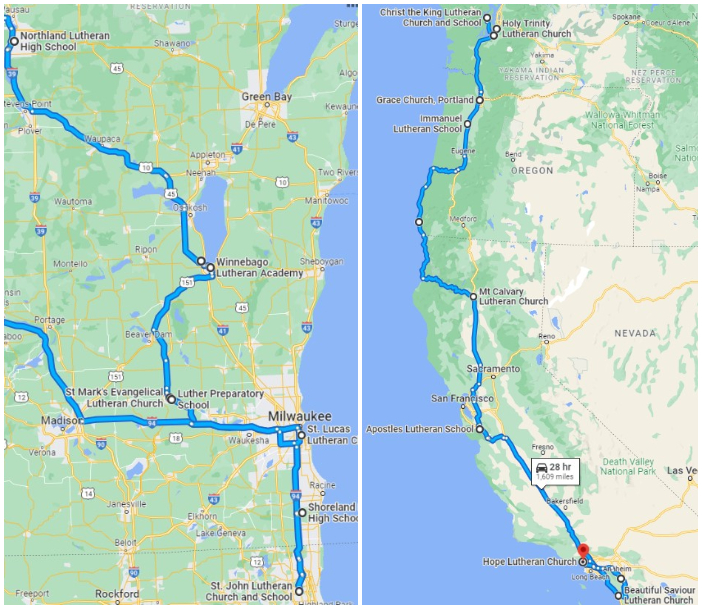 ---