How and Why MLC-OPOLY Came to Be
MLC-OPOLY was developed as a way to celebrate the 25th anniversary of MLC. As in all things, we want this game to glorify God and give Him thanks for His provision and preservation of this place and its people. We hope that students and alumni will enjoy reminiscing about their time here on the hill. Another goal is that alumni will play it with their students, family, and friends as a fun way to introduce others to their alma mater. 
A Cartoon Campus
In order to give MLC-OPOLY a more informal appearance, we elected to use an app called Clip2Comic to create cartoonized images of the campus. We hope that players enjoy this different perspective.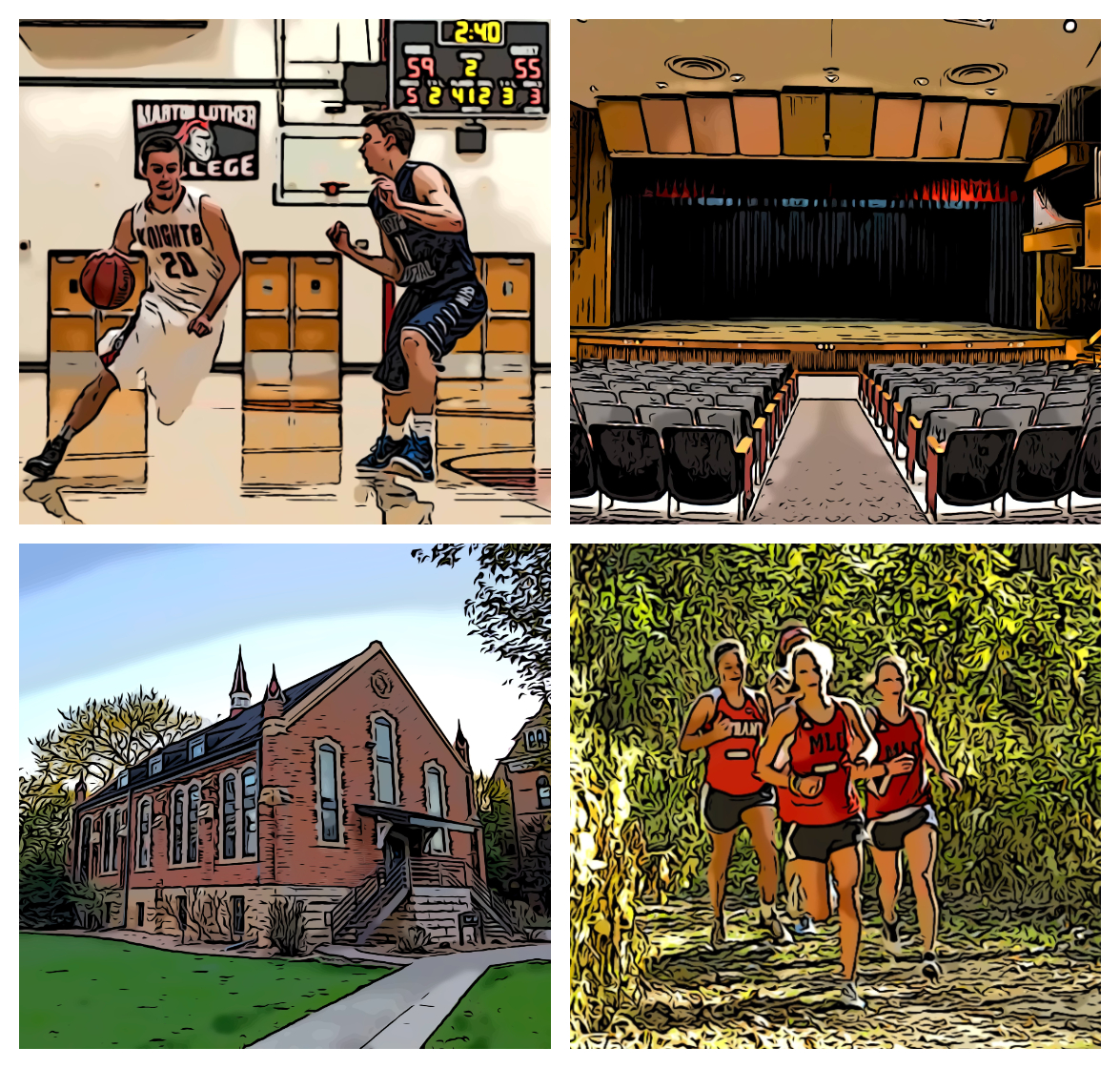 A Teaching Tool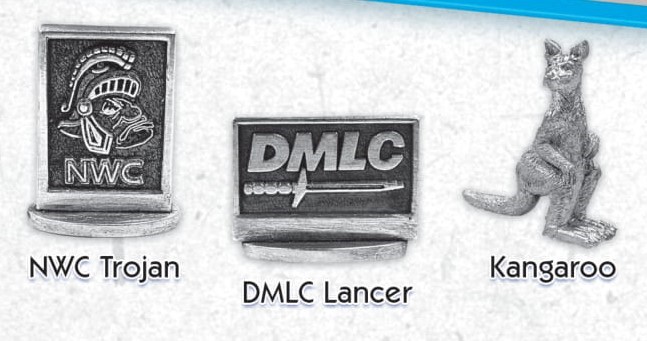 We had hoped that the game might help us to in some way preserve and present the history of MLC. The back side of the deed cards provided us with a unique opportunity to share trivia tidbits/fun facts about our campus and community, while the NWC and DMLC tokens provided a connection to our parent schools.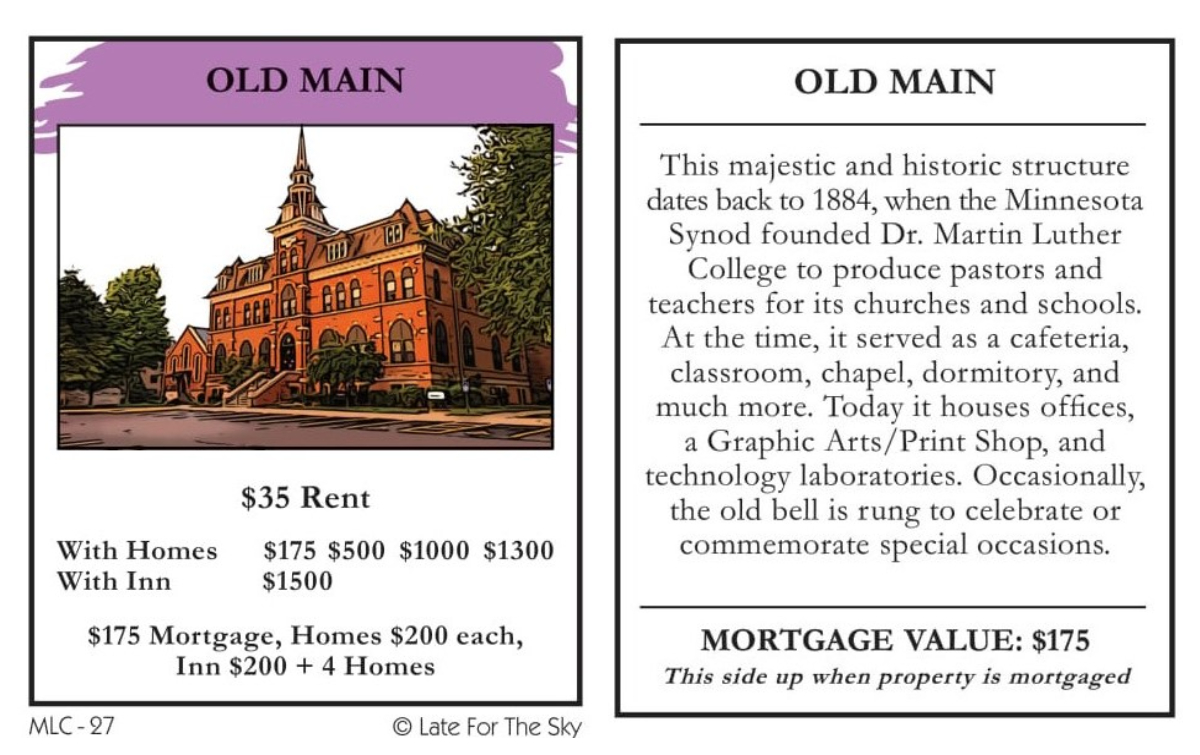 A Thoughtful Design
Much planning and consideration was given to the design and aesthetics. We wanted to feature faces and places that make MLC so special. For example, the box cover features eight "non-cartoonized" images of campus places – two from each season. The sides of the box feature MLC faces participating in common campus activities – drama, sports, music, worship, etc. It also features the faces of the two presidents God provided to preside over our first 25 years.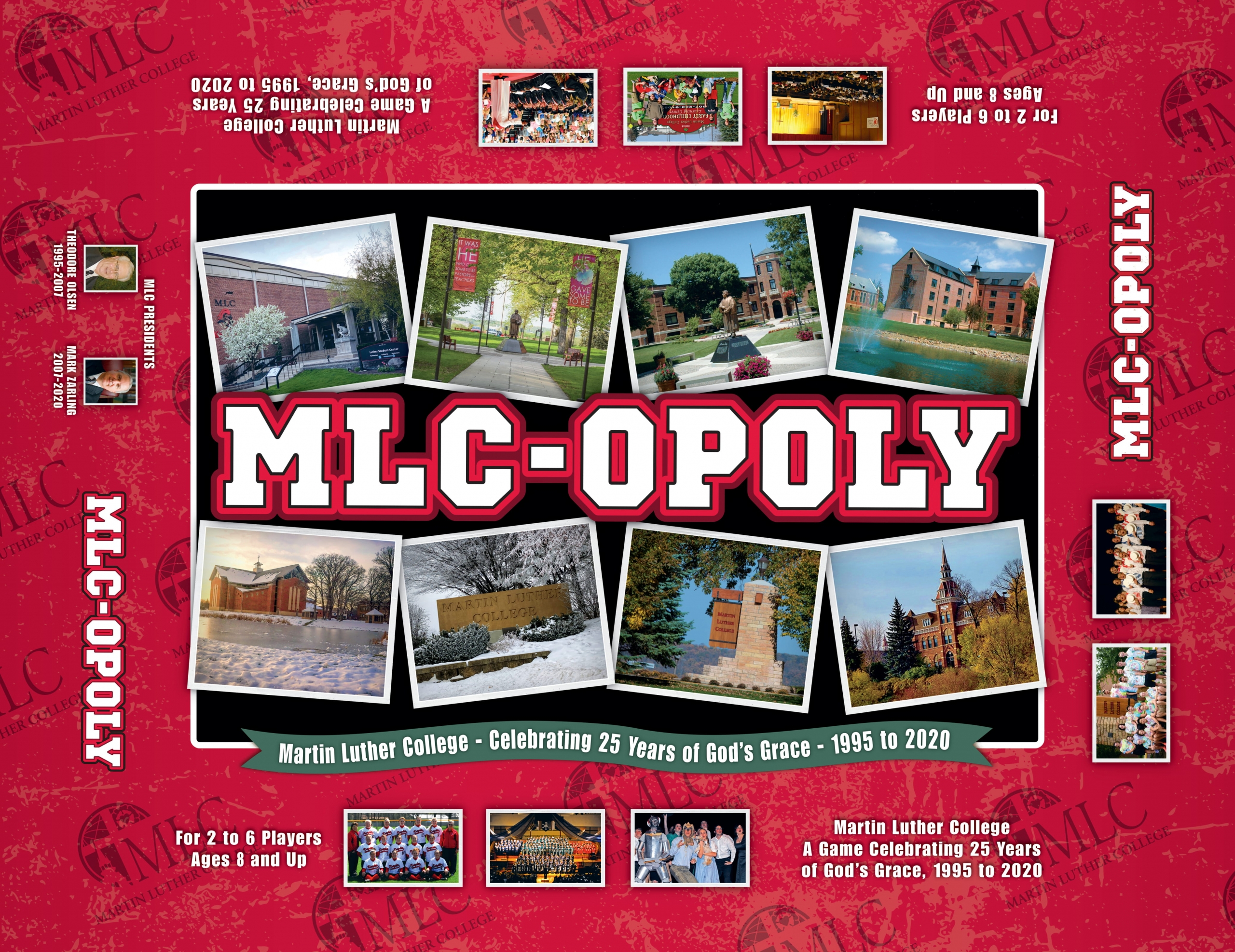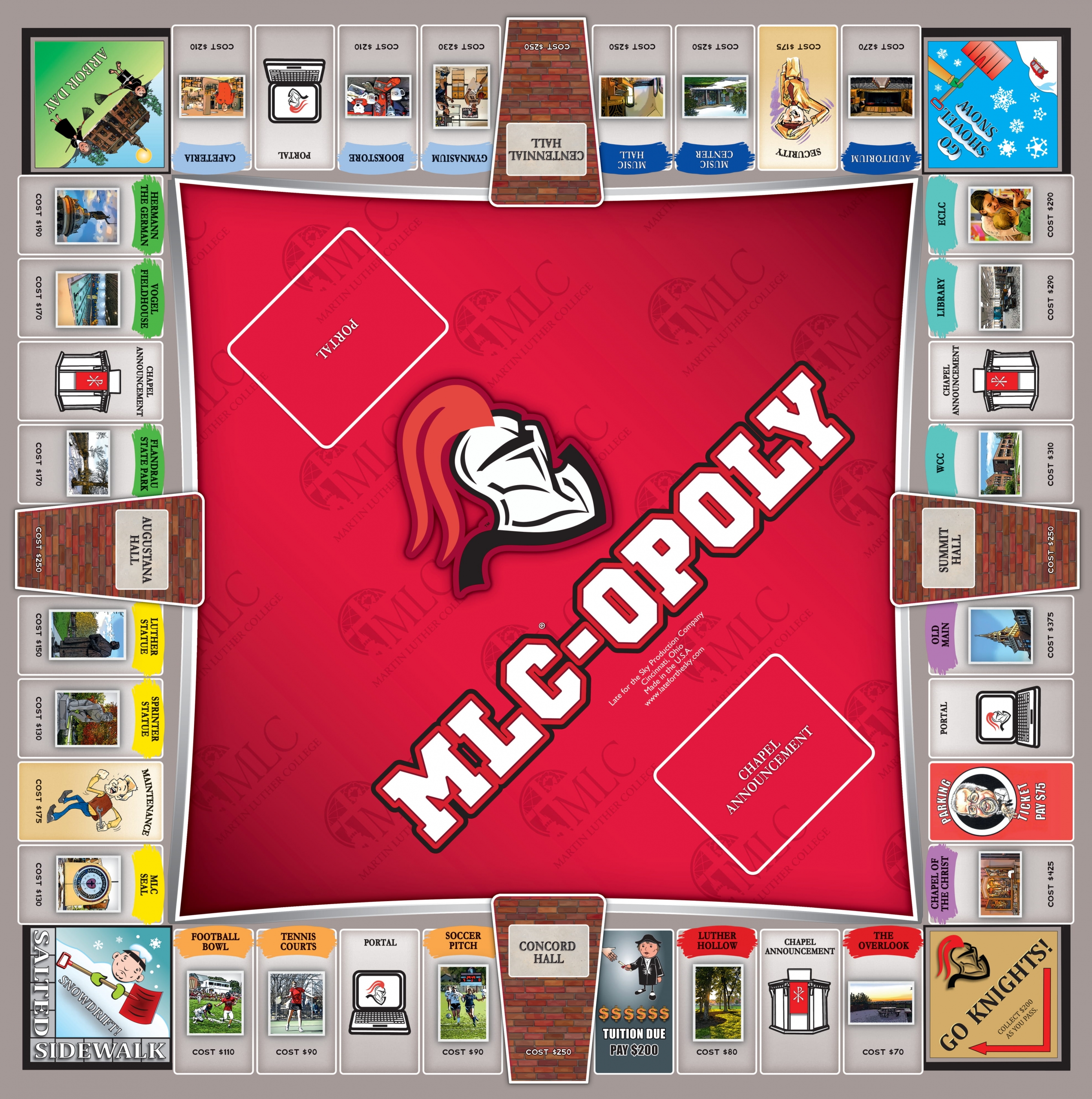 Why This and Not That

Some may question why one property or token was selected and another was not. These were not easy decisions. We relied heavily on feedback from focus group surveys. For example, we decided to go with just three New Ulm properties (Hermann, Flandrau, and Vogel) – choosing those closest to campus and perhaps the most frequently seen and visited. We decided against using tracks (Pastor, Teacher, Staff Minister), as they aren't properties/places. We elected to go with a historical Kangaroo token (tribute to an early MLC-era pseudo-mascot) instead of a Knight, since the Knight logo is already featured on the board in two places.
Thanks to those who made it possible
Productions of this scale require a minimum purchase of 1000 games. This took a significant initial investment. The Martin Luther College Alumni Association graciously fronted the funds to make this possible, and we are very grateful. Our hope is that we sell the games quickly to return their investment in a timely manner.
The MLC Student Senate and Northwestern College Alumni Society also chipped in to produce custom tokens (Kangaroo and NWC Trojan) so that we wouldn't have to pass those costs on to the consumers. Vielen dank!
The MLC Bookstore and manager Linette Scharlemann also played a critical part in making it possible. Promoting, packaging, selling, and sending this quantity of games is no small task. Thanks, Linette!
Late for the Sky of Cincinnati, Ohio, is the MLC-OPOLY manufacturer. We're thankful that every component of the game is made in the USA (with the exception of the dice). They have produced hundreds of similar games for colleges, communities, and corporations and were a wonderful partner to work with.
Pastor Jeff Bovee of St. John, New Ulm is known primarily as a local preacher of solid sermons. That said, the mild-mannered man also has a tremendous talent for caricature and a fine sense of humor. We asked him to help us depict a "little Luther" experiencing the joys and challenges of MLC student life for the game play cards. His sketches far exceeded our expectations. Mr. Monopoly has nothing on our Mini Marty! He also designed all four game board corners as well as the tuition and parking ticket images.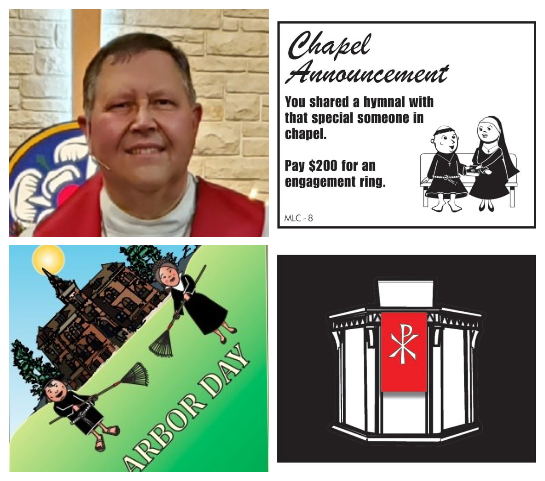 Heidi Schoof ('86) served as our editor and gave the entire game multiple meticulous scans. Her attention to detail and wordsmithing skills provided a polished and professional appearance for the product.
Five students (Mark Burger, Joe Grambsch, Levi Stelljes, Josiah Winkel, and Josh Wordell) worked with alumni director Steve Balza ('93) and a focus group of over 150+ alumni and students to select the properties, develop the game card scenarios, pick pictures, determine designs, decide on tokens, etc. We are very grateful to all of those who responded to the series of surveys and gave suggestions that helped us get past GO!
How to Order
MLC-OPOLY is available exclusively through the MLC Bookstore (in person or at this link). Cost is $25 plus tax, shipping, and handling. Our biggest challenge was figuring out how to handle shipping and handling, since we don't have the purchasing power and deep discounts of Amazon or Walmart. In order to not lose money on shipping, we need to charge $10 per game (available to ship anywhere in the U.S). If you have a friend or family member who is a current MLC student from your area and could bring the game to you, we recommend selecting Bookstore Pickup as the shipping option to save on costs.