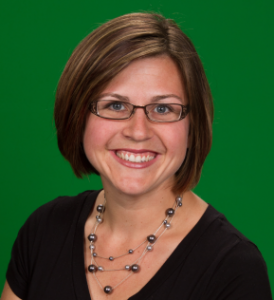 As a language arts instructor in the upper grades at St. John-Wauwatosa, Wisconsin, Becky Gohr Lindenberg's days are always interesting. "I tell my students I have the best job in the whole school, because my assignments aren't just math problems and multiple choice questions. Every time I assign a paper or essay, I get to read and learn from 60 different individuals who have 60 different ideas and experiences."
Becky also has a pleasure not every teacher can enjoy: teaching a content-area curriculum she designed herself from the ground up. It's a fifth grade spelling curriculum she created while a student in the MLC master's program.
"Writing curriculum has always been really fun for me," she says. "One of my favorite parts of teaching is the lesson planning. I enjoy researching different ways to reach individual children. I enjoy finding activities and assignments that meet all of the students' interests and abilities. I love matching my curriculum to the state standards."
With that love of curriculum driving her, Becky began looking for the right master's program immediately after graduating from MLC in 2003. Four years later, she found it—back at MLC. "I loved the idea that my classes would be centered on Christ," she says. "And I absolutely loved my professors while attending the undergraduate program. I always felt like they genuinely cared about my future and took my education as seriously as I did."
She admits she was a little concerned about the workload. "The demands of a called worker can be very intense," she says. But she found the MLC professors to be flexible whenever students' ministries or family lives got stressful. "I cannot tell you how much their sensitivity was appreciated," she says.
Becky also appreciated the professors' feedback—"always so thought-provoking and kind"—and the interaction with fellow students. "They were colleagues who had the same struggles, the same kinds of students, and the same issues in their schools," she says. "I feel like I have my very own network of educators who have shaped who I am as a teacher. And now they're lifelong friends as well." Finally, she liked the relevance of the coursework. "I cannot tell you how many times I was excited to go to school so I could try an idea or technique that I had just learned in class."
She began the program in August 2007 and graduated last May with a diploma and an original curriculum in hand. In fact, that grade 5 curriculum she designed evolved into a grade 5-8 spelling program that is proving very effective for St. John's students. "It's very neat," she says, "when you get to see a project you've poured your heart into be so successful."
Becky Lindenberg
Hometown: Menomonee Falls
High school: Kettle Moraine LHS 1999
College: MLC 2003, elementary education with music emphasis
Teaching career/ministry: Director and teacher at KinderCare Learning Center-Minneapolis (2003-2006); K-2 teacher and athletic director at Crown of Life-Hubertus WI (2006-2009); and upper grade spelling, composition, and forensics teacher at St. John-Wauwatosa WI (2009-present)
Family: Married to Erik, a financial representative for the John Hancock Financial Network; two boys—Joe (8) and Jack (6)
Hobbies: "Cheer on our sports teams, watch the Packers, coach cheerleading, and drink coffee! The best part of living in Milwaukee is being surrounded by friends and family."
Something special: "I am an accomplished flautist, having played for 22 years. I have studied at the Wisconsin Conservatory of Music and under the direction of professional flute players. I frequently play flute in church as well as perform in free concerts to the general public."
Favorites: homemade pizza, Jen Lancaster books, Harry Potter books, The Help, Pirates of the Caribbean, daffodils and tulips, Green Bay Packers, the TV program Parenthood, the song "I'm Yours" by Jason Mraz
Written by Laurie Gauger
https://mlc-wels.edu/graduate-studies/wp-content/uploads/sites/16/2016/02/Lindenberg2.png
316
289
meyerjd
https://mlc-wels.edu/wp-content/uploads/2015/04/mlclogo1.png
meyerjd
2016-02-25 15:41:24
2016-02-25 15:41:24
Rebecca Lindenberg, MS Ed