Welcome!
Forum is Martin Luther College's theatre organization. Forum consists of a student executive board, faculty advisor, and all the students in each staff, cast, and crew who dedicate their time, talents, and love of theatre to make it all happen.
Tickets can be purchased at the door for all shows, and they can be purchased ahead of time for the musical. Please call the box office at (507) 233-9114 and leave a message for more information.
Thanks for visiting. We hope to see you at the next show!
Big Fish
Book by John August
Music and Lyrics by Andrew Lippa
Based on the novel by Daniel Wallace and the Columbia Motion Picture

November 1-2, 2019, 7:30 pm & November 3, 2019, 2:00 pm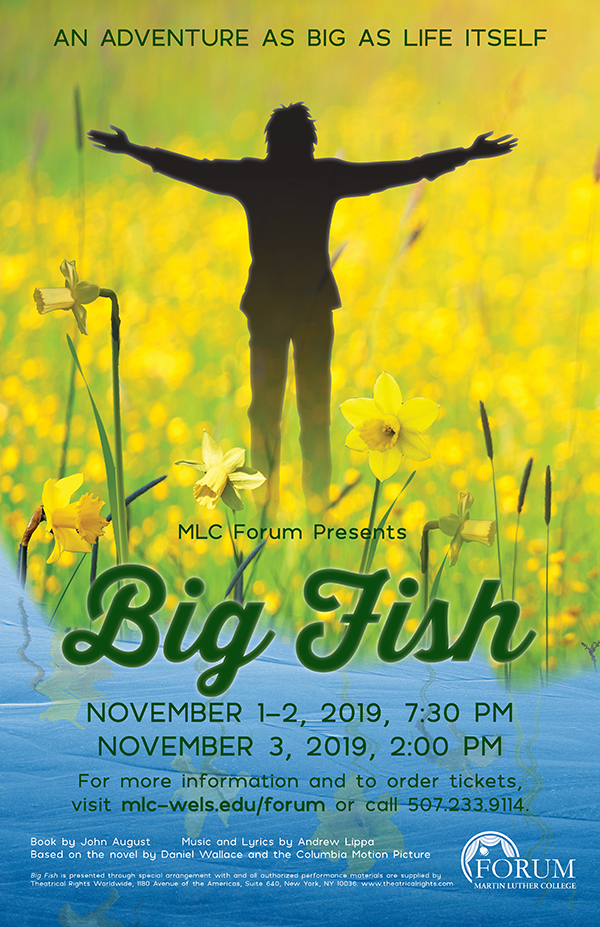 MLC Forum presents Big Fish, November 1-3, in the MLC Auditorium.
Based on the celebrated novel by Daniel Wallace and the acclaimed film directed by Tim Burton, Big Fish tells the story of Edward Bloom, a traveling salesman who lives life to its fullest … and then some! Edward's incredible, larger-than-life stories thrill everyone around him—most of all, his devoted wife Sandra. But their son Will, about to have a child of his own, is determined to find the truth behind his father's epic tales. Overflowing with heart and humor, Big Fish is an extraordinary musical that reminds us why we love going to the theatre—for an experience that's richer, funnier, and bigger than life itself. (www.theatricalrights.com)
Big Fish is presented through special arrangement with and all authorized performance materials are supplied by Theatrical Rights Worldwide, 1180 Avenue of the Americas, Suite 640, New York, NY 10036. www.theatricalrights.com
To order tickets, visit MLC Forum's Eventbrite page. Receive a discount if you order your tickets online before the performance. Ticket prices go up if you purchase them at the door. Call (507) 233-9114 with any questions. 
You may also purchase tickets in person during box office hours (Sunday-Wednesday, 7:45-9:00 pm or Thursday 4:00-6:00 pm at the Forum box office; Friday 11:30 am-12:30 pm at the LSC cafeteria).