Welcome!
Forum is Martin Luther College's theatre organization. Forum consists of a student executive board, faculty advisor, and all the students in each staff, cast, and crew who dedicate their time, talents, and love of theatre to make it all happen.
Tickets can be purchased at the door for all shows, and they can be purchased ahead of time for the musical. Please call the box office at (507) 233-9114 and leave a message for more information.
Thanks for visiting. We hope to see you at the next show!
Join us for Mysteries Yet Untold
Featuring Trifles by Susan Glaspell and Lafayette No. 1 by Mandy Conner
December 7-8, 2018 at 7:30 pm & December 9, 2018 at 2:00 pm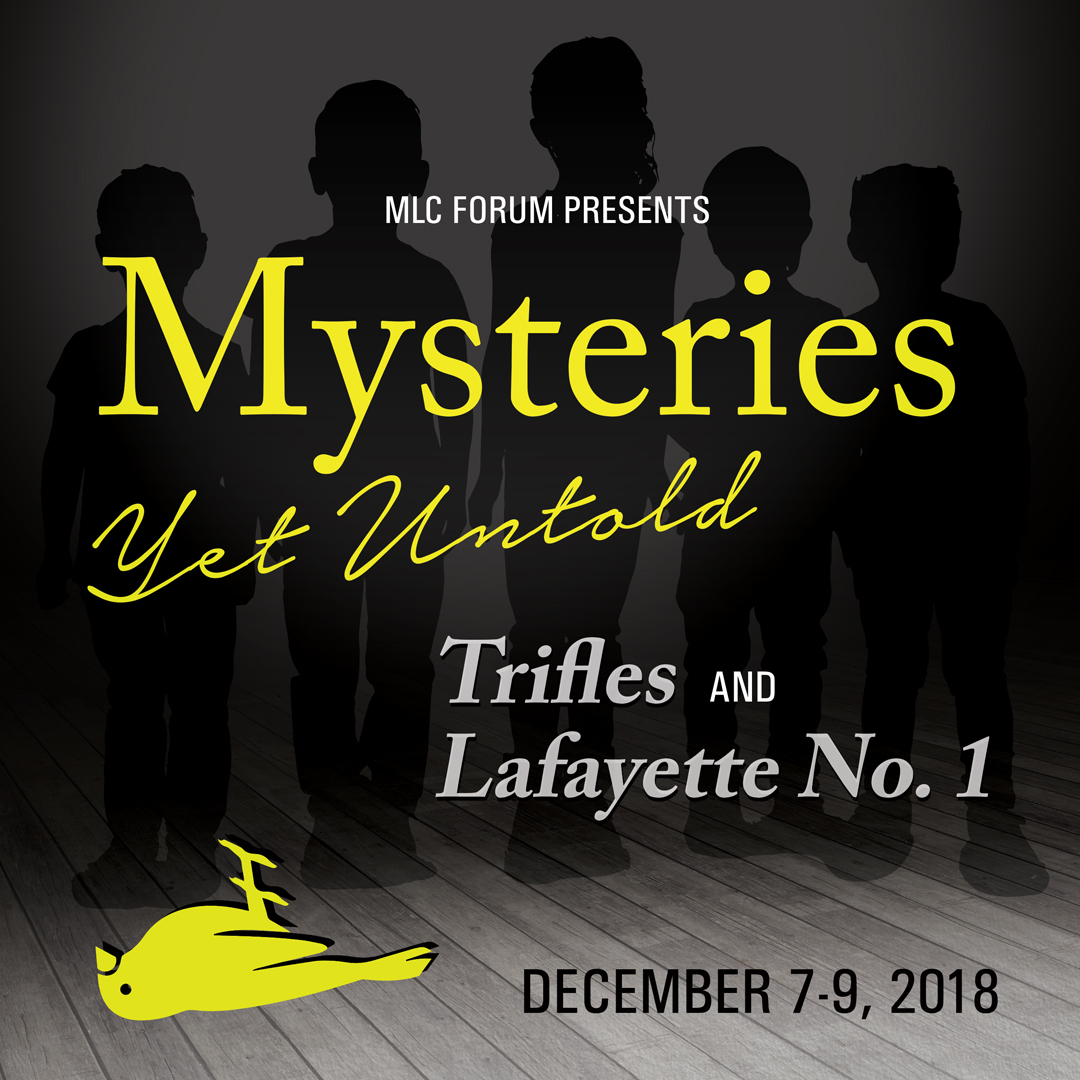 Join us for a pairing of two intriguing one-act plays, each investigating a mystery of sorts that has not yet been solved. In Trifles by Susan Glaspell, we take a glimpse into a gloomy kitchen, where several characters attempt to solve the strangulation of John Wright that has taken place. While the County Attorney, Sheriff Peters, and a neighboring farmer named Mr. Hale investigate the house for clues, the real sleuths turn out to be Mrs. Hale and Mrs. Peters. Though the menfolk continually make fun of the women for worrying out female things, like the quilt and unfinished housework, it is the ladies' attention to "women's work" that allows the women to discover how to crack the case. Mandy Conner's Lafayette No. 1 transports us back to 1816, where the yellow fever epidemic has seized New Orleans. Lizzie Landry seems to be the sole person to think of the orphans known as the Forgotten, even though local police and politicians think of them as nothing more than a nuisance. When the epidemic touches Lizzie's life, she joins with the Forgotten to fight against the lawmakers, holding them accountable for their defenseless citizens and uncovering pieces of her past along the way.
Don't miss these two unique and significant stories!
Produced by special arrangement with Playscripts, Inc. (www.playscripts.com)
Tickets are $4 for all attendees and will be sold at the door only.
Visit mlc-wels.edu/forum for more information.
Tickets will be sold starting 45 minutes prior to each show, and doors into the auditorium will open 30 minutes prior to the start of the show. Enter the Wittenburg Collegiate Center through the "AUDITORIUM" doors on the southeast side of campus.
See you then!