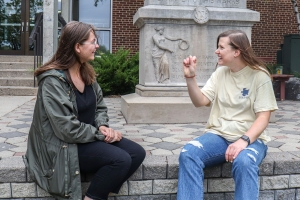 Participants in the spring online course ASL8001 American Sign Language and Introduction to Deaf Cultures can qualify for a $495 tuition grant. The grant is provided by the WELS Commission on Special Ministries.
Follow these directions to receive the grant:
Register online using the MLC Online Registration Page. Once you have submitted your course payment (via check or credit card) you are registered. Please contact Lisa Fenske in the Continuing Education office at fenskelk@mlc-wels.edu or 507-233-9139 to receive your receipt of payment. Once you have your receipt, notify WELS Special Ministries at specialministries@wels.net that you have registered and provide a copy of the receipt. Special Ministries will reimburse you $495 after you complete the course. Undergraduates are not qualified to receive this grant.
CLICK HERE for ASL Course FAQS
Register for ASL8001.
What do past students have to say?
Taking this ASL class allowed me to gain a better appreciation for the deaf community. Not only did it give me a reason to take learning how to sign seriously, but I know that I will be able to use it in my future. I had a great experience during this course and hope that others will find it useful! I strongly recommend anyone who is curious about ASL to take this introductory course.  – Erin
Deaf culture is an absolutely amazing culture that is different and unique just like any other culture in the world. To me, it is even more interesting because of the aspect of speaking with their hands. It is an amazing form of communication that I think should be more valued and taught about in the world. Taking the ASL class helped me witness this for myself and helped me gain more knowledge and appreciation for a world and culture that many people are unaware of or do not acknowledge. The ASL class opened my eyes and it will always be an important class that I hold in my heart. – Taylor