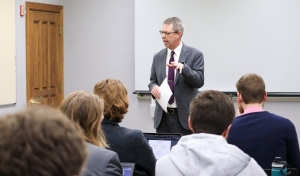 Grow in Grace of Wisconsin Lutheran Seminary does four big things: 1. We provide formal continuing education through our Master of Sacred Theology (STM) degree program; 2. We provide resources and encouragement for informal continuing education; 3. Through Pastor Partners we provide 3 years of mentoring for seminary graduates who are called into ministry; and 4. We run Celebration of Ministry Retreats in San Antonio.
In this article, we would like to make you aware of recent changes in Grow in Grace's STM program. To a small extent, changes came to our program when Pres. Gurgel accepted the call to be president of MLC. Prof. Tom Kock served as the director for a year before returning to parish ministry. Prof. Brad Wordell now serves as the director.
To a larger extent, Wisconsin Lutheran Seminary's accreditation process has brought changes to the STM program. In the past, the program required 32 credits, with each credit defined as 25-30 hours of active learning. Now, in line with ATS standards, the program requires 24 credits, with each credit defined as 45 hours of active learning.
There are nine focus areas in the STM degree: Old Testament, New Testament, Church History, Education, Mission & Evangelism, Pastoral Care, Pastoral Leadership, Preaching and Worship, and Systematic Theology. Students earn their STM degree in one (or more) of these areas by earning 12 credits in that focus area.
There are a variety of ways to earn credits: on-campus Summer Quarter (in even-numbered years), satellite Summer Quarter (in the districts in odd-numbered years), online courses, partner institutions (think MLC!), guided research, a thesis project, and experiential trips.
The main purpose of this STM degree program is not academic (i.e., as a step towards a PhD program), but rather spiritual and professional (i.e., equipping and encouraging pastors to serve joyfully and effectively among us).
The best time for pastors to commit to earning an STM degree is after they have been serving for a few years and before they celebrate 20 years in ministry. As we improve our development, coordination, and promotion of the STM degree program, we expect that more pastors will enroll and that they will be able to earn their STM degree in 4-6 years.
If you or your pastor or your church leadership have any questions about the STM program, please contact us at growingrace@wisluthsem.org.
Please continue to pray for our pastors and all our called workers. They are precious gifts from our Risen and Ascended Savior.