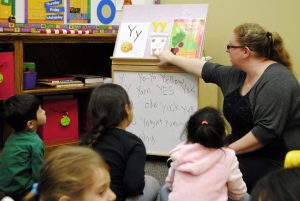 Erin Smolinski is not afraid to admit she became a preschool teacher by accident—which, she wisely adds, "is also known as God's planning."
Erin had finished a couple years of community college and was pursuing a degree in music education at Wisconsin Lutheran College when the housing market crashed and she couldn't obtain a necessary loan. Her education cut short, she went home and applied for the after-school care/assistant teacher position at Precious Child Early Learning Center, a ministry of Jerusalem-Morton Grove, Illinois.
Two years later, the growth of Precious Child required an additional classroom and she was asked to serve as a full-time teacher of the 3- and 4-year-olds. That's when she began taking courses in MLC's Early Childhood Educator series.
"I'd taken many education courses previously from secular institutions," she says, "but I wanted to take courses from a religious point of view."
Erin instantly appreciated the practicality and relevance of the courses. "Ever since beginning the program, I've learned so many things, and have been able to add new ideas and lessons to my classroom repertoire immediately—including hearing from other teachers about how to incorporate Bible lessons into everything in the classroom."
Telling Bible stories happens to be her favorite part of teaching. "The students really enjoy hearing all about Jesus, and I love how much of the stories they remember and retell. Many of our students are non-member families, and I'm so grateful to be able to teach them all about Jesus' love for them!"
Erin has also enjoyed the format and shorter length of the courses, as well as the professors' understanding of the pressures of ministry. "You need a certain degree of organization, but the teachers are very understanding and communicative, so if there's a problem or a question they usually get back to students in a very timely manner."
She will finish the last of the 11 courses in the Early Childhood Educator series this summer, enabling her to apply for her Child Development Associate (CDA) credential.
She understands that her continuing education doesn't benefit her alone—or even her students. It sends an important message to the parents as well.
"I think the ability to let parents know I've taken all these classes and have this credential will show them how much we care about their preschoolers," she says. "Many parents in this area are looking for professional training and the utmost in care for their children, and I believe the MLC Educator Series has helped me achieve that."
In addition to the Early Childhood Educator courses, Erin has also finished her bachelor's program, earning a BA in applied behavioral sciences at National Louis University. That's not a surprise, since education in all forms is so important to her. "My philosophy as a teacher is to never stop learning myself. There's always something new to learn. The early childhood field has changed so much, even since I started teaching full-time in 2012."
That love for learning can't be bottled up. Erin naturally shares it with the children in her care. "I want to be the kind of teacher who is able to reach out to all of my students, with all of their different skills, and help them form the foundation for a lifetime or learning. I want them to know that learning is really fun!"
As she sits on the floor with the children and they talk about Jesus' love, learning together, she knows she's really just like them. "I have this Bible verse posted in my classroom to keep my focus on the fact that we are all children of God: 'See what great love the Father has lavished on us, that we should be called children of God. And that is what we are!' (1 John 3:1)."
Written by Laurie Gauger