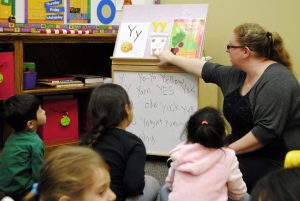 I think the ability to let parents know I've taken all these classes and have this credential will show them how much we care about their preschoolers. Many parents in this area are looking for professional training and the utmost in care for their children, and I believe the MLC Educator Series has helped me achieve that.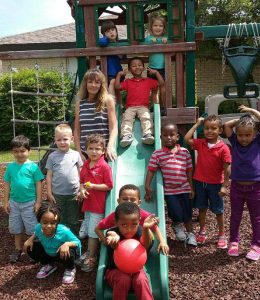 I take away so much from these courses, not just because of the content, but by the way these instructors present the material for real application. I'm making lessons as assignments that I'm taking straight to my classroom.
The Early Childhood Educator Series is designed to provide current early childhood teachers with a comprehensive understanding of developmentally appropriate practices in early childhood. Early childhood teachers are encouraged to take all 11 courses. These courses are also being aligned to the Child Development Associate (CDA) national credentialing program so that teachers completing all 11 courses will be prepared to apply for the CDA credential.
Course Descriptions
EDU8101 Intellectual, Social, & Emotional  1 Credit
The social and emotional development of preprimary children and its impact on cognitive functioning and instructional approaches.
Offered online
EDU8102 Operation & Management of ECE   1 Credit
An overview of the operation and management of early childhood education programs.
Offered online
EDU8103 Developing Home & School Relationships   1 Credit
Emphasis on developing a family-oriented classroom, techniques of communication, methods of actively engaging families, and resources to benefit family nurturing and school interaction. A family take-home kit and plan for implementing partnerships will be developed.
Offered online or face to face, Request a satellite course in your area
EDU8105 Encouraging Literacy Development   1 Credit
Theoretical and practical approach to promoting children's emergent language development in early childhood settings.
Offered online
EDU8106 Play and Learning Experiences   1 Credit
A study of young children's learning through play. Includes identifying active learning experiences, establishing and maintaining an environment for play, and identifying teacher roles in play-based learning.
Offered online
EDU8108 Preprimary Curriculum Essentials I   1 Credit
Theory, research evidence, standards, teaching practices, Christian ECE philosophy, an active early learning environment, and a consistent daily routine that underlie and support a quality ECE curriculum.
Face to face, Request a satellite course in your area
EDU8109 Preprimary Curriculum Essentials II   1 Credit
Theory, research evidence, standards, teaching practices that underlie and support the ECE curriculum areas of mathematics, science and technology, social studies, and the visual and dramatic arts.
Face to face, Request a satellite course in your area
EDU8112 Health and Safety in Early Childhood   1 Credit
Planning for safety, first aid, health, and nutrition in the early childhood learning environment.
Offered online
EDU8113 Assessment of Young Children   2 Credits
The knowledge and skills necessary to establish a practical approach for the observation and development assessment of young children and communication of progress to parents.
Offered online
EDU8114 Roles and Responsibilities of the Lutheran Early Childhood Educator   1 Credit
An examination of the role of the early childhood educator in a Lutheran early childhood ministry setting.
Offered online
PED8101 Physical and Motor Development for Pre-primary   1 Credit
Teachers of young children play a vital role in fostering their physical and motor development. This two-day course addresses the physical needs of children from conception through childhood. Participants will plan for a week of physical education classes using a format presented in class.
Face to face, Request a satellite course in your area
Additional Links
Financial assistance through various programs is available in most cases for teachers seeking their CDA credential.