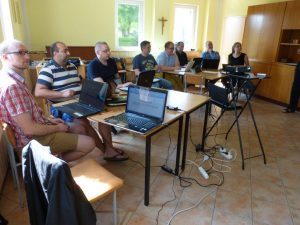 When spring arrives on campus in Mequon, WLS campus is looking ahead and gearing up for Summer Quarter. Summer Quarter on campus offers a variety of in-depth and edifying courses for pastors. A key blessing of Summer Quarter on campus, is the opportunity to grow in the word alongside brothers in the ministry. WLS offers 13 on-campus courses for pastors. Many pastors have taken advantage of the variety by enrolling in two or more courses.
Alongside the variety of on-campus courses, WLS also offers three online courses for pastors. The goal is to offer continuing education courses for pastors who are not able to attend an on-campus course, while accommodating a pastor's busy schedule. Because these courses offer flexibility to a pastor's schedule they tend to fill quickly.
A third option for pastors who are pursuing continuing education is summer satellite courses. These courses are designed to take the classroom (and professor) to you. Professors travel across the country and lead a course for pastors in their own backyard. If pastors are unable to travel to Mequon for a Summer Quarter course in person, they are still receiving the benefits of sitting at a professor's feet and learning alongside brothers.