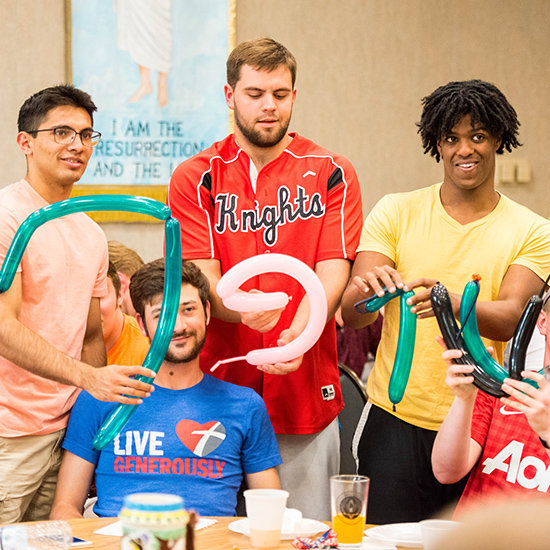 MLC preseminary students—often called SPAMmers because they're enrolled in Studies in Pastoral Ministry (SPaM)—meet
regularly for fun and mutual encouragement at SPaM gatherings.
Isaac Hayes (pictured far left) explains: "The purpose of these gatherings is the brotherhood and fellowship with our fellow
brothers who are on the pastor track—not just among the students, but the professors as well. We gather together not only to
have a good time, enjoying entertainment and good food, but to encourage each other with the Word and assure each other of
Christ's promises to us."
See the beverage on the table? That would be orange drink. "The orange drink is the sacred elixir reserved for our SPaM
gatherings," Isaac says.
And on a more serious note, he adds, "Here at the seminary,
we are praying that our brothers
at MLC may come here after their
college graduation and continue
to share in our brotherhood and
in the joy we have in Christ!"
Pictured from left are MLC
2017 graduates and first-year
seminary students Isaac Hayes
(ALA / Emmanuel-Tempe AZ),
Philip Schroeder (LPS /
St. Peter-Modesto CA),
Dan Schmidt (LPS / St.
Matthew-Oconomowoc WI),
and Yaffet Gabayehu (LPS
/ Shepherd of Peace-Powell
OH). The hands holding the
last letter belong to Jake
Shepherd (LPS / Christ Our
Redeemer-Aurora CO).
https://mlc-wels.edu/admissions/wp-content/uploads/sites/23/2018/08/Your-first-SPAM-event_orange-drink-and-all-cr.jpg
550
550
Leah Matzke
https://mlc-wels.edu/wp-content/uploads/2015/04/mlclogo1.png
Leah Matzke
2018-08-28 19:37:57
2018-08-28 20:58:21
. . . you spell the Hebrew word shofar with balloons.