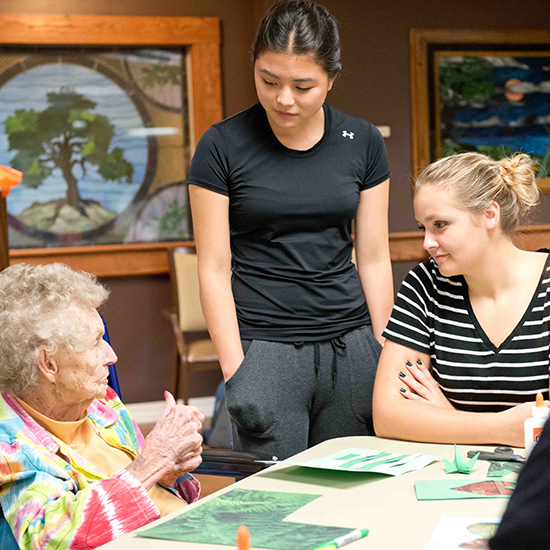 "I really enjoy going to the nursing home with Anchor," says Bethany Lisowski (Luther HS / St. Matthew-Winona MN, pictured in the striped shirt).
Anchor, one of many MLC student organizations, is dedicated to gospel-motivated service. Meetings are held once a week, and students can sign up to help with activities.
"We usually do a craft with the nursing home residents, chat a bit, and sing a few hymns. They're all such special people with interesting stories to tell, and it's always a treat to be able to spend even a few hours making new friends with them.
This wonderful lady was telling us about how much she loved the green pattern on the paper because of her Irish heritage. These visits are an amazing opportunity to share our faith and let our lights shine, and I'm extremely grateful for them."
https://mlc-wels.edu/admissions/wp-content/uploads/sites/23/2018/08/ANCHOR-Sept-17-visit.jpg
550
550
Leah Matzke
https://mlc-wels.edu/wp-content/uploads/2015/04/mlclogo1.png
Leah Matzke
2018-08-28 19:34:39
2018-08-28 20:47:57
. . . you get more than you give.