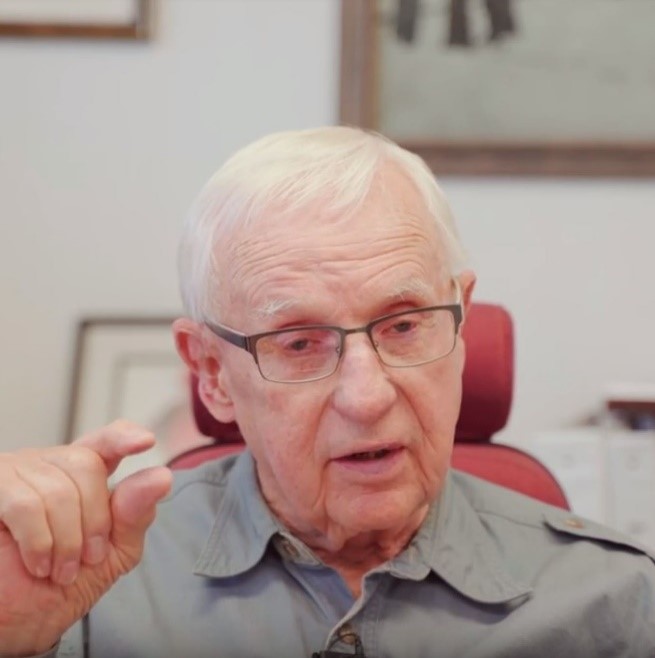 An Interview with MLC Supporter Roger Heller  
 Roger Heller of Olivia, Minnesota, has taken a leadership role in EQUIPPING CHRISTIAN WITNESSES, both as an early donor and as a conference coordinator assisting 21 congregations.
Mr. Heller's generous gift to the campaign is an asset donation, a gift of grain. "The timing of the gift coincides with my retirement from farming," he says. "As I was studying the materials from the EQUIPPING CHRISTIAN WITNESSES program, I realized that there was a new and immediate need on campus."
One overarching need Mr. Heller notes, a need that eclipses even facility needs, is for more called workers. That hits home for his congregation, Zion in Olivia, which issued calls for a new pastor for more than a year and finally received a seminary graduate (Isaiah Horn MLC '15) in 2019. And his congregation needs teachers as well, specifically early childhood teachers for the Little Lambs Learning Center-Danube, which Zion and three other congregations support.
"The shortage is obvious," he says. "We need to all be working on that. We need to tell young people that this is a career choice, and it's a career choice of choice. It's the Lord's work! What did Jesus say in the example of Mary and Martha? It's the one thing needful."
Mr. Heller also understands the connection between recruitment and campus facilities. "The dormitory and the phy ed facilities that [MLC is] planning on improving are probably extremely important for when the students come to the campus, to see what facilities are there. Oftentimes, these young people go from campus to campus to decide, 'Where am I going to go to school?' We live in a secular world, so we do have to provide some comforts and some necessities for those students.
"I think back to the dormitory I had at South Dakota State way back 65-70 years ago," he continues. "It was pretty bare bones. But that isn't what students expect today. It's their first time away from home, so . . . make them comfortable. Make them feel welcome."
Mr. Heller encourages both congregations and individuals to give to EQUIPPING CHRISTIAN WITNESSES, even if it's a small gift, like the widow's mite. "There's great joy in giving," he says.
"MLC is the foundation," he concludes. "Yes, we have the seminary and other training facilities, but the college is the foundation for everything we do, both for teachers and for pastors."
To hear more from Mr. Heller, including the tax advantages available to farmers who make gifts of grain, watch the videotaped interview below.