Written by Professor Jeffrey Schone
Gustavus Adolphus College, as its name implies, has its roots in Swedish immigration to the American Midwest and in the Lutheranism those immigrants brought with them. In keeping with this background, this ELCA associated college located in St. Peter, Minnesota, has for the past 52 years sponsored, with the endorsement of the Nobel Foundation of Sweden, an academic investigation it calls the Nobel Conference. During most of those years, the Nobel conference has invited scholarly presentation and debate of critical issues in science (see archive of past conferences.) Occasionally the conference has turned its attention to social science, in particular the "dismal science" of economics.
Entitled "In Search of Economic Balance," the 2016 conference asked whether it was possible to find a positive balance between sustained economic growth and increasing economic inequality. The conference booklet summarized:
What are the causes and consequences of increasing inequality–and what would be the consequences of trying to reverse it? Will we have the resources to meet the needs of a growing world population? What are the prospects for domestic and global economies? What is the right path–and what is not?
Wrestling with the glaring disparity of income and wealth in the world is mainstream business these days. Daily newspapers print articles, popular magazines publish studies and offer editorials, candidates in this presidential election year argue about the "1%-ers." The statistics of economic inequality seem stark, yet simple to understand. Nevertheless, economists, sociologists, government planners, academics, researchers, business leaders, et al., don't agree on whether a problem exists or whether the increase in economic inequality will result in negative consequences. That being said, the Nobel Conference was not called together because people are unconcerned or indifferent. On the contrary, a great many people hold a great many concerns. If income disparity continues to increase, if wealth continues to concentrate in the hands of fewer and fewer, what will be the consequences?
Will human needs be met for the majority of the population, needs for food and water, for sanitation, for health care, for education, for opportunity?
Will nations, cities, and communities be able to maintain their infrastructures, complex systems, useful institutions, and orderly purposes?
Will economic inequality burden democracy, inhibit freedom, threaten dignity, restrict opportunity, and halt progress?
A 30-minute drive from New Ulm to St. Peter, Minnesota, makes it convenient and inexpensive for MLC to send a science professor and several science majors to the Nobel Conference each year. With the uncommon focus on economics in 2016, it was suggested that MLC's uncommon economics instructor arrange for this year's trip. Four economics students from past courses accompanied me to St. Peter for the first day of the conference and were treated to impressive facilities, excellent organization, and three intriguing presentations.
Dan Ariely, professor of psychology and behavioral economics at Duke University's Fuqua School of Business, spoke on "The (Honest) Truth About Dishonesty," relating the unsurprising news that most people will practice dishonesty, to the extent that they are able, in order to gain advantage and get ahead.
Orley Ashenfelter, professor of economics at Princeton University, offered a fascinating look at "Comparing Real Wages Around the World: Inequality in Human Wealth." I was especially interested in Dr. Aschenfelter's presentation because his work utilizes a tool described in the economics text currently used in our Introduction to Economics class. For over a decade Dr. Ashenfelter has measured real wages (and currency valuations) using "the Big Mac index." Since McDonald's restaurants are ubiquitous around the world and their product—the Big Mac—is both a non-tradeable good as well as a standardized good, Dr. Ashenfelter has been able to measure real wages (and differences in real wages from country to country) by gathering data on how many Big Macs a McDonald's worker can purchase with one hour's wage. (Interesting comparative data concerning income inequality—as measured by the Big Mac Index—can be found at this link.)
Joerg Rieger, chair of Wesleyan studies and distinguished professor of theology at Vanderbilt University Divinity School, was the final presenter of the day and addressed the audience with the question: "What Does Jesus Have to Do with Wall Street?"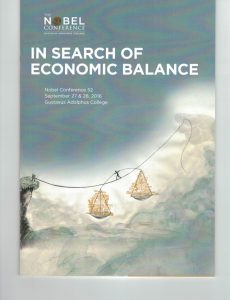 Two items caught my particular attention at the Nobel Conference. The first was the graphic on the cover of the conference booklet distributed to all attendees. It seems to picture the economy as some sort of cooperative venture between God and mankind in which God provides the opportunity and mankind uses skill and strength and effort. The hand of God, set in the heavens, holds one end of the economic tightrope with the other end firmly anchored in this world. Mankind is the acrobat walking that tightrope while balancing weighty economic concerns. The graphic communicates that managing the complex workings of the global economy is a challenging human task, yet one in which God has a hand (albeit a somewhat distant, deistic hand).
In a similar way the title of Dr. Rieger's presentation also intrigued me: "What Does Jesus Have to Do with Wall Street?" Dr. Rieger argued that theology ought to be more than philosophical and metaphysical investigation, but should reach into the lives of people and communities. It should, therefore, be concerned with an economic inequality that burdens and restricts the majority of people around the world; it should concern itself with enacting necessary and beneficial change. This is what Jesus has to do with Wall Street.
In discussing how change might come about, Dr. Rieger pointed to the labor movements of the last century and the gains for workers resulting from those cooperative endeavors. He suggested that new grassroots organization and the united efforts of many (including many religious people) might well change the direction of income and wealth distribution.
It is true that Jesus did address matters important to economists and the economy. He does speak, for example, about:
income/wealth inequality
income and wealth as gifts of God
careful stewardship of God's gifts (the Greek word oikonomia is best defined as stewardship or management, especially of another's property)
responsibility of the "haves" for the "have nots"
the value of industry and labor
respect and responsibility for laborers
the use of money and capital
taxes and government
the love of money and the destructive nature of greed and selfishness
At the same time, Jesus made it very clear that only one thing was needed, namely, hearing and believing the truth about God's gracious love for sinners, which moved him to redeem sinners with the precious blood of his Son, poured out for the sins of the world. It is this saving love of the Father and redeeming work of the Son and the enlivening and empowering work of the Spirit that changes people and that fills them with love, not only for God, but for others—for neighbors, for the poor, for the disadvantaged, for the unequal, and for the burdened.
Jesus has much to do with the economy because Jesus has much to do with human hearts and hands. Jesus has much to do with the economy because he overcame the greatest threat to the economy—sin and selfishness. Jesus has much to do with the economy because he is the one who promises to bless and provide for his people in this temporary and impermanent world and to an even greater extent in the permanent and lasting world to come. As Lutheran economic educators we will avoid two erroneous ideas: first, that Jesus (and our religious life with Jesus) has nothing to do with the economy and, second, that Jesus (and our religious life with Jesus) are chiefly concerned with this world and its economy.
—————
Here are reactions from our MLC students to Day One of the 2016 Nobel Conference:
Visiting Gustavus Adolphus College to attend the Nobel Conference allowed me to expand my horizons on the matters of economics that affect not only our nation and world, but also our behaviors and interactions with each other as human beings. The Nobel Conference allowed me to observe and learn more on matters such as human behavior, income inequality around the world, religion's effects on capitalism, and more. I am very thankful that I was given the opportunity to attend this conference, and I would highly recommend attending in the future, if given the chance!
I thought that the Nobel Conference was both insightful and intriguing. While I did not agree with everything that the speakers said (when it came to both theological and economic topics), merely hearing the opinions and viewpoints from those who differ from me is extremely important. I felt that I gained both knowledge and perspective by attending this conference.
My favorite presentation was the first one, "The (honest) truth about dishonesty" by Dr. Dan Ariely. His presentation was more about the psychology of economics and why we do what we do. His main argument was that people lie to get ahead. Is it ok? That's up for us to decide, and that was the basis of his presentation. What will people do in order to get ahead? To what extent will rich and poor alike lie or cheat in order to get more for themselves? In a conference that would address the matter of economic inequality, Dr. Ariely made for an interesting and compelling beginning.
Professor Jeffrey Schone (DMLC '83) serves as vice-president for student life at Martin Luther College-New Ulm MN.