As another season of Wisconsin Lutheran Seminary Summer Quarter draws to an end, there is reason to celebrate: more than 140 pastors were in attendance – either in person, online, or participating in a satellite course. While attendance numbers are easy to track, it is impossible to calculate all the benefits summer quarter courses offer pastors or the effects they have on their congregations when they return home with an added enthusiasm to share the good news. Many pastors commend the positive experience in the classroom, the fellowship time spent with brothers, and, of course, being refreshed in God's Word. Pastor Jonathan Zietlow shares from his time at summer quarter 2016, "I had forgotten what a good experience [summer quarter] is to talk with brothers and study Scripture. I am going to try to do it more often!"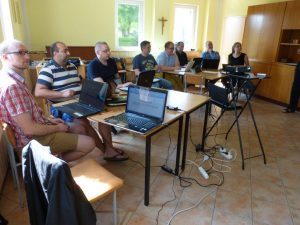 On-campus courses are a big draw for Summer Quarter, with 56 students in attendance this year. Pastors were able to choose from 13 face-to-face courses offered in Mequon, Wisconsin, for either one or two weeks at the end of June.
For pastors unable to attend Summer Quarter in person, another option is to participate online. This year 18 pastors participated in a Summer Quarter online course. Seminary President Paul Wendland taught the course "Hermeneutics for the Busy Pastor," which exceeded its online capacity.
Wendland also led a satellite course this past summer in Roanoke, Virginia. Satellite and Pastors' Institute (PI) courses are a wonderful option when it comes to accommodating a busy pastor. For these offerings, professors travel to locations around the US to lead courses for area pastors. This year four summer satellite courses hosted 39 pastors, while two Pastors' Institutes (shorter presentations, not for credit) served another 30 pastors in locations near them.
Although most satellite and Pastors' Institute courses take place in the US, this year Professor Ken Cherney brought Summer Quarter to Germany. Participants in Summer Quarter Germany were from various locations, including Russia, Bulgaria, Finland, and Germany.
We thank God for the many professors, pastors, and participants in these classroom-like settings. While Grow in Grace offers these more formal continuing education opportunities, a variety of informal resources are offered as well, including the popular Ministry Evaluation Packets. The newest ministry evaluation packet, Fan God's Gifts into Flame, was completed this summer and is now available to pastors. We encourage you to visit the Grow in Grace website to view additional Growth Resources.
Summer quarter attendance numbers are worth celebrating; however, this has not hindered the focus toward fall and winter continuing education opportunities. Fall Online is already underway, and Winterim courses are not far behind. We pray for the Lord to bless these opportunities as well.