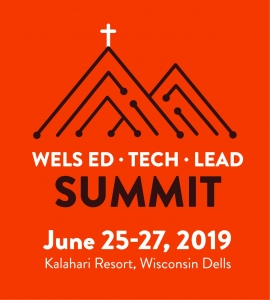 The first WELS Education, Technology, and Leadership Summit will be held June 25-27, 2019, at the beautiful Kalahari Resort in Wisconsin Dells WI.
The conference is a blend of the School Leadership Conference and WELSTech Conference, offering something for everyone interested in exploring ministry tools, techniques, and best practices in the areas of education, technology, and leadership. Several in-depth preconference workshop options will also be available on June 24, 2019.
Registration:
Registration will be open December 1 – May 31, 2019.
Preconference: $100
One-Day Pass: $175
Early Bird Full Conference Price (Register by May 1): $325
Regular Conference price: $375
Pricing Discounts:
Early Bird registrations placed by May 1, 2019, will receive a $50 discount.
Schools that are supplemental contributors will also receive a discount code for $50 off each registration.
Learning Tracks:
#EdTechLead19 will have presentations organized into six tracks:
Early Childhood Education
Educational Technology
Education
Technology
Leadership
Ministry
We are looking forward to ten unique sectional opportunities over two and a half days, with topics from every track presented at each. We'll cover everything from professional development and personal growth to connecting with your students and their families, from using technology for outreach to crafting effective learning experiences, and so much more! Stay tuned for future updates to learn more about each track, including the speakers who will lead the sectionals and the topics that will be presented. Visit welsedtechlead.com for details and to sign-up for email updates.