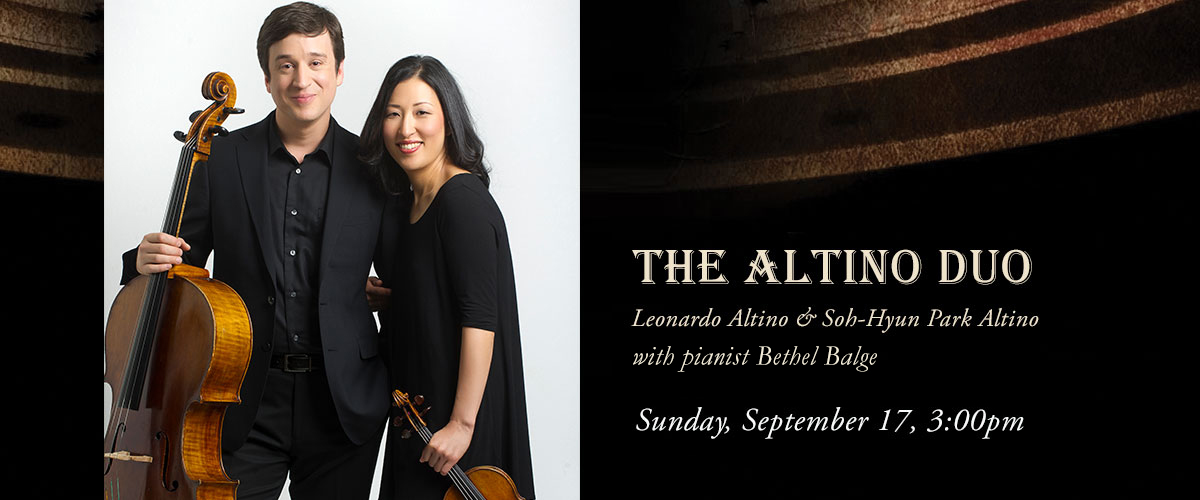 Featuring the Altino Duo
The Summit Ave Music Series (SAMS) season opener is Sunday, September 17, 3:00 p.m. in the Chapel of the Christ at Martin Luther College (1995 Luther Ct), New Ulm, Minnesota. The concert will feature Korean violinist Soh-Hyun Park Altino and her Brazilian husband Leonardo Altino. The program includes duos by Mozart, De Falla, and Ravel.  The final piece, The Four Seasons of Buenos Aires, is an extraordinary work. Composed by Ástor Piazzolla, it has a distinctive musical sound that combines jazz and the Argentinian tango of his native land together with classical forms and twentieth century harmonic ideas.  Piazzolla's music has exciting rhythms that seem to insist that the listener dance to their hypnotic beat.
The Altinos will perform with pianist Bethel Balge.
Violinist Soh-Hyun Park Altino is highly regarded as a gifted teacher and a versatile performer of solo and chamber music. Her concert engagements have taken her to Brazil, Colombia, Germany, Korea, Venezuela, and throughout the United States. Praised for her "poise and precision," she has appeared as soloist with the Memphis Symphony, Jackson Symphony, Peabody Concert Orchestra, Masterworks Festival Orchestra, Sinfonica de Campinas in Campos do Jordão, Festival Virtuosi Orquestra in Recife, and Suwon Philharmonic in Seoul among others.  Altino came to the U.S. from Korea in 1989 at age 16 and studied under Violaine Melançon at the Peabody Institute of Johns Hopkins University. Altino received her bachelor, master and doctorate music degrees from the Cleveland Institute, where she studied with Donald Weilerstein.
Born to musician parents in Pernambuco, Brazilian cellist Leonardo Altino began playing the cello at the age of six and gave his first performance at the age of eight. His national breakthrough came at fourteen when Leonardo was the youngest winner at the Jovens Concertistas Brasileiros, a prestigious competition in Rio de Janeiro. By fifteen, he had performed as a soloist with every major orchestra in Brazil and worked with renowned conductors such as Eleazar de Carvalho and Isaac Karabitchevsky. Praised by the Strad Magazine for his "exceptional musical intelligence and an exceptionally cultivated sound," Leonardo was the first-prize winner at the International Cello Competition in Viña Del Mar, Chile, and he has since appeared as concerto soloist and in solo recitals in Argentina, Brazil, Chile, Colombia, Denmark, Germany, Greece, Italy, Korea, Taiwan, Uruguay, Venezuela and the United States.
Admission: $13 adults, $35 three-concert pass, $5 students and children
Tickets: online at Eventbrite.com or at the door on the day of the concert. For more information, visit www.summitavenuemusic.com