SUNDAY, AUG. 7 at 4:00 PM.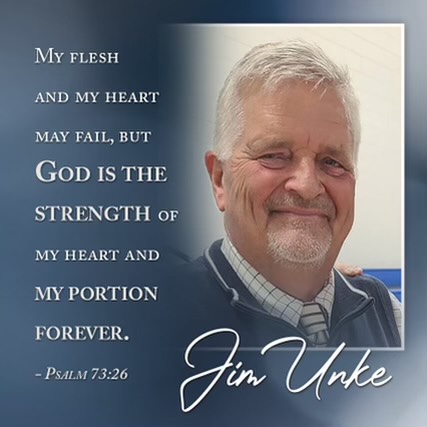 The memorial service for Jim Unke will be held this Sunday, August 7, at 4:00 pm in the Chapel of the Christ on the MLC campus at 1995 Luther Court, New Ulm, MN. It will also be live-streamed on the MLC website 
here
. Visitation will take place before the service from 12:00 – 4:00 pm. Pastor Nathan Scharf will officiate, and a private burial service will be held at a later date. Following the service, there will be light refreshments in the MLC cafeteria in the Luther Student Center.
Jim's family suggests that memorials be sent to St. Paul's Lutheran Church in New Ulm, Minnesota Valley Lutheran High School, or Martin Luther College. Gifts to MLC will be contributed to an endowment fund for financial aid for those studying for the public ministry at MLC. To donate online to MLC, use 
this link
, choose the designation of MLC Scholarship Endowment Fund, and fill out the Tribute Gift details at the bottom of the page.