Evangelism Day is dedicated to equipping MLC students to share the gospel of Jesus Christ, both in their personal lives and when they serve in the public ministry.
Click here for opening service livestream link
MLC is proud to announce an Evangelism Workshop opportunity that is open to the public. Please join us Wednesday, January 10 and be inspired and equipped to do outreach one-on-one and within your congregation. Below you will find the descriptions of the presentations, the schedule, and the link to register. Your registration helps us to better prepare our presentation materials and spaces.
CLICK HERE TO DOWNLOAD SCHEDULE (pdf)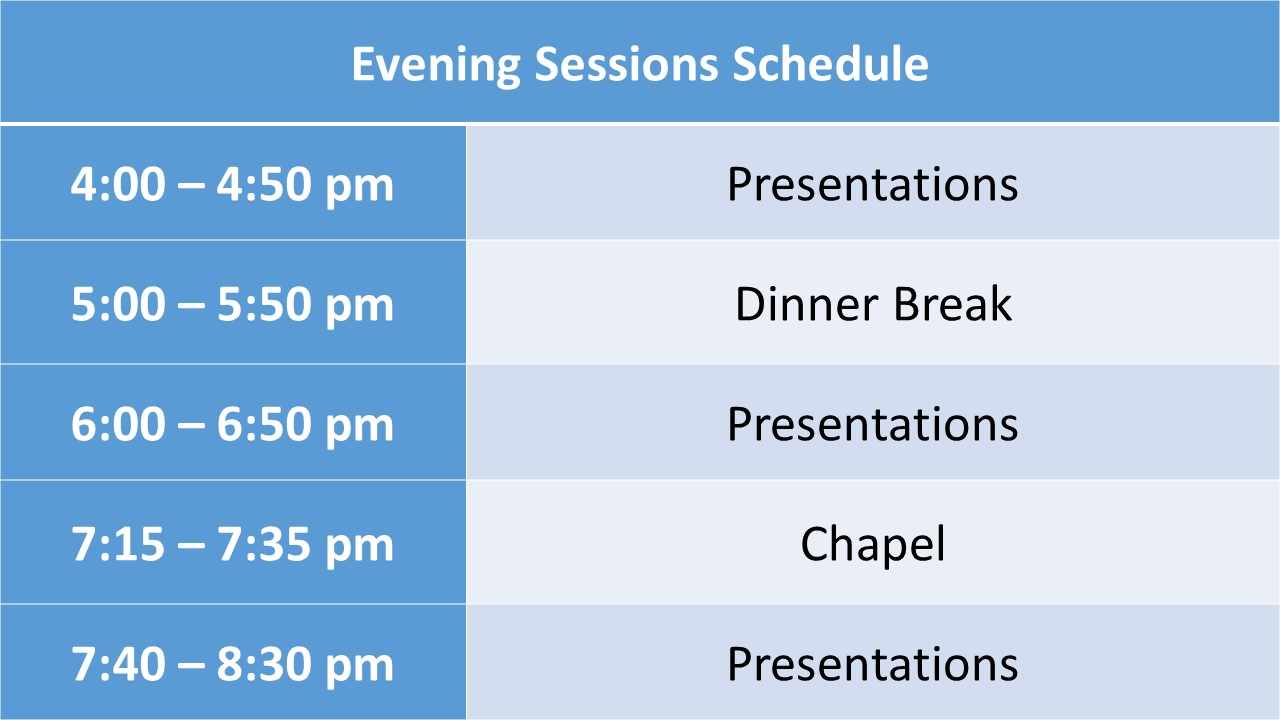 PRESENTATION DESCRIPTIONS
Defending Your Faith: Being prepared to give a REASON for the hope we have! – Mike Geiger (Cross and Crown Lutheran Church, Georgetown, TX)
As Christians, questions of faith are often settled with the simple phrase, "Because the Bible says so."  Living in this confidence is a work of God's Spirit.  However, many in our culture have questions that challenge the tenets of the Bible…the existence of God…the reality of evil…the origin of things…the reality of the resurrection, and much more.  Perhaps these are not questions we have, but being prepared to engage people in these conversations, confidently speak to, and defend the Christian faith is important for each of us personally and as future called workers to prepare others to do the same.  Enjoy this workshop to learn how to be prepared and proactive in defending the Christian faith.
---
Advancing Strategies for Connecting More People with the Ministry of the Word – Jim Rademan (Commission on Lutheran Schools)
Our schools and early childhood ministries can be a tremendous tool for connecting unchurched prospects with the people and programs of congregational ministry. In this workshop, participants discuss the need for a well-planned strategy for congregations and schools to build relationships with the school children and their families, to develop an organized program for nurturing those relationships, and to strive to lead them to instruction in the Word. It's the gospel that unites and motivates people doing ministry and compels them by the love of Christ to use the gospel in strategic ways to harvest souls for the kingdom.
---
Outreach through Early Childhood – Cindi Holman (National Coordinator of Early Childhood Ministries, Waukesha, WI)
Early childhood as a ministry and early childhood a mission field? Did you know that everyday almost 11,000 children walk through the doors of nearly 400 WELS centers all over the country? Many are children from our congregations and many have not heard about Jesus or have no church home. What an amazing opportunity! What an incredible responsibility! The mission field right in our own buildings! Join me as we talk about how WELS is utilizing our early childhood ministries as a way to tell "the next generation the praiseworthy deeds of the LORD, his power, and the wonders he has done." Ps. 78:4
---
TRANSFORMED: Equipping Youth Leaders – Jon Enter (Hope Lutheran Church – West Palm Beach, FL)
More than two-thirds of young adults who attended church regularly in high school will completely stop attending church after high school graduation. How sad! How spiritually dangerous! One of the greatest mission fields we have for the Church is in the church, in our pews…for now. The strategies we have used over the years to keep youth connected to the Sacraments and their Savior have not been fruitful for nearly 70% of young adults. Let's give God something new to bless by examining how we can refocus our ministries to be less lecture or program based and to, Lord willing, transform youth in their relationship with Christ by the power of the gospel.