Congregational Partner Grant Matching Fund $3-5 M

From President
Mark Zarling
Our second pillar addresses student financial aid.
College debt is a concern across our nation. We at MLC are especially concerned, because we know that our graduates are not entering positions that will allow them to pay off college loans quickly.
Here is the data. Since 2015, 75% of our students have graduated with debt, and that debt averages $25,000.
As you well know, we are driven to keep costs low and quality high. By God's grace, our tuition, room & board is about half that of other private institutions, and our efforts at affordability have been recognized nationally. MONEY Magazine, College Factual, and other rankings have placed us at or near the top of their "Best Value" lists.
Still, those debt figures are cause for concern and prayer. We want our
students to graduate with as little debt as possible, and we never want
cost to deter a prospective student from  pursuing their dream of ministry training.
One avenue to help alleviate that debt is the Congregational Partner Grant Program (CPGP). In this pillar of the campaign, we'd like to establish a solid foundation for the CPGP, fully funding MLC's CPGP Matching Fund for years to come.
Here's How Congregational Partner Grant Program Works

Through CPGP, MLC matches dollar for dollar, up to $1,000, the gift a congregation gathers to apply to the tuition of their student at MLC.
As a renewable effort, CPGP can provide four or five years of financial aid support—up to $10,000 to each student—in addition to the other financial aid the student receives.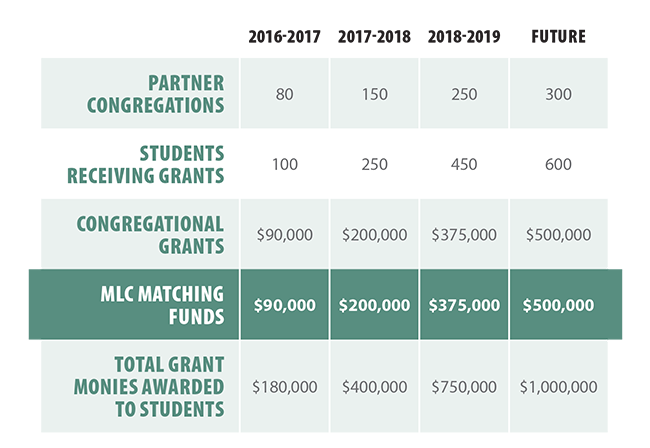 In EQUIPPING CHRISTIAN WITNESSES, we are asking you to consider a financial partnership with MLC on behalf of all our sons and daughters. Your gift will help provide the MLC matching funds for these congregational gifts.