ECW Tip of the Week
PROMOTIONAL VIDEOS!

Posted 3.18.20
The ECW Toolbox includes many videos that can be played for small groups, classrooms, and congregations. This 2018 video "The Imperfect College" is one of many videos you can choose from. Visit the MLC toolbox for more resources to promote our WELS College of Ministry.
PRE-LOADED FLASH DRIVES!

Posted 3.11.20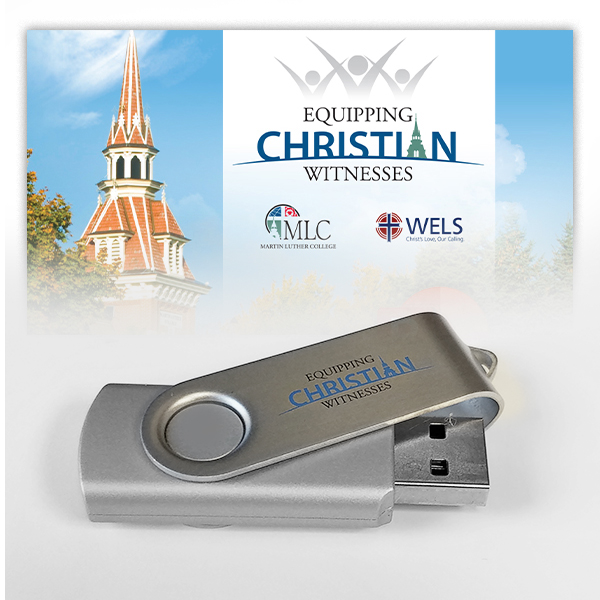 Are you interested in showing videos, presentations, or display slides to your congregation or smaller group, but might not be sure about your internet connectivity? Contact us through the ECW website and we'll send you a pre-loaded flash drive for your convenience!
AN ENCOURAGEMENT FROM ECW LIAISONS

Posted 2.26.20
We are so appreciative of the leadership Dave and Joanne Zweifel are sharing with this video! Take a look and share with other friends of MLC.
Congregational Partner Grant Program



Posted 2.19.20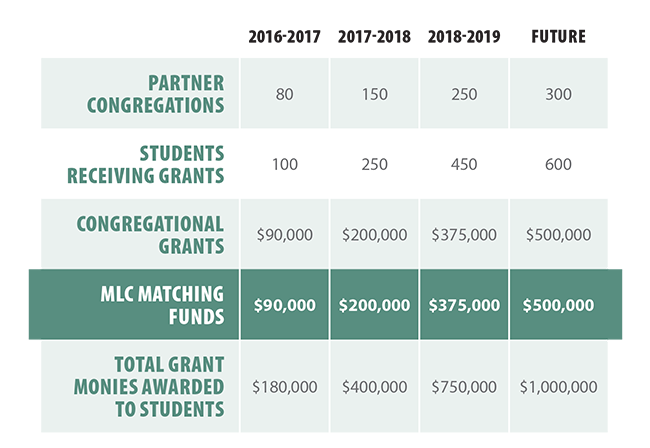 The second pillar of the ECW campaign will strengthen our financial assistance to MLC students. To accomplish that, we are using our Congregational Partner Grant Program which matches dollar for dollar, up to $1,000, the gift a congregation gathers to apply to the tuition of a student at MLC.
You can learn more about this program and how you can participate on our website. Share this opportunity with your friends!
Social Media Posts!



Posted 2.12.20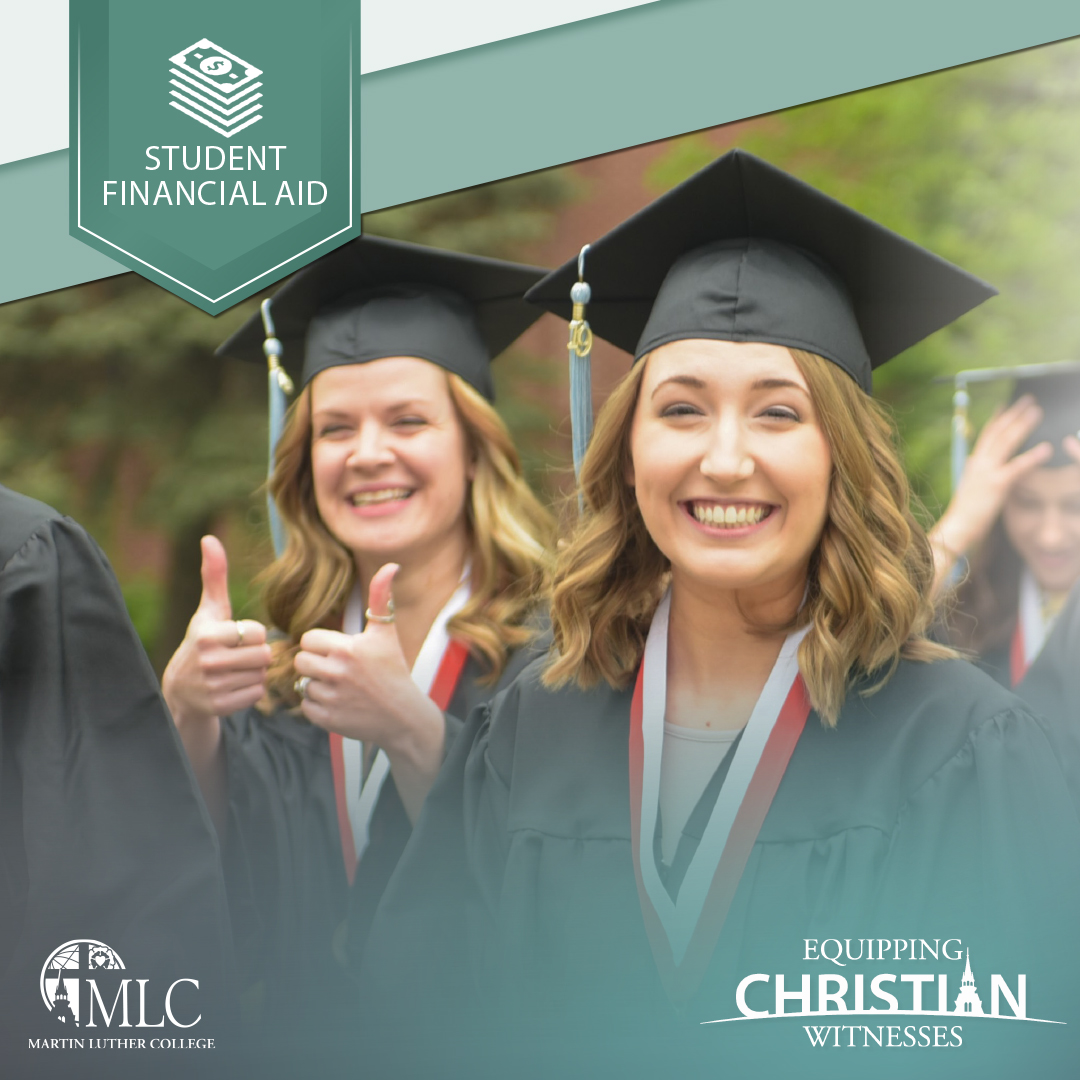 Are you on social media? Share your enthusiasm about MLC and the ECW campaign with an assortment of 14 different graphics highlighting the three pillars of the campaign. We also provide text for the posts – all downloadable for ease of posting! Visit our campaign toolbox https://mlc-wels.edu/ecw-toolbox and scroll down to Social Media Posts to see all we have to offer!
ECW STORIES!



Posted 2.5.20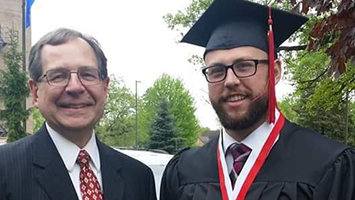 There are so many supporters of MLC who are spreading the word about the ECW campaign, and for that we are very thankful! We hope to share these stories as a way to encourage more ideas for personal and congregational participation in ECW.
Rev. Dennis Belter, pastor at Riverview in Appleton Wisconsin, shared his story about an ECW Sunday at Riverview. Thank you, Pastor Belter!
FORWARD IN CHRIST ARTICLE!



Posted 1.22.20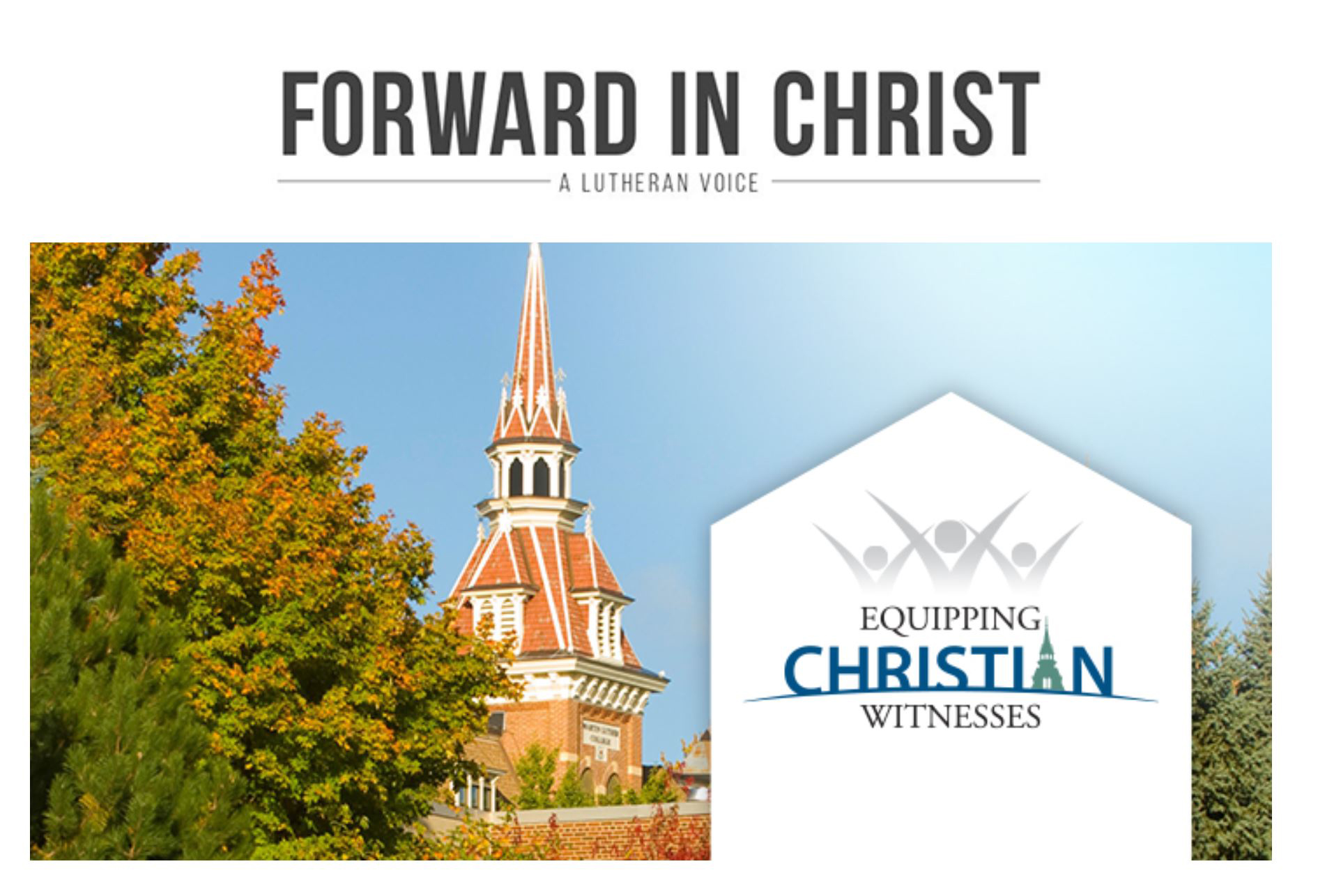 For our Pro-Tip of the Week to support ECW, consider sharing the FAQ article in the most recent Forward in Christ magazine. Professor Scott Schmudlach shares some details prompted by questions we have come across as we're talking to MLC supporters. Take a look!
(BTW – Kudos to the the FiC team and their new design and layout!)
ECW SUNDAYS!



Posted 1.15.20
We are hoping that more congregations will consider including an ECW Sunday in their worship schedules. To help assist congregations in organizing and conducting an ECW Sunday, we have prepared materials to download and customize for individual congregational needs.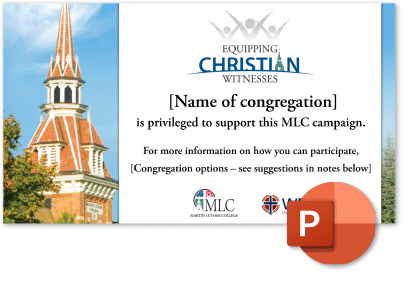 The Equipping Christian Witnesses toolbox includes a link to ECW Sunday Materials, for that purpose. That collection of resources includes congregational guidelines, Sunday worship formats, customizable display slides, and also a sermon and prayers for use by the congregational worship planner. Visit the ECW Toolbox to see all that's available!
https://mlc-wels.edu/ecw-toolbox/
SHARE A VIDEO



Posted 1.8.20
Want to promote the ministry of MLC among your students, or the youth of your congregation? Consider showing this promotional video that highlights the opportunities and blessings at Your College of Ministry!
PARTNERSHIP WITH THE MINISTRY OF CHRISTIAN GIVING

Posted 12.18.19
MLC is thankful for the partnership we enjoy with our WELS Christian Giving Counselors. They are promoting the opportunities in Equipping Christian Witnesses to hundreds of households across the country, and for that we are extremely grateful!
Get to know your local Christian Giving Counselor; their mission is to encourage every WELS member to "excel in the grace of giving."
PRAYERS!

Posted 12.11.19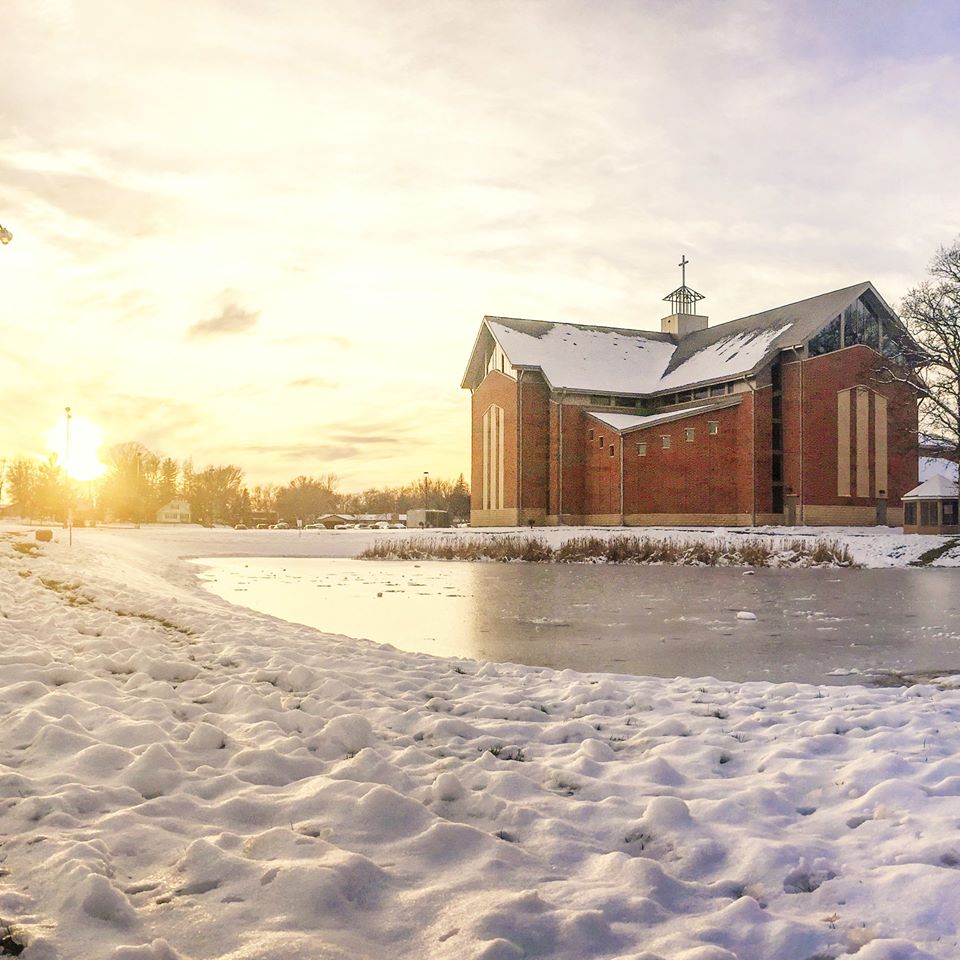 The first pillar of our campaign is recruitment, and the most powerful way to participate is to pray! Pray for the Holy Spirit to move the hearts of more to consider serving in the public ministry.

We humbly offer a prayer from MLC President, Mark Zarling in today's post. We also request that you send us your own prayers that we can share for the use and encouragement of others who support Equipping Christian Witnesses. Email your prayers to campaign@mlc-wels.edu.
THANK YOU'S!

Posted 12.5.19
Here are more students who are thankful for the support and encouragement they receive from teachers, pastors, churches, and schools! Our take away? Take a moment to tell a young person that a skill they've recently exhibited (be specific!) would be used well in the role of a staff minister, pastor, or teacher.
DIGITAL CASEBOOK!

Posted 11.27.19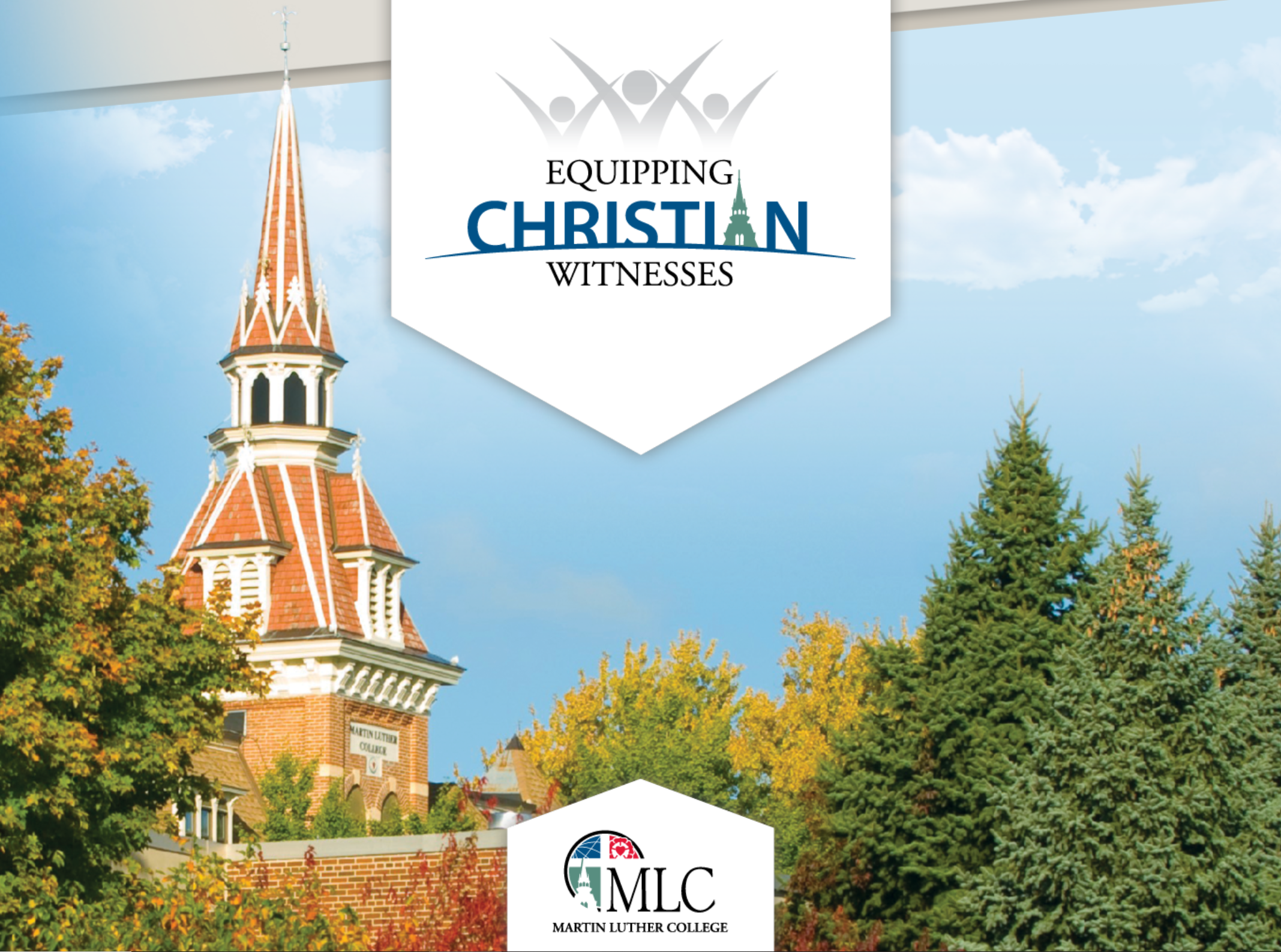 On the Equipping Christian Witnesses page you can order case books that explain the entire campaign. But did you know we offer a digital version of the casebook as well? The flip-book format with the live links to supporting videos make this an easy method to share ECW. Give it a try!
BULLETIN INSERTS

!
Posted 11.20.19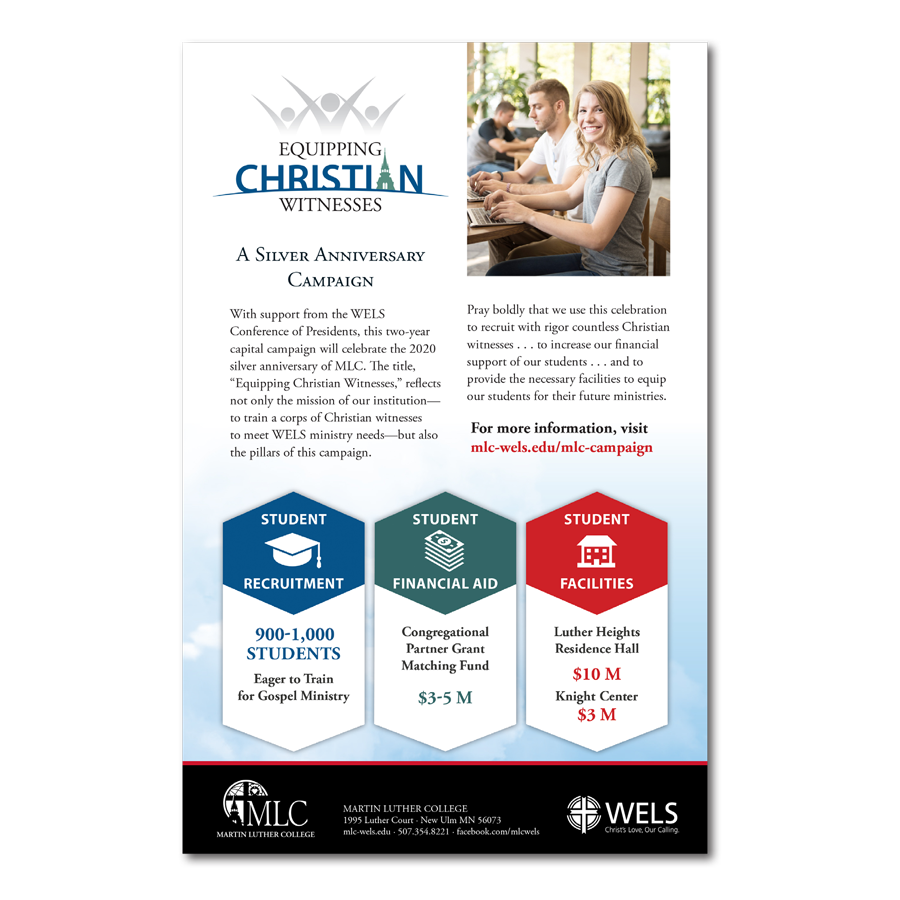 Want an easy way to introduce Equipping Christian Witnesses to your congregation? Order full color, ready to use bullet inserts (8.5″ x 5.5″). These inserts will provide a summary of the ECW campaign and its importance for WELS. Please order the quantity you need and we will ship them to you. Order your inserts today!
INTERVIEWS WITH MLC SUPPORTERS!
Posted 11.13.19
Our tip of the week comes with a request!
Roger Heller of Olivia, MN was so excited to serve as an ECW conference coordinator for his area, we just had to capture his thoughts on video! Feel free to share Roger's ideas with those who are interested in supporting MLC, and if you know of anyone who could inspire others to support our campaign, email us at campaign@mlc-wels.edu.
YOU CAN BE AN ECW PRESENTER!
Posted 11.6.19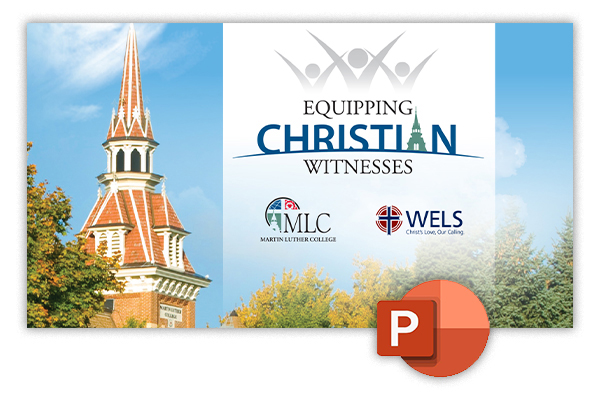 We've received requests from MLC supporters who want to present information about Equipping Christian Witnesses to their congregation or congregational group.
We've made it easy with this ECW PowerPoint presentation, complete with speaking notes for the presenter! Just order casebooks to hand out, download the presentation, and you're ready to go! You can find all this and more, at our online toolbox. https://mlc-wels.edu/ecw-toolbox/
FINANCIAL LITERACY VIDEO
Posted 10.30.19
Equipping Christian Witnesses invites our whole synod to assist us in reducing student debt through the Congregational Partnership Grant Program. This dollar-for-dollar matching grant adds another $1M to the financial assistance we can offer students!
Along with financial assistance, we also provide financial literacy training for all students so they are fully equipped to manage the financial resources God provides. In this video, MLC student, Lailah Thabatah explains the importance of this program.
To view more videos and resources that will help you share this campaign with others, visit our campaign tool box.
SHARING IDEAS
Posted 10.23.19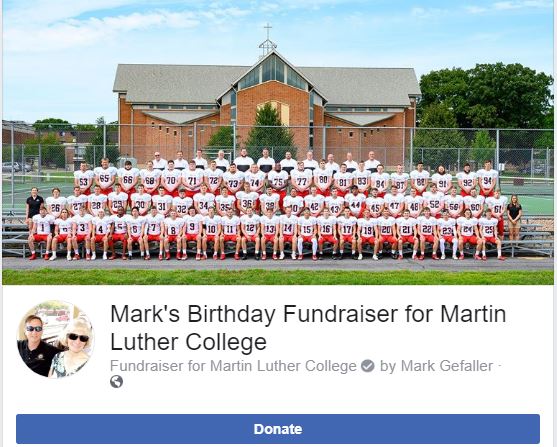 We are so humbled by all the creative methods our supporters are using to support our ministry at MLC. We've seen several social media ideas like the one Mark used on his birthday. He writes, "I saw on Facebook that you can do fundraisers. I saw MLC was on the list and wanting to support one of our synodical schools I chose it. I'm happy to see the support!" Thank you, Pastor Gefaller!
RECOMMEND A STUDENT!
Posted 10.16.19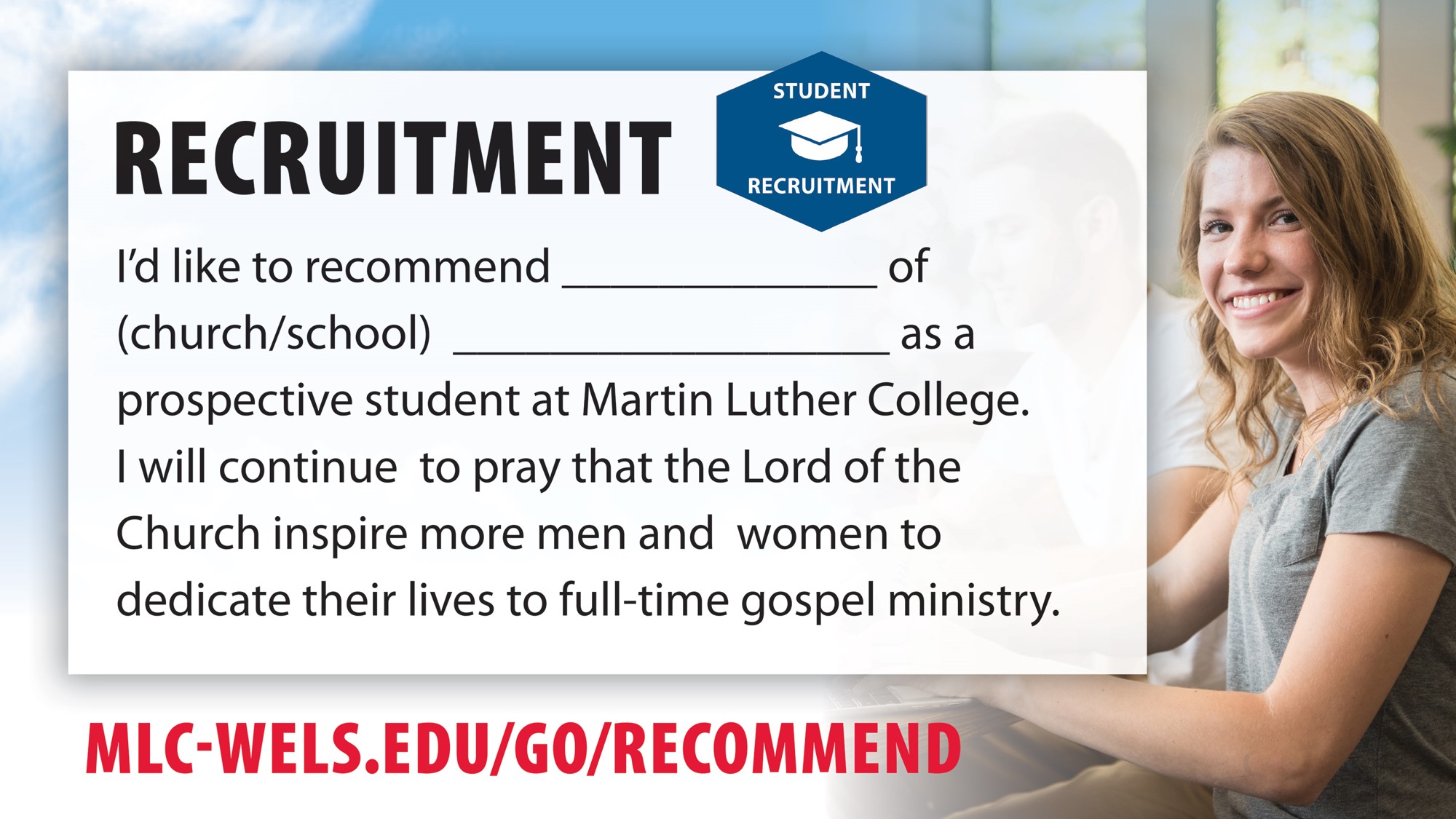 The first, and most important, pillar of MLC's Equipping Christian Witnesses campaign is recruitment. We pray that everyone in our churches and schools will consider recommending children in their congregations who are 13 years and older (re. child privacy laws) to receive information from MLC regarding a future in the public ministry.

Use the url listed, or follow this link to recommend a student!
STUDENT ATHLETES' PERSPECTIVE
Posted 10.9.19
The third pillar of our capital campaign is aimed at improving campus facilities. The Knight Center – an indoor turfed practice facility – is one of those improvements. Grace Schultz and Josh Koelpin talk about the importance of MLC athletics in their lives and the Knight Center's impact on that aspect of student life.
SOCIAL MEDIA GRAPHICS
Posted 10.2.19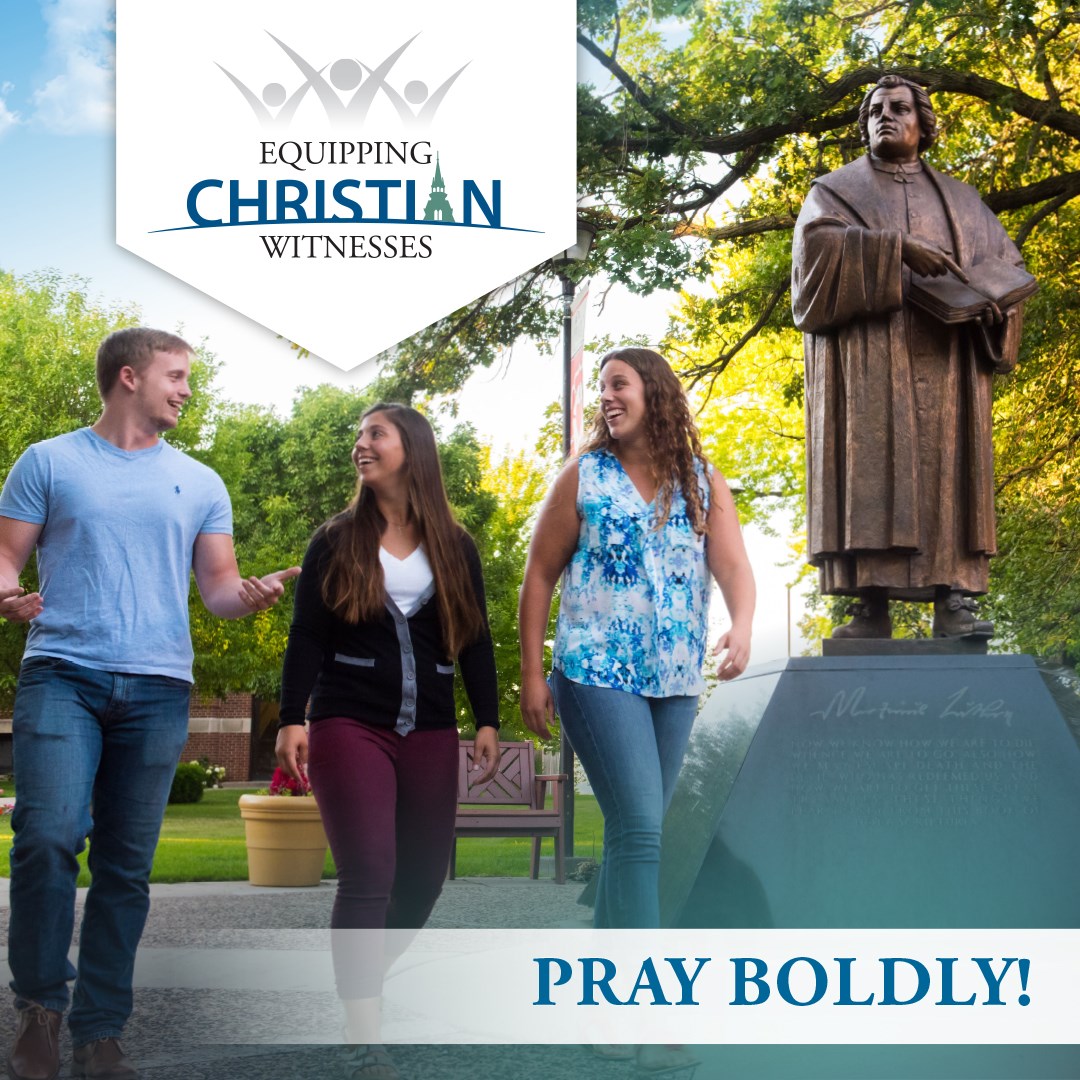 If your congregation subscribes to the WELS Connection, you'll see more information about ECW on a weekend soon! This would be a great time to share our campaign on social media with graphics (like we have in this post) with your own statements of support.
You'll find more graphics like this, along with printed materials and videos in our ECW toolbox at https://mlc-wels.edu/ecw-toolbox
THE NEED FOR MORE WORKERS
Posted 9.25.19
It's widely know that there is a need for more pastors, teachers, and staff ministers to fill established positions in our churches and schools. We should also remember there is also a great need to supply workers for expanding ministry opportunities! Take a minute to hear Rev. Paul Prange explain these needs that are the cornerstone for the first pillar in the ECW campaign.
To learn more about this opportunity to partner with MLC, visit our website at https://mlc-wels.edu/mlc-campaign/
ONE STUDENT'S PERSPECTIVE
Posted 9.18.19
ECW centers on the needs of our students – providing them with adequate financial assistance and campus facilities. In addition, we need MORE students to spread the Gospel! Matt Zeng (MLC '18) explains that our students come from many different backgrounds and, at MLC, can prepare to serve a world which is just as diverse! Listen to Matt's perspective, and if you want to learn more about the campaign, visit our website.
LUTHER HEIGHTS!
Posted 9.11.19
The third pillar of the ECW campaign is focused on enlarging and enhancing the living and learning environment at MLC. One part of that effort will be the construction of a new residence hall named Luther Heights. This is a brief "fly around" of the artistic rendering. For more information visit our website at https://mlc-wels.edu/mlc-campaign/
ECW – AN INTRODUCTION
Posted 9.4.19
Our new campaign, in partnership with the Ministry of Christian Giving, is in full swing! MLC student Phil Balge gives us a short introduction of the specifics. To find out how you can join us in this effort, visit our website.