Two New Professors Ready to Launch
Competency-Based Education
We are many steps closer to launching our Nontraditional Education Program, which leverages Competency-Based Education. Taking the reins are two new professors of education who happen to be married, Dr. Martin and Dr. Nichole LaGrow.
Dr. Nichole LaGrow will serve as professor of education and director of Nontraditional Programs (CBE), and Dr. Martin LaGrow MLC '93, will serve as professor of education and instructional designer.
---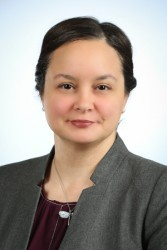 Dr. Nichole LaGrow, Program Director: As director of the program, Dr. Nichole knows her list of responsibilities is long: "Initially, my goal will be to work with the CBE Committee, MLC leadership, faculty, and staff to design our competency-based curriculum and shepherd that program through licensure and accreditation reviews with the support of VP Jeff Wiechman, Licensure Officer Cindy Whaley, and Director of Graduate Studies & Continuing Education John Meyer.
"While I enjoy these administrative elements of the director's role, I am most looking forward to working directly with the students to support them as they engage with the program and pursue their calls."
The directorship requires a great deal of skill, but God has made Dr. Nichole uniquely prepared. She's earned a doctorate and five master's degrees in areas that include literature, history, adult education, human resources, and business administration (MBA). ("I love to learn!" she says.) She's currently working on her sixth master's degree, in higher education law and compliance. And she'll be completing her K-16 Teaching Ministry Certification through MLC as she begins her work here.
She's also taught at the college level for 20 years, working with accreditation and licensure requirements, curriculum development, program assessment, and student support initiatives for a variety of academic programs—all areas vitally linked to a program built on Competency-Based Education.
One aspect of her background is an added plus: she did not grow up WELS or attend MLC. "In some ways," she says, "I think that makes me the ideal person for developing this program. I understand the perspective of someone who may be new to the concept of a divine call. And as we are considering the curriculum, I'm making note of elements I am learning about being a called worker that we need to incorporate into the program."
---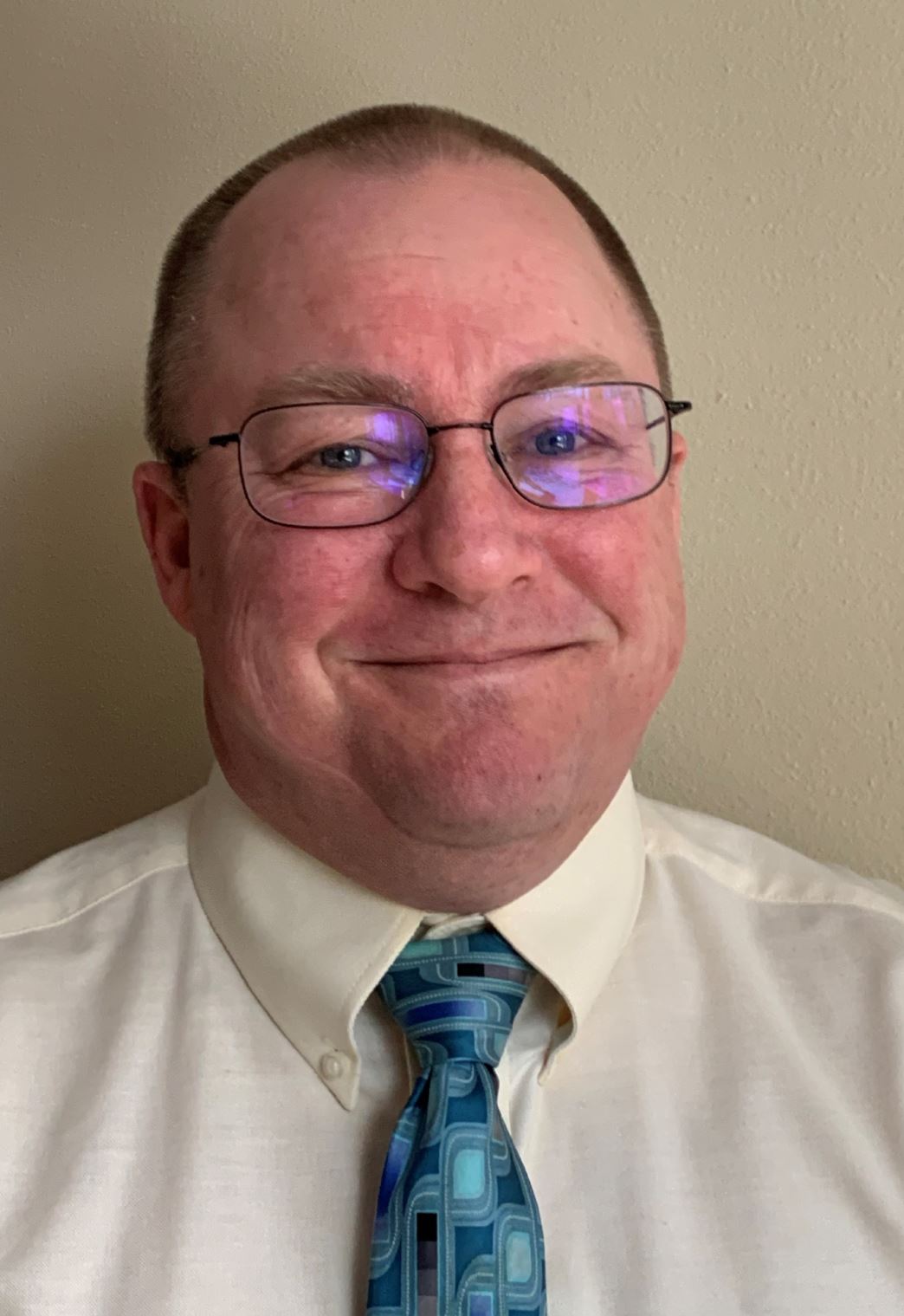 Dr. Martin LaGrow, Instructional Designer: Dr. Martin LaGrow comes to us equally prepared. "As an instructional designer," he says, "it's my role to identify and creatively bridge gaps between teachers and learners, whatever those gaps may be. A program like this addresses two common challenges: distance and time. When learners are not able to connect in person with the learning community, because they are too far away or their time is too limited, the learning experience needs to be delivered in a way that overcomes those obstacles. This requires a deep understanding of how learning and assessment work, as well as the technology tools and learning theories commonly used to facilitate learning.
"At MLC," he continues, "the challenge is to identify the core learning objectives for a cohort of students who will be coming from various walks of life, evaluate where they already are in terms of those objectives, based on their previous learning and experiences, and then design a pathway for them to complete those objectives in an accelerated timeline—all without requiring them to pause their lives and relocate, a barrier to many who otherwise would consider entering the ministry."

Dr. Martin is a 1993 graduate of DMLC (elementary education) and has earned several IT certifications, a master's degree in curriculum and instruction, and a doctorate in instructional technology and distance education.
Over 14 years of ministry, he served as a teacher at Siloah-Milwaukee and a teacher/principal at Our Savior-Longmont CO and Trinity-Kaukauna WI.
Feeling pulled toward technology, he earned several IT certifications, including Microsoft Certified System Administrator, which led him to a faculty position at Rasmussen College. He taught and administered their IT program across 20 campuses and online. Eventually he was recruited as senior academic services consultant for a company called Ellucian, a role that allowed him to visit college campuses from Harvard University to Guam Community College and help them to address their unique challenges in the implementation of technology for learning.
Dr. Martin can see clearly how his professional history will serve him well in his new role. "My time as a consultant, adjunct, and employee of dozens of colleges and universities has given me the opportunity to identify and resolve challenges in unique environments and contexts. Even though institutions are unique, the challenges they face often parallel each other, and my experiences have refined my approach to problem solving while also respecting unique traditions and heritages."
---
High Hopes for Competency-Based Education at MLC: This professor team is excited to dive in. As Dr. Nichole considers the Nontraditional Education Program at MLC, she's reminded of 1 Peter 4:10: "Each of you should use whatever gift you have received to serve others, as faithful stewards of God's grace in its various forms."
"This nontraditional program," she says, "provides a pathway to support those who have been called to serve later in life. It complements the work of our traditional undergraduate experience and ministerial certification programs and affords someone who is place-bound a means to engage in the training necessary to meet the needs of their local congregation. I am so very humbled to be tasked with facilitating this important work to support our members in their mission fields."
"The need for workers is immediate," Dr. Martin says. "Traditional students entering MLC with a plan to graduate and serve in four years (and sometimes longer) is a tremendous blessing for the future, but it can't fix the empty classrooms and pulpits we face right now. If we can leverage flexible learning design to open doors for people who have the gifts to serve but not the flexibility in their lives to pursue a traditional degree, we can not only fill those classrooms and pulpits with qualified candidates in the short term, but we can add future candidates that already have meaningful life experiences and outside credentials over and above the nontraditional ministerial training MLC can provide."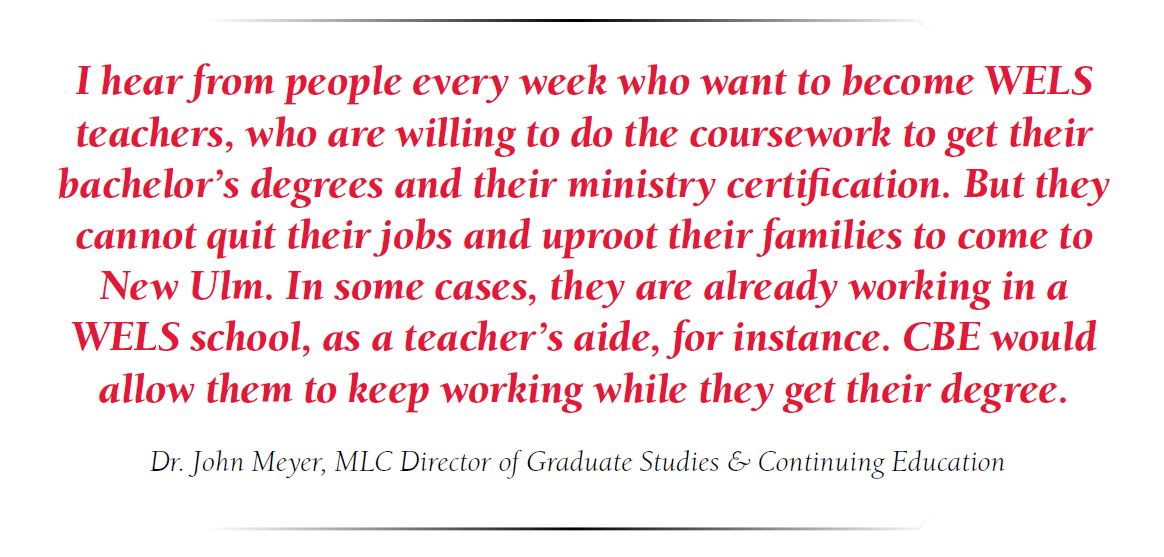 The LaGrows would like to express their gratitude to the many people who have already talked to them about the needs and hopes for this program at MLC. Dr. Nichole extends an invitation to continue reaching out. "Anyone who has thoughts, ideas, or inquiries about the CBE program, please reach out to us as we are already beginning to lay the groundwork!"
---
Ready for the Move to New Ulm: The couple visited New Ulm in May when Dr. Martin, already an adjunct professor in our Graduate Studies Program, participated in the graduation ceremony.
The campus is not new to him, of course, because his father, Dr. George LaGrow, served for many years as professor of education at DMLC. "What struck me most," Dr. Martin says, "was the contrast between how much everything has stayed the same and changed at the same time! The mission, drive, and purpose of the college and those who serve it are tangible. The desire to respect tradition while also embracing new methodologies is refreshing! I look forward to the opportunity to share the warmth and community I felt returning to New Ulm last May!
Dr. Nichole is equally excited to make the move: "When we visited campus, I immediately noted how warm and vibrant the MLC community is. I recall telling Marty several times what a special place MLC is. As we deliberated our calls, I was constantly reminded of the power of working toward the shared vision and purpose of God's plan. Now, as we embark on making New Ulm our home, I am eager to be a part of the campus community."
---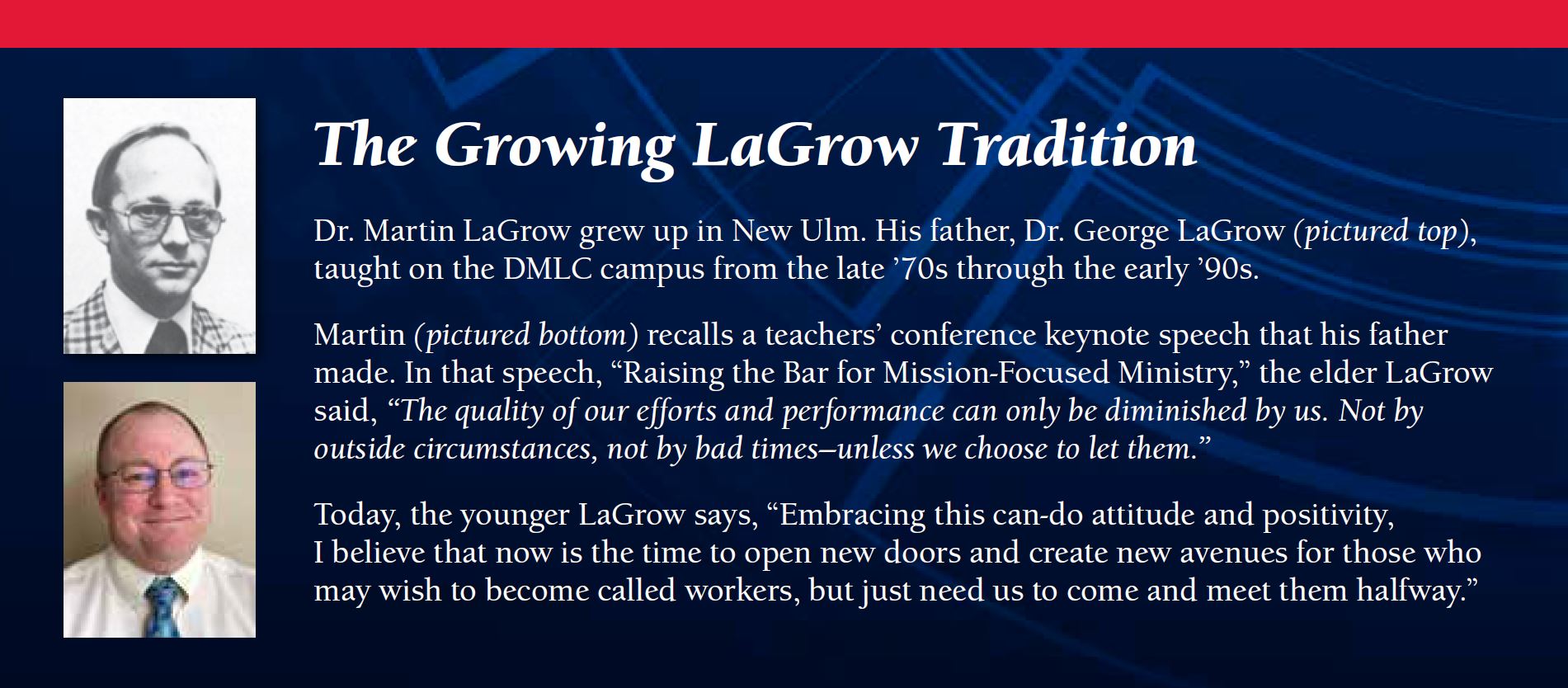 Competency-Based Education:
What It Is and Why We Need It
The need for more WELS teachers is great. Some of our schools—especially urban schools—have seen explosive growth. After the assignments were announced on MLC Call Day in May 2022, 140 teacher vacancies remained unfilled around the synod. Our new nontraditional program will leverage Competency-Based Education, or CBE, to help fill this great need.
CBE is an online option that recognizes competence in a subject or skill through activities, assessments, and portfolios. CBE is intentionally designed to reflect the same high standards as our traditional programs. It will work especially well for second-career individuals and unique urban people groups, allowing them to earn their college degrees while staying in their own communities and their own jobs—some of which are in WELS schools.
---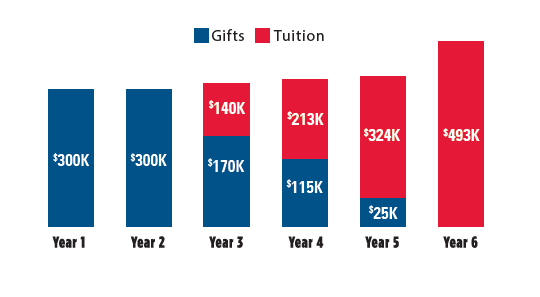 Calling for these two new positions has been made possible by gifts from donors and grants from the Marvin M. Schwan Foundation, the Neumann Family Foundation, and the Siebert Lutheran Foundation.
We have already received $475,000, surpassing our Year 1 goal of $300,000 and jumpstarting our Year 2 goal of $300,000.