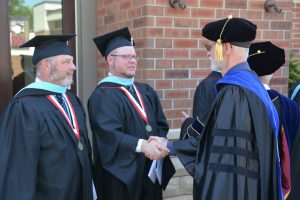 Graduation on May 18, 2019, is an exciting time at Martin Luther College, and all graduate faculty members are invited to participate. Special events include participation in the graduation ceremony, reception of the master's graduates, the evening banquet, and a special graduate faculty conference. Travel costs for adjuncts are covered by MLC, and spouses are welcome. Please plan to join us!
This is a great opportunity to meet and congratulate graduating master's students, get to know your fellow MLC graduate faculty members, and give input into the graduate program.
Faculty are invited to attend any, or all, of the following: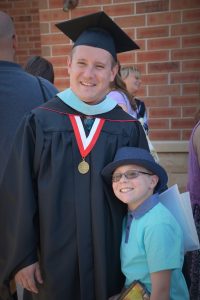 Friday, May 17
Commencement Concert   4:00 & 7:30 pm
Saturday, May 18
8:00 am–Arrive in Chapel Basement
8:15 am–Hooding Ceremony
8:45 am–Group Photos
9:50 am–Line up for service
10:00 am–Commencement Service
11:00 am–Receiving Line
11:45 am–Lunch at Country Club
2:00 pm–Call Service
4:00 pm–Reception
6:00 pm–Conference
Commencement Concert: Our choirs and musical ensembles delight the audience with expert renditions. This concert is given twice to accommodate the many alumni, parents, and friends of MLC who attend. Admission is free and times are 4:oo and 7:30 pm on Friday, May 17.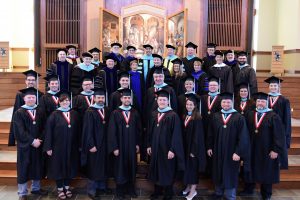 Group Photos: We seize the moment with everyone present to get photos of our master's graduates and faculty to commemorate the day.
Commencement Service: Congratulate the master's graduates! All graduate faculty members participate in the ceremony by wearing their regalia as they walk in and sit together. We line up at 9:50 am. After the service there are opportunities to congratulate students and meet their families.
MS Graduate Reception: A noon reception is provided for graduate faculty, master's graduates, and their families. Mingle with colleagues and graduates as you enjoy a full meal.
Call Service: An MLC tradition, newly degreed undergraduates are assigned to their first call into ministry during a sacred worship service in the gymnasium. This is a spiritual highlight as young candidates for teaching and staff ministry make themselves available to serve wherever the Holy Spirit guides. They learn for the first time during this special service where and how God will use them in full-time gospel ministry. The service begins at 2:00 pm, but arrive early to get a seat.
Reception: Graduate faculty and spouses are invited to a special banquet in their honor. Wine and hors d'oeuvres start at 4 pm with full meal to follow at 5 pm. This is a fun, relaxed way to connect with colleagues who share the same interests and passions.
Graduate Faculty Conference: Following the reception, the graduate faculty members are invited to participate in a conference and provide input into MLC's graduate program. Past conferences have discussed online teaching tips, new programming, and ways to improve the comprehensive examination and capstone project experiences.
Everyone is welcome. An email invitation will go out in April. Let us know who we can plan on attending!
https://mlc-wels.edu/graduate-studies/wp-content/uploads/sites/16/2015/12/Sarah-looking-off.jpg
1255
1300
meyerjd
https://mlc-wels.edu/wp-content/themes/mlc/images/mlc-logo.png
meyerjd
2019-03-08 10:03:34
2019-03-08 11:53:34
Faculty - Join Us for Graduation!