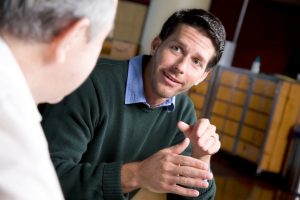 Around us everywhere are people with whom Jesus wants us to share his message of love and salvation. In striving to help Christians with this vital mission, the WELS Commission on Evangelism offers a course on Friendship Evangelism: THE9103. This course is designed to enable learners to confidently share the faith they are already publicly sharing at worship in a personal, transparent, and informed approach. Participants in this course will…
Understand the connection between their regular confession of faith in Jesus at public worship and opportunities to confess that faith in private with friends.
Experience the joy that comes in sharing a gospel witness.
Appreciate the opportunities to grow fuller and deeper friendships where natural and gradual faith-sharing can take place.
Learn to confidently deal with Satan's attempts to prevent, hinder, or halt witnessing.
Become familiar with a multitude of helps that are available today and practice using them.
Become significantly involved in their local congregation's outreach ministries, helping to develop evangelism as a natural part of its culture.
The Friendship Evangelism course is one of three courses that make up the online
Evangelism Certificate program
. The other two courses are the Mission of the Church THE 9101 and Practical Evangelism for Congregations THE 9102. Upon successful completion of all three online evangelism courses, individuals are eligible to
apply for an Evangelism Certificate
. However, the courses may be taken by those not pursuing the certificate, only choosing course(s) according to their interest.