Ready-to-go Monthly Inservices
CURRENT OFFERINGS:
Teaching Evolution in the Light of Scripture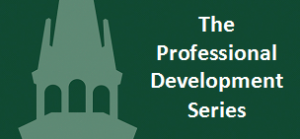 Lutheran school principals know the importance of engaging their faculties in spiritual and professional learning, but they rarely get the time and resources they need to be the kind of instructional leaders they want to be.
Martin Luther College's Professional Development Series provides principals with the tools they need to lead faculty inservices that . . .
Target sustained spiritual and professional growth
Foster a culture of professional conversation
Engage in meaningful discussion on topics important to Lutheran schools
Each year-long professional growth topic in the Professional Development Series provides the principal and faculty with:
Monthly "ready-to-go" inservices
Access to knowledgeable presenters and resources
Opportunity for faculty activities and discussion
Interactions with other Lutheran school faculties
Flexible and customizable implementation options
Affordable professional growth
Each title in the series contains seven to ten topics that faculties schedule over the course of the year as part of their regular monthly meetings. Each topic can typically be discussed in one hour. Schools access the inservices through Moodle, much as a student would access a course.
The cost for the Professional Development Series is $50 per teacher, up to a maximum of $500 per school.