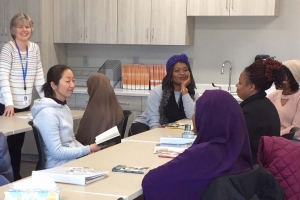 Debra (nee Owens) Walz DMLC '79 was teaching at West LHS in Plymouth, Minnesota, when the 2008 financial crisis hit. Like many schools, West experienced a drop in enrollment that paralleled the drop in people's bank accounts. When West needed to cut three faculty members, the principal asked for volunteers.
Although Deb loved teaching at West, the 45-mile commute on I-94 was wearing. On bad days, it took 2-1/2 hours. It was time for a change. She volunteered to be cut.
Although Deb didn't have a new job lined up, she knew one way to prepare for one: "I contacted MLC to get started on the POST-BACCALAUREATE LICENSURE PROGRAM."
MLC's licensure officer, Dr. Cindy Whaley DMLC '76, guided Deb through. In addition to the student teaching she completed in her own classroom at West, she took courses through both MLC and other Minnesota colleges, and sat for MTLE tests. "Those were the most nerve-wracking part," she said, "but they turned out to be pretty easy."
The post-bacc licensure work was far from Deb's first taste of our campus. Three decades earlier, she had gone to HIGH SCHOOL (Martin Luther Academy) and COLLEGE (Dr. Martin Luther College) here. When she came back to New Ulm for a week in 2012, it was "a blast from the past" to stay in Centennial, her high school dorm. (Note: Today licensure courses are entirely online.)
Because Deb's first call after graduation in 1979 had been to St. Paul LES here in New Ulm, she had also taken advantage of CONTINUING EDUCATION COURSES in the early 80s, specifically English courses to boost her "concentrate" to a minor. Those courses—"Professor Tom Kuster was a favorite of mine," she said—were helpful when she began teaching language arts at West LHS.
Between St. Paul's and West, Deb had also served at Petra in Sauk Rapids, Minnesota. She'd served in WELS 25 years when she decided to leave West and look to the public school system.
She began with a job through Central Minnesota Adult Basic Education in St. Cloud, a few miles north of her hometown. "It was a very low-paying, non-licensed job, which was my foot in the door. I remember that when my future boss asked what I was willing to do, I said, 'Anything.' I needed something. God was ready to provide that something."
When she finished her post-bacc licensure through MLC, she applied for different jobs in the system. "My first jobs were teaching English as a Second Language to adults who were recent immigrants. While most were from Africa, at one point I had 13 different languages in my classroom. Culture shock!"
She also began working with the GED and adult diploma programs, teaching both in a classroom setting and also one-on-one with students—some immigrant, some American-born.
"This job has really opened my eyes to many things," Deb says. First, we take literacy for granted. Some of our students don't know how to sign their own names or turn pages. I've also learned about the difficulties immigrants faced in their home countries, although they are often reluctant to talk about those things. One of my favorite essays was by a young man named James who had fled to Liberia as a young boy when many in his family were killed. James wrote about the experience, but he also shared his Christian faith and his wish that everyone know Jesus."
When these students participate in their graduation ceremony each May, Deb knows how important this work is. "Watching them proudly walk to get a diploma is very moving."
But Deb was not quite finished tapping into MLC's programs. She also took a GRADUATE COURSE, not because she wants a master's degree this late in her career, but because it ramped up her technology skills and allowed her to make a lane change within the public school system, providing her with a pay raise and a larger pension when she retires.
She could have taken grad courses anywhere, but she found that MLC's were about half the cost of those at other colleges, and she enjoyed the convenience and warm atmosphere of the online community.
Dr. John Meyer DMLC '87, director of graduate studies and continuing education, understands that the vast majority of MLC's GSCE students are similar to Deb. They're not pursuing a degree. They're taking courses that fit the needs of the ministry they're in, or they're preparing themselves for whatever God has in store—avenues of service they can't even imagine sometimes.
"Just prepare yourself and be faithful," Dr. Meyer says, "and let the Lord use you where he wants."
Preparing herself and being faithful—that's just what Deb Walz has done. And from high school and college to continuing education and graduate studies, she has turned to this campus to assist her every step of the way.
Written by Laurie Gauger-Hested