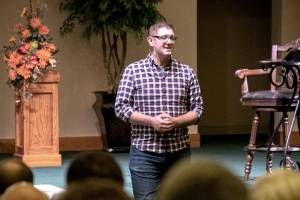 Studying theology isn't just a personal pursuit. It's something we do for our ministries, our churches, our synod—the whole kingdom of God. So says Brandon Steenbock '06, staff minister at St. Mark-Green Bay, Wisconsin, and student in MLC's Master of Arts in Theological Studies program.
Pursuing Excellence spoke with Brandon about how his ministry and his master's program intertwine and enrich each other.
Pursuing Excellence: I see you're at St. Mark in Green Bay. What are you called to do there?
Brandon: I've been at St. Mark since summer 2017. My original call was to be young adult minister, which was a new position designed to create and develop ministries for those 18 to 35 years old. Soon, I began to take on a lot relating to family ministry, especially with marriage, premarriage, and young parents. I lead marriage enrichment classes, Love and Logic classes, and our Premarriage Seminar. I lead several Bible classes, work with our small groups program, oversee our catechism program (which we are overhauling to have much more parental involvement), and lead worship as guitarist/singer regularly. I lead our monthly casual worship service we call Songs and Stories, where we sing songs of praise and I tell stories from God's Word in more of a storyteller fashion. I also provide marriage counseling for couples who are struggling. It's definitely a very diverse ministry.
Why did you decide to enroll in MLC's Master of Arts in Theological Studies?

I find that I do ministry best when I'm learning, because it feeds me with new ideas and new ways of thinking.
I'm naturally curious and creative, and learning charges up those gifts. I also have a long-term goal of going after a Doctorate of Ministry.
Tell us about the workload. How does it fit into your busy called worker's schedule?
Honestly, it's challenging sometimes to balance the workload. But the thing that helps is to try and make my homework fit with the things I'm doing for my ministry. So if I'm writing a Bible study or preparing a devotion, I'll incorporate things I've just been learning in my class. Or on the flipside, when I'm posting in the discussion boards for a class, I can incorporate things I've just been working on or conversations I've had in my ministry.
It's also really important for me to be intentional about saving time for my family. I have to make sure I schedule out when I'm going to do homework and when I'm going to just focus on time with my family. Otherwise, it's easy to end up working all the time.
What kind of impact have the courses had on you—spiritually, personally, professionally?
There's a saying that a truck drives straighter with a full load. I think this is true when it comes to how these courses fill up my brain and my soul. That is, when I'm not working with the Word for my ministry, I'm studying the Word for classes. Or I'm thinking about it while I'm doing other things. I'm constantly investing myself in it. That not only opens up new areas of curiosity and understanding, but also gives me new ideas about how to apply it. And I love passing on what I'm learning to other people.
What would you say to encourage others to pursue this kind of advanced theological degree?
The cool thing about pursuing an advanced theological degree is that it opens your eyes to all the things about Scripture you don't know. It raises all the questions you never knew you should be asking. It exposes you to the perspectives and debates that theologians have asked across the centuries and all the different ways they tried to answer the really big questions. It gives you permission to question and assess the conclusions of long-dead theologians and realize that they were just people trying to understand God's Word, just like us, and maybe we have valuable insights to share as well.
And best of all, it gives you a chance to grow closer to Jesus as you gain a deeper understanding of how his truth has been communicated through his church over the past 2,000 years.
Anything else you'd like to add?
One of the challenges in our synod is that we don't always have enough people able to teach, to provide the kind of continuing education we want to provide. For many years we've had to turn to other institutions and church bodies to get advanced education. That's getting better, but only because more and more of our people are getting the education needed. It's such a blessing that MLC is able to provide more of this continuing education, but to preserve that blessing, we need people who take the time to pursue it.
It's worth it—not just for ourselves, not just for our own ministries and churches, but for our synod and for the church as a whole—for us to keep working and growing together in the Word. This isn't just about us; it's about the whole kingdom.
Finally, can you tell us a little bit about yourself—your family, your interests/hobbies, something that we'd never guess about you?
I'm married to Nikki '06, and we have two boys, Athan (13) and Paladin (11). Nikki is a full-time substitute teacher in our local public school district. (By full-time, I mean that she is in a school 95% of the school year, even though she doesn't have her own classroom).
When I'm not reading theology or ministry books, I love to read science fiction and fantasy. I used to be embarrassed about that, like it was a geeky thing, but all the most popular shows and movies and books are in that genre, so I think it's safe.
I am passionate about well-brewed coffee. I roast my own coffee beans, and I have five different methods for making coffee at home that I use regularly.
I write for Bread for Beggars. I also like to write short stories, most of which aren't read by anyone but me. I once had a story published in a science fiction anthology and got paid for it.
Written by Laurie Gauger-Hested